Golf in Australia's Outback
By: Allen Schauffler
Editor's Note: The author of this piece, Allen Schauffler, recently spent time touring southeastern Australia for three weeks and dragging his golf clubs and camera along with him. Here's a taste of Allen's Aussie adventure.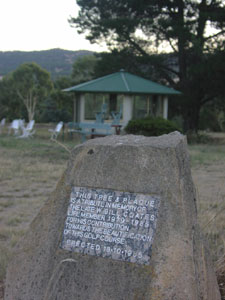 Between the first tee and the 18th green at The Grange Golf Club, there is a simple, weathered plaque set into a chunk of rock. It reads:

"This tee and plaque is a tribute in memory of the late W. Bill Coates
Life member 1979-85
For his contribution towards the beautification of this golf course
Erected 18-10-1986"

Bless Bill for whatever he did so many years ago to spruce the place up but, to be honest, it's hard at this point to distinguish what those improvements might have been. Or perhaps his mates have let him down in the last 17 years and let the old course slide into ruin.

The grass, where it can get a foothold, is stringy, pale, tufted stuff that seems to not be growing so much as it is clinging to the dirt for dear life. And there is plenty of dirt. Where it isn't baked to the consistency of dull, fired clay it gathers in shallow bowls of dust. Clearly a low ball will run forever or until it hits the dried-out jungle lining much of the course. A high shot will bounce like a super ball dropped from the Space Needle.
But out there on the fairways at least you don't have to try to stick a tee in the ground; that's the hilariously difficult task called for in the hard-scrabble squares designated as tee-boxes. The signs showing hole layouts are faded paint on sheet metal, hopeful green on honest brown, some bent slightly by years of winds. And the "greens" aren't even green. They're gray-brown packed dirt covered with sand, what the Aussies call "scrapes." A heavy metal rake sits at the back of each green so players can smooth out a putting path to the hole.

It's most American golfers' worst Sunday nightmare. It's the cheapest muni you ever played growing up, dogared, gone-to-seed, wind-blown. The driving range is a tee box in front of a tarpaulin stretched over a fence. In the middle of a bone-dry summer Grange Golf Course looks like it hasn't seen a maintenance crew or a rain shower since Hector was a pup. Take a divot and you could break your wrist. You want to play here? Bring a backhoe and a sense of humor.

Couldn't be better. Just my kind of course. A "must-play" in the Schauffler book.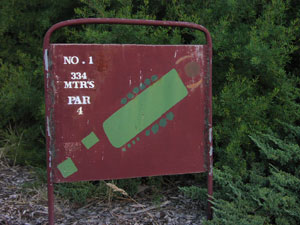 Standing on the clubhouse porch on a clear, stunning morning outside Stawell in the Australian state of Victoria, 12,000 or so miles from my Seattle home, I am giddy with good fortune at finding this place and I can't wait to tee it up. Beyond the far boundary of the course the Grampian Mountains define the skyline. Sulphur-crested cockatoos, hundreds of them, screech and swarm in the gum trees. There's nobody else out here.

A starter? Don't make me laugh. Somebody on duty in the pro shop? There is no "pro-shop" and the clubhouse is dark and empty. We dutifully drop our 10 bucks cash into the "honesty" box, sign our names and peel two receipts off the pad just in case we run into anybody who really gives a damn. We won't, of course.
My friend, guide, fellow wine-taster and golf partner, Mark Heyn, is up early with me, grumbling a bit about the hour and the absurdity of the mission ("I hate bloody scrapes" he groans, but game for as many sunrise holes as we can squeeze in before the demands of travel push us back down the road.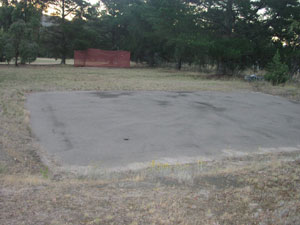 We start at the 10th hole, which is no cupcake. Grange may be a far cry from golf-snob standards, but it's not easy. No. 10 is a slightly downhill par-3, 169 meters (185 yards) in length, with a gully gouged in front of a small green pinched by overhanging trees. A nice soft draw would help. But neither of us has a nice soft draw, Mark favoring the screaming hook and me cursed by decades of power-fade muscle memory.

Heyn is only half awake as he takes his normal 28-inch backswing, connects with his 5-wood and hits the shot of the round: high, beautiful, right-to-left, dead on the pin, perfect. On most days. Today the ball lands a little short of pin high and hops like a kangaroo on crack, finally stopping 35 yards beyond the green. "Did I tell you I hate scrapes?" he snarls as he goes to hack it out of the low bushes.
He bogeys, I take my traditional opening double, and away we go.
We end up playing seven holes at Grange, making up our route to suit ourselves and never seeing another golfer, alone on a gorgeous morning in a strange and wild place. I'm not sure I've ever had more fun on a golf course. I play horribly, which is normal, and am enthralled. It barely seems real.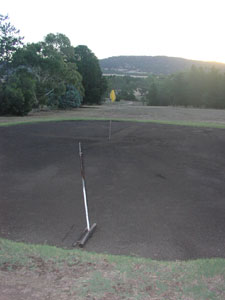 On our third hole I make my first par of the trip. I putt from well off the green and, as I'm walking to my ball, the ground seems to move. I see ants. Lots of ants. Smoothing out the line to the hole I look around and realize they're everywhere. The green is really a round and flat, sandy anthill with about a thousand little ant-holes and a couple million of the tiny, harmless critters busily going about their ant-business. I make a very firm and very quick putt for par, snatch my ball out of the hole and escape their world.

Along the way Mark proves the Southern Hemisphere golf Gods giveth and taketh away in ways just as bizarre and arbitrary as their Northern Hemisphere counterparts. Punished for hitting a sweet drive on the first hole, he is twice rewarded for hitting bad shots later on. In both cases his ball is bounding for trouble when it hits the handle of the steel rake standing upright behind the green and stops dead.

The rake handles are round and about an inch in diameter. There's no way you could hit one and get a good result once, much less twice in the same day, in a shortened round, playing an incredulous guest from overseas. "Hate these scrapes" he mutters again, but this time he's also laughing like a hyena, or perhaps a bandicoot or kukaburra.

The 17th is a short, flat, wide-open par-4 and I make personal history. Deftly skulling a wedge straight at the pin from about 50 yards, I see my ball hit something on the fairway and deflect off its line. For the first time in my life I have brought Kangaroo poop into play on a golf shot.

Laughter is the only relief, as Heyn confirms the marsupial nature of the dark, round scat. Checking the scorecard for help, I find Local Rule No. 1: "A ball may be lifted from a wheel mark, rabbit scratch, animal hoof mark, and dropped without penalty." Rabbits, fine, but nothing at all about kangaroos or their poop. Playing it as it lies, I sink an improbable putt across a desert of a green and walk off with one of my all-time favorite pars.

Determined to finish strong, I pop my final tee-shot of the day straight up. It travels all of 20 feet forward and lands perhaps 2 feet into a thick tangle of nasty-looking brush. Anywhere in the Pacific Northwest this is a find-able ball - at Kayak Point, Lost Tracks, Christmas Valley, Horn Rapids, Orenco Woods, etc. We walk up and peer into the foliage and can't see a thing. Not even the ground. If you stuck your arm in at the elbow you wouldn't see your hand. It gets dark fast in there.

"Mark" I say, remembering there are living things in odd corners of the Australian landscape that cause pain and misery beyond what you'd expect, "I wouldn't go in there for all the money in the world."

Now Mark Heyn is a guy who will look long and hard for a lost ball. He is a guy who will look for a lost TEE. He'll look for YOUR lost tee. He likes his golf game nice and tidy and doesn't appreciate losing any little pieces of it.

A couple of seconds tick away as we stare at the spot where the ball disappeared and ponder the price of a used Pinnacle and the distance to the nearest snakebite kit. He shakes his head and chuckles. "Neither would I," he concludes. I'm dropping and hitting before he stands up.

After we finish 18 and I concede another international loss like the good !!#$@!! sport I am, we notice some activity at the far end of the clubhouse. We're stunned to see another human being sharing Grange Golf Club with us. And he's putting a mower away. A MOWER, we realize in amazement, one of those machines commonly used to cut grass.

After what we've seen and played the thought is so absurd we cackle with glee. But on closer inspection we see that the raised rectangle of parched dirt and stringy weed that is the first tee, has indeed been carefully cut. It's the only thing within eyeshot that could possibly require cutting, a patch of sparse growth you could throw a beach towel over. And now it's just a little shorter, a little neater than it was a few minutes ago.

And somewhere I figure W. Bill Coates is smiling and saying, "Good on ya, mate."
Allen Schauffler is the weekend news anchor and Legal/Consumer reporter for KING TV, Seattle's NBC affiliate and its top news station. He is hopelessly addicted to golf, although years of playing the game have not improved his score much. On any given day he is just as likely to shoot 84 as 104, but will usually stumble into the clubhouse happy and stupid with a score in the mid-90s.

Allen has covered four Olympics, including the Summer Games at Sydney and Athens, and the Winter Games at Salt Lake City and Turino. He's slated to cover the 2008 Summer Games in Bejing.

Schauffler is a proud charter member of the Northwest Golf Media Association, even though he anchors two news shows, works a weekly "Legally Speaking" consumer interest beat, and really doesn't write about golf all that much. He also has a soft spot for the funky nine-holers, the lost-puppy courses and out-of-the-way tracks that would be scorned by the country club set. He attributes this odd attraction to growing up in Oregon and playing at courses like Orenco Woods, the long defunct Neahkahnie, Hawk Creek and that weird hillside par-3 up near the Portland Zoo that was plowed under 35 years ago.

Now if you happen to be a member of the aforementioned country club set, Allen is no fool and will almost never turn down your invitation to play at a top-flight course; he just relishes teeing it up in the middle of nowhere.

Such a description sure fits the bill for Grange Golf Club. For more on Allen's Australian Adventure, visit King 5