Golf in Indian Country
Unlike much of the golf course development world which has been lagging in recent years, the number of Indian casinos with golf courses is growing rapidly throughout the U.S. According to the September 2004 issue of Indian Gaming magazine, there are 33 Indian resort casinos with golf in 15 states, which have a combined 783 golf holes and average of 23.7 holes per resort. Furthermore, there are currently seven courses under construction and 11 more in planning.
There are 15 Indian casino courses in the Northern U.S., and 15 in the South. The courses in the North average 32,850 rounds per season, while the Southern casino courses average 39,929. Of particular note are the affordable green fees relative to resort courses in general. The green fees for northern Indian casino courses average $59; the greens fees for the casino courses in the South average $52. This is in stark contrast to many non-Indian resort courses, which charge anywhere from $150-$250 per round.
As for lodging, of the 33 Indian casinos with golf, most have some type of overnight accommodations, with 26 having on-site hotels, 14 with on-site RV parks, and 11 with both.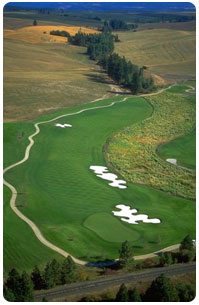 One of the newest Indian resort casinos with golf as an amenity is Circling Raven Golf Club at the Coeur d'Alene Casino Resort Hotel in the Idaho Panhandle (www.cdacasino.com). Not to be confused with the Coeur d'Alene Resort and its famous floating green, Circling Raven is a Gene Bates-designed course that is indicative of the high-quality golf layouts being built adjacent to Indian casinos. Circling Raven was named one of the "Top 10 New Courses You Can Play in the U.S." by GOLF Magazine (January 2004). Another example of the top-notch Indian casino courses is Dancing Rabbit Golf Club in Mississippi. Owned by the Choctaw Indians, Dancing Rabbit has 36 holes designed by Tom Fazio and Jerry Pate. Its Azaleas Course was recently voted the No. 34 best public course in the U.S. by Golf Digest (September 2004).

Owned by the Coeur d'Alene Indians, Circling Raven and its casino resort represent a comparative bargain for golf-and-gaming enthusiasts. For example, Circling Raven charges $75 with cart for a round, while nearby Coeur d'Alene Resort Golf Club – the facility with the floating green – goes for $185. This business strategy is paying off as Circling Raven has exceeded projected rounds for the year – its first full season.
"Our performance reinforces our belief of the quality of Circling Raven, its location and that we filled a price point void that was sorely missing," says Circling Raven director of golf Dave Christenson.
Similar savings can be found at the 200-room hotel in the casino resort near Circling Raven. Also on tap at the casino resort hotel are video gaming machines, off-track betting, restaurants and entertainment/shows. Keeping visitors busy and happy with golf, gaming and first-class customer service at affordable prices is a business strategy that has captured the attention of consumers and industry participants. Expect more of the same for the rest of this decade.