Golf In Ireland
By: Jeff Shelley
After spending 10 days in mid-May playing golf across southern Ireland, I'm not quite sure where to start with this tale. Should I begin with the virtually flawless weather - no rain during seven rounds of golf! Or should I stray from the golf courses - a regular occurrence on- or off-course anyway - to the wonderful eateries, pubs, ancient ruins and historical sites along the way? Perhaps the focus should be the Irish themselves, a lyrical, passionate people who never hesitate to sing their hearts out when the mood hits - which, if possible, is nearly every night at the local pub.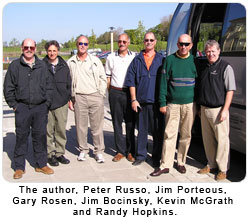 Whatever the start of the story, our trip was memorable. Ireland's fabled links are fantastic, the caddies were characters, the chemistry of our group sublime. Our fivesome from Seattle included Jim Porteous, Gary Rosen, Peter Russo and Randy Hopkins (actually from Coeur d'Alene, Ida.). We were accompanied by the two partners - Jim Bocinsky of Redmond, Wash., and Kevin McGrath of Ireland - in the travel company, Irish Golf Experience. Our driver was the inimitable Brendan Martin, a former London firefighter who has found himself behind the wheel of a bus after being forced to retire from his previous line of work because of chronic asthma. Brendan, a 5 handicap with three daughters aged 5, 3 and 2, gave much life to the many interesting nooks and crannies and tiny towns alongside Ireland's two-lane roads.
Dublin & Environs

The initial half of our trip was centered around Dublin. On the links roster: The European Club, the Island Golf Club, Portmarnock Old, and Ballybunion. Our home port for the first three nights was Castleknock Hotel, a recently built businessman's facility 3 miles from the city in the Liffey Valley. Just outside our hotel rooms sprawled a budding golf course - not yet open for play. Designed by Jonathan Gaunt, the fairways (visit www.castleknockgolfclub.ie for details) were getting more verdant by the day as workers hurriedly laid sod in preparation for an August opening.

Talk about weird: Staying at a hotel with a golf course and not being able to play. Oh well, Castleknock has a nice, spacious bar that opens onto the course and a gourmet-style restaurant. Despite the slow going to the above courses because of Dublin's heavy rush hour traffic, Castleknock was fine. We all agreed, however, staying in one of Europe's most vibrant cities is preferable.
Pat Ruddy's Paradise


First on the agenda was The European Club, a wonderful 20-hole course (yes, 20) along the Irish Sea that boasts three of the world's top 500 holes. Its architect and owner is Pat Ruddy, a golf writer who produced dozens of articles and books before getting into golf design and development. Since the debut of The European Club in December 1992, Ruddy has done several other golf projects. His new courses include St.Margaret's Golf & Country Club, Sandy Hills Links and Druids Heath, while his remodels list the golf clubs at Ballymascanlon Hotel, Stackstown, Balbriggan, Rosapenna, Portsalon, Donegal and Ballyliffin.
After playing the European Club on a sunny, windswept (a term redundant in Ireland) Tuesday, Pat Ruddy has joined the ranks of Harvey Penick and Fred Couples in my personal pantheon of golf heroes. What a concept: A golf writer acquires a magnificent piece of seaside property and designs a great golf course. If only his fellow hacks - particularly me - could be so lucky.
The bite of this wonderful track was recently sharpened with 30 new bunkers, many with those wood-fortified walls to keep their towering lips from collapsing inward. New tees have also been added to stretch this test - one labeled "Magnificent" by Nick Faldo - to over 7,300 yards from the tips (where it bears a daunting 76.3 course rating). The two extra holes are labeled "7B" and "12B." We played both of these par-3s during our entertaining 20-hole round.
The course was in spectacular shape when we played it on May 10th. But the rough was, well, quite rough. Recent rains had spurred the growth of the tall fairway-bordering grass, rendering these areas nigh inescapable. One was better off in a cavernous bunker. The European Club took a lot of concentration and ability to abide the quaint notice on its scorecard: "Stay awake - get around without delays - you are an athlete!"
Particularly intriguing holes were the 12th - also known as 12A. This 459-yard par-4 winds over wavy ground and ends at one of the world's largest greens, one which extends 130 yards from front to back. After completing the hole, we putted from the front portion of the green to an imaginary pin held at the back by Brendan, a burly former Irish footballer who looked like a wee leprechaun he was so far away. The closest any of us got - after two attempts each - was about 30 yards from the "cup."
Ruddy's other unique hole is the par-5 13th, which concludes at a huge horseshoe-shaped green. In the middle of the horseshoe lurks a deep bunker ringed by tall grass. Make sure you get on the right side of this green or you may find yourself diving into the murky depths of multiple pints of Guinness after the round.

Unfortunately, I wasn't able to meet Mr. Ruddy. He was at the club, but was busily directing the work crews that were expanding his clubhouse. I talked with his son, Matt - one of five Ruddy children, and Matt mentioned recent visits by PGA Tour pros Mike Weir and Lee Janzen. The week before the 2002 British Open, Tiger Woods, Mark O'Meara, David Duval and Scott McCarron stopped by in preparation for a lesson on links golf. Though The European Club is a bit remote for a big-time golf tournament with its location off Brittas Bay near Wicklow, I agreed with McCarron, who said that these links should be the site of a major golf championship.

The Island

Founded in 1890, the Island Golf Club (theislandgolfclub.com) is situated on Coballis Peninsula, just 5 miles north of Dublin Airport. Various vantage points offer crisp views of Ireland's capital city. Island still uses meters for distance, an exotic measurement which, thankfully, was readily translated by our hosts, members Leo Hickey (in our foursome) and Jim McBride.

At the end of our round, McBride handed me a delightful history of the club. The hand-written diary was penned by John Horish, one of Island's founders. Among other tasty tidbits, Horish wrote: "The formidable task of clearing the rough growth was begun in the early spring of 1888. Mr. Blood and Mr. Moore (co-founders J.R. and D.Y.) came to see my father, Michael Horish, and asked him if he would help with the work. . . . Scythes were used to clear fairways, and small greens cut, rabbit holes filled in, and small tees made. The tees were raised and measured about 6' x 6'. There are a few of those still to be seen still."


Since that inauspicious start, the Island Golf Club has gone on to receive many plaudits, including a regular ranking by Golf World in its Top 100 Golf Courses in the British Isles. Those who've played the course include Christy O'Connor Sr., who exclaimed, "The Island is one of the genuine true links courses. A pleasure to play with a great variety of shots." A more recent notable is Irishman Darren Clarke, now one of the top players on the PGA Tour, who evaluated Island as "a fantastic links which tests every club in the bag."

Island's links have undergone several permutations over the past century-plus, including a re-layout that resulted from the construction of a new clubhouse several decades ago. The original first hole - now the 14th - bordered the initial clubhouse - a tent that was later converted into a small building. The first tee was located alongside Donabate beach and Broadmeadow estuary, which separate the "island" from the village of Malahide. For many years the only way golfers could reach The Island Golf Club was by boat.

Many golf courses have undergone revisions over their histories, but rarely have they boasted such opening holes as Island's original first. Though a relatively mere 316 meters from the back tees, this par-4 is widely considered the narrowest hole in Ireland. With the out-of-bounds estuary off to the right and towering, grassy dunes left, the straight-ahead 14th is supremely tight. Leo said that many golfers who've played Island's 14th only recall the fairway that forced them to walk single-file on their way to the green.

More of a classic links test is the next hole. The par-5 15th rises and falls with the endemic heaves and swales of the land, creating blind shots and a sense of impending danger and possible reward. The 15th green butts up against one of Island's tallest hills. Next up is the 16th, a par-3 with a classic redan green. Sloped like a buried cue ball, this putting surface has vexed the members so much that, finally fed up, they're replacing it with a more accessible target later this year.

While making the turn and crossing through the parking lot to the 10th tee, Leo introduced our group to Philip Walton, an honorary member of Island Golf Club. Walton, you may recall, made history when he sank the winning putt for the European Team in the 1995 Ryder Cup Matches. Great things were in the offing for Walton after those heroics. But Walton lost his European Tour card in the late 1990s and has been seeking to resurrect his career ever since. According to Leo, Walton is as good a ball-striker as ever. If only he could regain his putting touch . . . a plaint heard everywhere.

I'm hoping the personable Walton will once again reclaim his place in the golf world's upper echelon. His home club certain has certainly retained that status.

Next Up: Portmarnock Old, Ballybunion and the Killeen House.