Golf in Ireland - Portmarnock, Ballybunion & a Welcome Respite In Between
By: Jeff Shelley
It's amazing how much the game of golf is part of Irish culture. Throughout our travels around the west and east sides of the nation's southern half, we'd find tidy par-3s and sweet executive-length tracks on the edges of towns. Along with grazing cows and sheep, on many village peripheries are naturally lush expanses with tiny greens sporting wee flags, quaint mushroomed tees, and local kids strolling after their next shots.
My guess is that Ireland's golf culture stems from its hallowed links, which provide the country with an enduring public relations asset. It's almost as if the townspeople who built the nation's seminal courses foresaw how golf could positively shape their identity - and boost their economy - for generations to come.


Back in the late 1800s, when many of Ireland's fabled courses arose, local citizens banded together to form golf clubs and build places to play. Layouts like Lahinch, Ballybunion, Tralee and Waterville remain among the village's highest junctures, sprawling over landforms sand-blasted skyward by the howling coastal winds. Many links holes begin with panoramic starting points before descending through narrow dune-lined channels to mowed-low greens. Some of these tee blocks provide the best vistas - of the Irish Sea, the Atlantic Ocean and unpopulated sandy beaches - in town. It's as if the Irish enjoy the idea of scanning and savoring the moment before a hole begins, reveling in their picturesque homeland before getting down to business.
For many, the business of Irish golf starts at Portmarnock Golf Club.

Portmarnock Old

Though not boasting the dramatic topography of the links listed above, Portmarnock (www.portmarnockgolfclub.ie) certainly presents its own challenges. Founded in 1894, the club has three nines, with the Red and Blue sides representing the original Championship Course, and Yellow - built in 1971 - the most recent addition. All of the golf holes are adjoined by one of Ireland's stateliest clubhouses, a white-washed structure with spectacular views of the golf course and Irish Sea, which sits 9-iron distance away. Inside this recently remodeled structure are snug common areas for both members and guests, and an outstanding locker room with hot showers.
Regardless of the nines played, this rugged test features many blind holes and a lot of bigger-than-usual greens. Portmarnock occupies a small peninsula that extends southward into the sea. No two holes play in the same direction, requiring players to always be keen of the ever-present wind directions. On the day we played, it seemed like those winds were invariably slapping us in the face.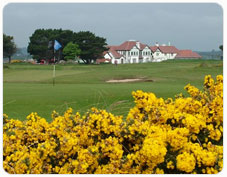 Though originated at the end of the 19th century, golf at Portmarnock has roots that reach back into the mid-1800s when the property's original landowner, the Jamesons (of Dublin distillery fame), played on a private track next to their home (once situated just south of the present 15th green). That layout was one of the earliest ever built in Ireland. A group of local citizens later forged a favorable lease on the land for the purpose of building a new golf course. A Scottish insurance broker named W.C. Pickeman co-founded the club and designed the original 18 holes. Pickeman's handiwork at Portmarnock was so well received that he went on to design 26 more courses in Ireland.
I played the original 18 holes with Jim Bocinsky, Peter Russo and George Nish. George is a 34-year-old who works as a rep for Calloway. Memberships are difficult to obtain at Portmarnock, and George probably wouldn't have been able to join were it not for the prescience of a loving family member. Before passing, George's late grandfather, a scratch golfer, asked the club's board to give his first male descendant a membership. Much to his and his mother's surprise, when George turned 12 he received a letter from the club announcing his membership. George was literally "grandfathered in" at Portmarnock.
As always when playing an Irish links for the first time, it's good to have a guide. George, a 5 handicapper and a member of Portmarnock's elite squad that competes against other area clubs, was a fine leader. Sadly, my game did not obey his instructions. No doubt, Portmarnock was pretty tough on me that day.
Notwithstanding my frustrations, there's plenty of landing room off most tees at Portmarnock, whose generally wide fairways meander through not-too-penal scrub where one's errant shot can be found - at least most of the time. On at least three of its blind holes, two smokestacks in the distance serve as suitable targets. Besides offering territorial views of the town of Howth and the nearby water bodies, Portmarnock's 500 acres contain much birdlife. Ornithologists - and I don't mean those who shoot birdies - will have a field day here.
Golf Hospitality At Its Finest

After our round at Portmarnock, we flew from Dublin to County Kerry and landed at the Killeen House Hotel (www.killeenhousehotel.com) for the next three nights. Owned by Michael and Geraldine Rosney since 1992, the Killeen House is located five minutes from Killarney.


Michael Rosney oversees the pub and staff. A veteran raconteur, Michael is an engaging and humorous host. He said that approximately 90 percent of his guests are American golfers, and that his hotel suffered considerably from the post-9/11 travel and economic downturn. As evidence of the Killeen House's primary clientele, his small pub is lined with logo golf balls and bag tags from clubs throughout America.

The Killeen House originated in 1838 as Archdeacon Nathaniel P. Forester's rectory. The hotel, completely renovated in 1990-91 before the Rosneys bought it, sits on 1.5 acres of beautifully manicured gardens. A larger-than-normal bed-and-breakfast with similar easygoing vibes, the hotel has 23 en suite bedrooms - eight of which are classified deluxe and big enough for the most discerning travelers.

Besides possessing an ambience that warms the hearts of golfers, the Rosneys' place serves some of Ireland's best food; Rozzers Restaurant is popular with guests and locals alike. And for very good reasons. For the nightly dinners, head Chef Paul O'Gorman and staff present spectacular multi-course prix-fixe meals for 49.5 euros (about $60). Prawns, lamb, steak, pork and/or lobster specials every night. O'Gorman's chow, with the Rosney's full-bodied support, is superb - the best we ingested during what became an ambitious devourment of southern Ireland's best menus.

Geraldine runs the place like a den mother, carefully tending the needs of guests and showing golfers the quickest routes to the many nearby courses. Two of these - Killeen and Mahoneys Point - are within five miles, while the underrated Dooks is a half-hour drive. (For additional courses within driving distance of the Killen House, see their helpful website and click on the Golf tab.) After sleeping in one morning and awakening to a closed kitchen, I came across Geraldine, who kindly had the cook on duty whip up a tasty bacon-and-egg sandwich. Such is the warmth and kindness of the Killeen House Hotel and its proprietors.

"Brutal"bunion

Ballybunion Golf Club (www.ballybuniongolfclub.ie) is one of Ireland's true big-time golf operations. Boasting 36 holes - including the Old Course (built in 1893) and the Cashen Course (designed by Robert Trent Jones and opened in 1981) - this facility outside its eponymous village in County Kerry is the place most American golfers flock to when in Ireland.


It's pretty obvious how golf - and its players from across the pond - have benefited Ballybunion. When we visited the rather sleepy farming village in mid-May, many of the hotels, restaurants and shops were populated by Americans.

According to Jim McKenna, the Secretary/Manager of Ballybunion for the past 12-plus years, the courses receive 20,000 to 22,000 rounds a year during their "open" season, which runs from mid-April to the end of October (only members and their guests are eligible to play the rest of the year). Roughly half of the "open" rounds are played by Americans.

McKenna said that the round counts are still down following 9/11, but that he's hoping for a surge now that the 2006 Ryder Cup Matches will be played at the K Club near Dublin. Ballybunion's tee sheet for 2005 was full in January; reservations for 2006 will open up again in September. Though the club requires that reservations be paid in advance, there are still many cancellations. So, golfers without a tee time near one of Ireland's most tradition-rich links should call the pro shop a day ahead and see if a time is available, which it very likely could be.


The "brutal" moniker given the Old Course was merited on the day we played. Ballybunion was whipped by 30- to 40-mile-per-hour winds out of the East. These unusual zephyrs deflected airborne shots in all - usually wrong - directions. One of our caddies, a splendid golfer with a 5 handicap, said it was the worst conditions in his 13 years of looping here.

When not looking down at the ground - searching for lost balls and trying to prevent my hat from flying into the ocean, I noted a golf course with all the bells and whistles of a classic links. The fairways wind between some of the world's highest sand dunes, which are covered by tall ball-swallowing grasses. (One local man purportedly has bought a new car every two years with proceeds from the found Pro Vs he's accumulated on the course.) Ballybunion's signature hole is the 11th, a 453-yarder that Tom Watson once called the greatest par-4 in golf.

While taking a broader glimpse across these hallowed grounds, I occasionally saw dozens of men and a few women scouring the verdant dunes in the hopes of finding their airmailed golf balls. They looked like ants crawling over a huge pile of sugar. If their luck was anything like ours, many didn't find their searches very sweet. Even so, they too left Ireland with a memorable experience.