Golf in Olympics Triggers Environmental Movement in Denmark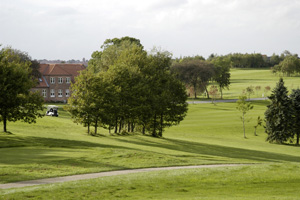 Denmark's Viborg Golfklub
The decision by the International Olympic Committee to add golf to the Olympics has already begun to reinvigorate government support and opened new funding streams across the industry.
But, while the IOC's decision has the potential to spark an explosion in golf, the forthcoming United Nations Climate Change Conference could result in stringent new legislation designed to eliminate ecosystem degradation and drastically reduce carbon emissions.
As government, business and society face up to the reality of our planet's ailing health, the need for golf to demonstrate its value as an environmental and community asset has never been more pressing. In this maelstrom, one pioneering golf facility has stepped up to the mark.
Denmark's Viborg Golfklub has shown leadership in the sector by achieving GEO (Golf Environment Organization) Certified status, one of the game's most prestigious environmental awards.
With the Danish Golf Union (DGU), GEO and local government figures present at the award ceremony, Viborg's new state-of-the-art maintenance facility hosted the team of staff and volunteers that worked to achieve the award.
Recognizing their efforts, GEO's Director of Communications Benjamin Warren said:
"Viborg Golfklub has demonstrated its commitment to become a resource efficient, ecologically rich, community integrated golf club, delivering ever increasing standards of environmental management. Through the direct action of clubs like Viborg, golf facilities have the potential to play their part in driving sustainable lifestyles and sustainable livelihoods. Their detailed Certification Report, available for anyone to read on the GEO website, is a case study in sustainable golf."
Torben Kastrup Petersen, head of Golf Course Management at the Danish Golf Union, was pleased that Danish golf is playing a role in environmental innovation. "Viborg has set a fantastic example as an international pioneer in this extremely valuable program. GEO have put together a streamlined and effective program that will drive credible continual improvement in golf facilities. The DGU recognizes GEO Certification as a vital mechanism in attaining our vision of golf as a social, economic and environmental asset to the people of Denmark."
"It has been a fantastic experience for the board and staff of Viborg Golf Club to work towards the GEO certification," says the president of Viborg Golf Club, advocate and consul Uffe Steffensen. "Our staff proposed to go for certification and the board gave immediately backing to the proposal. Since then everybody has worked hard and with eagerness to achieve the certification. We take it for granted to offer our contribution to the environment and to continue the project we have started."
While in Denmark to present Viborg's award, GEO teamed up with the DGU to stage a one-day certification workshop at Odense Golf Club. After working with the participants to begin the registration process and get them "on-coursec for GEO certification, the DGU looks forward to more participants in the race for recognition as Europe's greenest golf nation.

Meanwhile, Gordon Shepherd, WWF Director of International Policy and GEO Advisory Council Member, who will himself be in Copenhagen for the Climate Change Summit, looks forward to driving a hard line as the UN convenes to thrash out a new global climate treaty. "Viborg Golfklub has demonstrated their voluntary commitment to reduce resource consumption, CO2 emissions and maximize the ecosystem services derived from their course. Against this backdrop, governments and governing bodies around the world must step up to the mark, show bold leadership and establish the policies that ensure future generations can live, work and play on a healthy and equitable planet.

"Each and every individual on this planet has a responsibility to minimize their impact on the natural environment and climate. As relatively large land owners and potential catalysts among members and local communities, golf facilities have an important role to play in this drive and Viborg should be proud of their pioneering achievement."

GEO is an international non-profit organization working to integrate the social, environmental and economic benefits of golf. Supported by a wide range of stakeholder organizations, it has been driving environmental initiatives in the sector since 1994. For more information about GEO and Viborg's Environmental Program, visit www.golfenvironment.org/certification.