Golf in Paradise - Five Caribbean Must-Plays
By: David Wood
There is a glorious aspect to seaside golf, and the Caribbean islands have it in spades. Combine jaw-dropping seascapes viewed from putting greens, warm tropical trade winds wafting across lush fairways, and the elite of course architecture plying their craft on the prettiest of nature's handiwork and we're talking golf to savor. Here are five "must plays" in the Caribbean.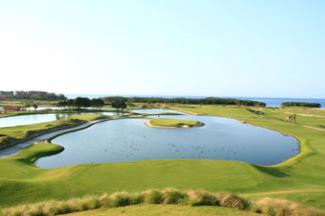 The Black Pearl
The Black Pearl - Pristine Bay Resort - Roatan, Honduras

"The Black Pearl is laid out on one of the best canvases we've worked with," says legendary course architect Pete Dye. Located 35 miles off the Honduran coast, Roatan is resplendent with sugar-sand beaches and Caribbean waters so shockingly blue it almost hurts to gaze too long. Like its pirate ship influenced moniker, it's all sinisterly enticing.

The par-72, 7,179-yard layout is Dye's first project in Honduras. The course starts at the ocean's doorstep and rises into the island's rolling foothills before taking golfers on a wild and woolly ride back to the seaside clubhouse. It features one of Dye's signature island greens, and 14 holes with unfettered views of the ocean and Meso-American Barrier Reef. This is championship golf in paradise. www.pristinebayresort.com
Cinnamon Hill – Rose Hall Resort – Montego Bay, Jamaica

Cinnamon Hill is like a Whitman's Sampler of Jamaica's awesome beauty that combines fragrant foliage, verdant mountains and tranquil Montego Bay vistas. Its 15th green features a waterfall that was the site of a dramatic scene from the James Bond flick "Live and Let Die." Like 007, you're in for thrill after thrill as this course peaks at 350 feet above sea level and returns with holes so close to the ocean you think you'll need fins with soft spikes.

Designed by Robert Von Hagge, the course features the history and rich flora and fauna of Rose Hall Estate - a former sugar plantation built in 1790 by a wealthy British planter. This splendid course plays to 6,828 yards against a par of 72. It's all the golf (and scenery) you'll ever need. www.rosehallresort.com
Teeth of the Dog - Casa de Campo Resort - La Romana, Dominican Republic

Dye seems to knock out masterpiece designs with ease. "The opportunity to carve out Teeth of the Dog was a once-in-a-lifetime experience," Dye says in his book "Bury Me In a Pot Bunker." "Without proper heavy machinery to crack the coral, the tireless Dominican crew used sledgehammers, pickaxes and chisels." The result is a Caribbean golf Eden.

With devilish doglegs and Dye's clever slight-of-hand causing havoc this course has captivated golfers for 40 years. The trade winds up the ante (and hopes of a good score) even more. As Dye says modestly, "Seven holes were created by God." The other 11 were from another design genius. www.casadecampo.com.do
La Cana Golf Course - Puntacana Resort and Club - Higuey, Dominican Republic

Golf courses don't come much closer to the sea than La Cana Golf Course. Designed by P. B. Dye, La Cana features 14 ocean-view holes with four playing right along the water's edge. It's not often one's given a choice to either hit your next shot or snorkel - that's how close the agua is.

The course is flat-out superb. With emerald-green fairways juxtaposed against white-sand bunkers; the Dye family's love of ubiquitous railroad ties; and creative green complexes that are as beguiling to putt as they are smooth, the layout has an innovative aura proving the Dyes' sure know what to do when given great land to ply their dynastic skills. La Cana is 7,178 yards of pure golf. www.puntacana.com
Tierra del Sol Resort & Country Club - Malmok Beach, Aruba

Designed by Robert Trent Jones II, Tierra del Sol Resort & Country Club sits regally on the northwest side of Aruba. Open for visitors' play, this Lesser Antilles gem has the unlikely but thought-provoking characteristic of being a "desert course with ocean views." The target-style design and constant trade winds provide a unique challenge that calls for repeated play to master its subtleties.

The 6,811-yard layout winds past marshes and native cactus with ocean views on 13 of 18 holes. There are many reasons to visit intriguing Aruba with its laidback ways and sunny climate, and now, golf is also among them. www.tierradelsol.com
In addition to writing on golf and travel, author and noted speaker David Wood has made several appearances on "Late Night with David Letterman" as well as dozens of other television shows. His book - "Around the World in 80 Rounds" - was just released in paperback on www.Amazon.com. Currently he works in public relations with Buffalo Communications in Vienna, Va. His website is www.DavidWoodSpeaking.com.