Golf in Reno-Tahoe
By: Blaine Newnham
Quietly, serenely, Reno has played a pleasant second fiddle to Las Vegas in the world of developing golf courses and luring people to play them. Admittedly, for much of the area's high-altitude golf – golf against a marvelous backdrop of mountains and tall trees – the season is short, opening in June and shutting down sometime in September.
But Reno is not just high lakes and high prices. Or short seasons. It is as varied as the Genoa Lakes complex – two very nice courses – on the dry eastern slopes of the Sierra and the provincial Plumas County area – Old California – to the north and west of the city, where eagles – real eagles – and spirits soar.
It is the variety that strikes you, the options, the notion that from the Reno airport you can go east to sunny Sparks to play some mostly-open courses like D'Andrea, Red Hawk, and Wildcreek, or south to Nevada state capitol of Carson City for the two courses at Genoa Lakes. Or to Dayton Valley, an Arnold Palmer design.
Forty-five minutes in the other direction will put you at Lake Tahoe, where the Robert Trent Jones Sr. course at Incline Village has re-opened after two years of a gentle face lift. Or even to the much-photographed Squaw Creek course in the delicate Alpine landscape above Lake Tahoe that was the site of the 1960 Winter Olympics.
The draw can be the summer weather: warm, clear days in July and August where the temperature might get to 90 degrees, and might not. Where the high altitude not only sends the golf ball farther, but seems to lighten mother nature's veil, a brightness that is a far cry from the rest of the country's heavy humidity.
While the golf can be strictly high-end for those who want it, there is a brand of everyman's golf that can be particularly appealing for those who want to gamble as well. Let's start with the basics, as simple as four guys flying into Reno to play golf by day and play slots by night. The major casinos – Peppermill, John Ascuaga's Nugget, Atlantis - all offer stay-and-play packages.
They can start as low as $65 a night, playing one of the city courses in Reno, like Rosewood Lakes. To get started, try a couple of websites, www.golfthehighsierra.com and www.divine9.com. The former actually plugs in tee times for you.
After arriving in Reno and playing D'Andrea near Sparks, I drove back late to the Peppermill, where walking through the casino at 10 o'clock at night with my suitcase and golf clubs didn't provoke one person to even look up. They didn't know – or care – what time it was.
The next morning I did, up early up for the drive west across the Sierra to Truckee, long the little noticed gateway to Lake Tahoe. But, again, less than 45 minutes away. Truckee is the new Lake Tahoe, where a new resort, Old Greenwood, has stepped to the front, a place where you play golf in the summer and head up the slopes to ski in the winter, a course with $2 million cabins dotting the trees along the fairways, a Jack Nicklaus-designed course that for a change seduces rather than poleaxes its victims.

The green fees are $170 at Old Greenwood, and $145 at its nearby sister course, Coyote Moon, which has some of the most spectacular holes on any course anywhere. A par-3 off a mountain side and across a roaring creek, another hole back across the creek, and a third bordered by not only a sand trap but a huge boulder guarding an entrance to a cave where the coyotes themselves hang out. Coyote Moon has no houses. Just trees and coyotes.

Slightly less expensive in the area is Northstar, up near the ski resort, with green fees of $95. For high-enders-and-then-some there will be a private course near Old Greenwood called Gray's Crossing, the work of Peter Jacobsen and Jim Hardy as well as the private and already-established Lahontan development near Northstar.

At the south end of Lake Tahoe, of course, is the well-known Edgewood Tahoe course where celebrity tournaments are often played. Green fees at Edgewood are $200.

But what about getting away from the glitz of Lake Tahoe, although is there a prettier sight in the world than the blue skies and water of the high-altitude gem? My favorite sector of the Reno golf experience is what seems to be another time zone, but isn't. Maybe it was because as a kid my parents had taken me camping for weeks at Bucks Lake in the shadow of the historic Feather River.

In fact, for a special outing we'd play wealthy and visit the 1915-circa Feather River Inn that allegedly had been visited by Bing Crosby and after a checkered past is a hotel again.

In the 60s, with small children of our own, we returned to stay nearby in cabins at the Feather River Park Resort, whose scruffy but glorious nine-hole course allowed us to wave to the kids and the wives as we went by.

The place hasn't changed much. The Mohawk Valley still is serene, still dotted with tumbling brooks and fat cows, lupine blooming in June, tall Ponderosa pine standing watch, a fly fisherman standing alone in a high-country meadow.

The center of Plumas County recreational area might be Graeagle, once a company town where they turned trees into wooden boxes used to transport fruit in the hot valleys below. The red, wooden row houses of the company town survive, so does a California before the development that has overrun Tahoe.

Plumas County has 1,000 lakes and a 1,000 miles of streams. People still fish. And, of course, they play golf.

I took one look at the relatively new course at Whitehawk Ranch and thought I could spend a month there, renting a cabin somewhere in the valley, reading, walking, even fishing. And, of course, playing golf. Whitehawk Ranch feels right, a workable clubhouse where the emphasis is on the practice area and not the dining room, where for $15 you can hit balls all day, working on the short game as well as the long one.

The course itself is immensely playable, even though it is bordered by frothing creeks, wanders about a meadow and finds its way through a forest. The course isn't cheap, $115 during the week, but the season is short, and the surroundings superb.

Nearby is the infamous Dragon Course, whose promoters weren't kidding when they said "Bring Me Your Heroes." The course proved a little too hard for most players when it first opened and has since been de-clawed. It's an interesting course and setting, to say the least. The clubhouse is a grand building designed in 1923 by Frank Lloyd Wright and is the center of what is called Nakota Lodge. Green fees there run $120.

There are less expensive rounds to be played at Plumas Pines and Graeagle Meadows, one of the first updated courses in the area and a relative bargain for $45. I stayed at the Chalet View Lodge in Graeagle, a blend of old and new, Starbucks in the lodge, a fishing pond near by, flat-screen TVs, down-filled pillows and what I must say was a wonderful end to the day, a pillow-topped mattress.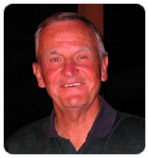 Blaine Newnham has covered golf for 50 years. He still cherishes the memory of following Ben Hogan for 18 holes during the first round of the 1966 U.S. Open at the Olympic Club in San Francisco. He worked then for the Oakland Tribune, where he covered the Oakland Raiders during the first three seasons of head coach John Madden. Blaine moved on to Eugene, Ore., in 1971 as sports editor and columnist, covering the 1972 Olympic Games in Munich. He was to cover five Olympics all together – Mexico City, Munich, Los Angeles, Seoul, and Athens – before retiring in early 2005 from the Seattle Times. He covered his first Masters in 1987 when Larry Mize chipped in to beat Greg Norman, and his last in 2005 when Tiger Woods chip teetered on the lip at No. 16 and rolled in. He saw Woods four straight major wins in 2000 and 2001, and Payne Stewart's birdie putt to win the U.S. Open at Pinehurst. Blaine continues to write a weekly column for the Seattle Times while playing golf at Wing Point Golf and Country Club on Bainbridge Island, Wash., where his current index is 12.6. In 2005, Blaine received the Northwest Golf Media Association's Distinguished Service Award. He and his wife, Joanna, live in Indianola, Wash., where the Dungeness crabs out-number the people.