Golf in Scottsdale – Between The Rocks and a Hard Place
By: George Fuller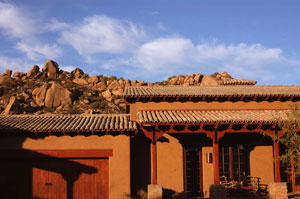 Scottsdale – it's known worldwide as a first-rate golf destination. And you know what? As far as I'm concerned, the courses are all they are cracked up to be.

Most golfers have been there before. A few days at the Biltmore? A week at Camelback Inn? Ah . . . the spa and dining at The Phoenician. There are some divine choices.

But what about those of us who want to go back several times a year? Who want a regular hideaway from the stress and bustle of our daily lives, a home away from home? Someplace to escape the chill of winter? Where the cacti are tall and the margaritas are frosty?
Consider The Rocks in North Scottsdale. Luxurious, 3,000-square-foot, two-master-suite villas in the shadow of Pinnacle Peak, The Rocks takes the concept of shared ownership to a new level of quality. Ownership at this intimate enclave managed by Troon Golf includes preferred access to many of the Troon-managed courses in Arizona, and a concierge to make your tee times for you. But the best part of the deal is back at your villa after golf, a private pool and hot tub, gourmet kitchen and more comforts than you probably have at home are waiting.
Within a short radius, owners have access to several of the best courses there are in Arizona, including Troon North (36 holes), Legend Trail (18 holes) and Talking Stick (36 holes). Also nearby is the new Golf Club Scottsdale, a terrific course with membership opportunities for the serious golfer.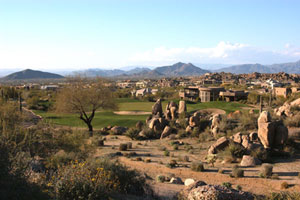 Troon North

The two courses at Troon North, Monument and Pinnacle, are less than two miles from The Rocks. They are ranked among the top golf courses in the nation. I won't lie to you: They are.

Both courses are excellent, with Monument being a bit more resort-style, and Pinnacles more of a players' course. Pinnacles, at 7,044 (73.4/147) yards will give anyone all the golf course they can handle. The fairways are narrower Monument's, the angles sharper.

Monument, at 7,028 yards, rates about the same from the back tees (73.3/147), but from the gold tees is almost 100 yards shorter and several rungs of difficulty lower in slope rating (138 to 133) than Pinnacle. In the end, you will not complain about a round on either of these designs.
The first thing you notice about Troon North is that the place is busy with serious golfers. One of the courses is reserved for public play each day, the other for members. The next day, they alternate. Impeccable service, course conditioning and facilities distinguish this flagship Troon Golf property. Everything runs smoothly, all the employees are polite and friendly, everyone is knowledgeable. Talk about service: There are even customized lockers reserved for owners at The Rocks in the Troon North clubhouse.
I arrived a few minutes late. The group I was joining on Monument was already at the first tee. I hustled up to greet the members of my foursome. "I'm Tom," one said. "This is my son John and my son-in-law Brad. We're going to play from the black tees, but go ahead and play anywhere you like."
Right. Not wanting to be a wuss, I said, "Black is fine by me."

We hiked up to the tee box and stood looking over the 444-yard hole. Before us lay a delicious stretch of cross-mowed bright green fairway, bordered on either side by deep desert scrub, fronted by an arroyo carry of some 170 yards from where we intended to hit. The Scottsdale area stretched out in the view plane some 40 or 50 miles ahead. Wow.

Tom and John striped their drives, Brad and I uh . . . didn't. The first hole carried on that way for seven or so strokes, but man was it gorgeous – and memorable.

On the third hole, a 564-yard par-five, I finally laced my driver long and straight. It came to rest behind a 20-foot-tall monument boulder that was proudly proclaiming glory in the middle of the fairway. But my confidence was as high as my spirits – this was fun.

Neither Brad nor I scored very well on the front side, but I'll say this: Even from the black tees, a 15-handicap guy like me can play the course from 7,000 yards and enjoy every shot – all 48 of them. There are desert carries on all 36 holes at Troon North, but they are designed to accommodate different play levels. Women find the courses friendly from the forward tees; better golfers need to hit better shots.

Many golfers consider the Pinnacle Course the more aesthetic of the two. It rises higher in elevation and boasts several holes distinguished by wonderful rock formations in the fairways and around the greens.

Tom, Brad and John were on a five-day golf mission to escape the winter in Illinois and play some of the best courses in Arizona. They certainly accomplished their goals at Troon North.

Talking Stick

Coyote was wandering about in the wash behind No. 7 green, looking for his afternoon meal. I was looking for my first par of the day.

A flat piece of desert with little apparent movement to the terrain, I was the visitor here, playing by myself on a gorgeous January afternoon. Talking Stick North was the coyote's home. What might look like a hazard to carry off the tee to me looks like fertile rabbit territory to him. That's the way it is out here in Arizona. Golfers coexist with critters, and golf courses often preserve – even enhance – wildlife habitat.

Talking Stick North, a quick 15-minute drive from The Rocks, is a subtle layout. Bunkers blend naturally into the desert sands, their edges uncut. Designers Ben Crenshaw and Bill Coore may not have had the most dramatic piece of land to work with at Talking Stick, and the work they did might go unnoticed. But it is there, like quiet artists painting beige on sand.

It is not a "target" design, in that there is grass from tee to green, except for the washes. You can use your driver on most every hole. The putting surfaces are large and receptive, the fairways too. Rated just 72.7/123 from the back tees, this 7,133-yard track is a course the casual or resort golfer will enjoy. At least in winter, there is usually a slight desert breeze and the temperature is perfect for golf, maybe mid-70s.

I was still looking for my first par as I approached the No. 12 tee. This is one of the holes you'll be talking about over margaritas. A 392-yard par four, that same wash I encountered on No. 7 cuts all the way up 12, tee to green. Right up the gut. There is a patch of fairway left of the wash, and a much safer swath to the right. The angle is better to the right-hand fairway as well, unless you can hit a rope. Your distance to the green will be longer, but still . . .

"Play it smart," I thought I heard someone say. I looked around. No one. But wait . . . there was the coyote, watching over my left shoulder.

"Hey fella," I said. "Any luck with the rabbits?"

He just stood there watching, so I turned back to play my shot, and struck a fine ball that landed a couple hundred yards out in the right fairway. It just seemed like a good idea to play it smart.

"Thanks for the tip," I said to him as I climbed into my cart.

The back nine is the stronger of the two, with holes 12 through 18 being the best. It would help to have the putting touch of, well, Ben Crenshaw on the greens, because even though they are big and receptive, they are not easy to read. If you do miss a green, expansive chipping aprons will collect your ball, so recovery is generally possible.

My last encounter with the coyote was on No. 16, a par-three of 194 yards. The holes at Talking Stick are straightforward; everything is in front of you, and No. 16 is no different. So you take a 4-iron, judge the sirocco, and aim accordingly.

"It'll drift left-to-right, but not as much as you think." This time I just said, "Got it, Coyote. Good luck with the hunt."

Later, when I got to The Rocks and checked in at the gate, I was told my villa would be No. 105 – Crenshaw. Wouldn't you know it?

The Golf Club Scottsdale

Eight years in the making, The Golf Club Scottsdale (three miles from The Rocks' entrance) is a club for serious golfers. No homes on the fairways, no tennis courts or spa, this is a straight-ahead golf facility catering to those who are avid about the game. It is a private, membership facility. Like Cypress Point Club, Secession and other golf-only clubs, The Golf Club Scottsdale will succeed because of the quality of the design.

Jay Morrish and Dick Bailey were the architects here, working with land that plays in front of, around, into and down a small mountain. Holes 14 through 18 are being talked about as one of the best stretches of golf in Arizona, with the par-three 16th (at the top of the mountain) and the driveable par-four 17th (with its tee box high on the same hillside) also boasting exquisite views.

This is high desert golf at its finest. The course plays more than 7,300 yards from all the way back. But like Troon North, a 10- to 15-handicapper can negotiate the carries, and most mis-hits can be found. Better golfers will really enjoy what is required of them. The real test for all players is around the greens, which are often tiered, often elevated and always rolling at 11 to 12 on the Stimpmeter.

Another hole you'll remember is No. 4, Morrish and Bailey's tribute to Donald Ross' Pinehurst No. 2. A 452-yard par-four, this hole sports a green that is improbable to impossible to hit and hold. A 250-yard drive will leave you with a long iron over a wash to a very narrow, elevated green that slopes severely away on all sides, like trying to stop a marble on the blade of a knife.

But like my playing partner Tyler kept reminding himself, "It plays the same for everybody." Translated, I think this meant he was mentally preparing himself to part with his $20 to the players' pool.

A caddie program, a very good practice facility and a clubhouse planned for 2005 round out the offerings at this exclusive club.

Ownership Has Its Privileges

Aside from concierge assistance with tee times prior to and after arrival on property, ownership at The Rocks has other privileges.

The close relationship between The Rocks and Troon Golf has resulted in significant discounts for Rocks owners at all public-access Troon Golf courses in Arizona in the form of a Troon Golf Twosome Card. With 144 holes of golf at five facilities in Scottsdale and more in nearby Phoenix, Chandler and Goodyear, the Troon Card is a wonderful benefit to The Rocks owners. A $500 value, the card can be upgraded to an Arizona Foursome Card, or a card that entitles the owner to discounts at all public-access Troon Golf facilities throughout the world.

In addition to the courses at Troon North, Legend Trail and Talking Stick, the Troon-managed facilities in the area you have access to include The Phoenician (27 holes), The Westin Kierland Resort & Spa (27 holes), Estrella Mountain Ranch (18 holes), Whirlwind Golf Club at Wild Horse Pass (36 holes) and Ocotillo Golf Resort (27 holes).

For more information on The Rocks, call 877/668-6068 or visit www.therocksclub.com.

Photographer and writer George Fuller has been covering golf and adventure travel for more than 15 years. His assignments have taken him throughout the United States, Asia, Polynesia, Europe and Mexico.

As an author, he has eight books to his credit, the two most recent being "California Golf – The Complete Guide" (11th edition, 2004, Avalon Travel Publishing) and "Discover Hawaii's Best Golf" (second edition December 2001, Island Heritage Publishing). Others include "Hawaii: Adventures In Nature," (October 1999, John Muir Publishing).

A former editor of "LINKS – The Best of Golf," he has contributed stories to many newspapers and magazines, including TIME, San Francisco Chronicle, Coastal Living, GOLF Magazine, Travel & Leisure Golf and others. Based in Marina Del Rey, Calif., George is a monthly travel correspondent for the PGA Tour (pgatour.com), and a Contributing Editor to The Golfer. We're very happy George is part of the Cybergolf team.