Golf in the Canadian Rockies: Big, Bold & Beautiful
By: George Fuller
The phrase "horses for courses" is most often used in a horse-racing context, meaning that a particular equine will perform best on a track specifically suited for it. In golf, it means much the same thing: Players will typically play better on a course that suits their game and their eye.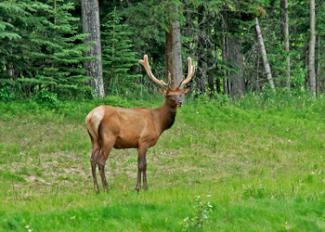 Bull Elk at Stewart Creek
In the Canadian Rockies - an area that encompasses five national parks, some darling resort towns, scenic fly-fishing and rafting rivers, countless soaring mountain peaks, glacier fields, an abundance of elk, bear and wildlife of many sorts and several historic and renowned resorts - there are enough courses with enough variety to please every golfer . . . and that's no horsing around.

And though you are most definitely in the mountains - the dramatic, in-your-face and stunningly beautiful Canadian Rockies - not all the golf courses you will play can be defined as typical "mountain courses." The oldest and most well-known courses in the region, Banff Springs (1928) and Jasper Park (1925) artfully combine mountain holes with river valley holes. Both were designed by Canada's master architect, Stanley Thompson, and are classic examples of his graceful, in-harmony-with-nature philosophy.

At Jasper, fairway mounding and bunker shaping mimic the shapes of the surrounding mountains. Holes flows so naturally across the terrain that you feel as if you're out for a pleasant stroll in the woods and meadows of Jasper National Park, which in fact you are. But beyond the pleasant demeanor it affords high-handicap golfers, Jasper will provide a thoughtful round for better players, asking control and placement over length in order to score well across its 6,600-plus yards.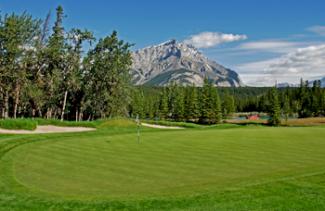 No. 12 at Banff Springs GC
For sheer beauty, holes 14-16 at Jasper Park are among the most scenic in Canada, playing next to Lac Beauvert (Beauvert Lake), and looking across the shimmering water at the 9,075-foot Pyramid Mountain in one direction and the Fairmont Jasper Park Lodge in another.

Accommodations at the Fairmont Jasper Park Lodge range from a comfortable, rustic eight-person cabin complete with kitchen and living room (perfect for golf groups) to lake view suites with wood-burning fireplaces to single rooms. The expansive main lodge building and reception area has recently been upgraded with a new all day restaurant called Cavell's, new retail shops and a much-needed new spa that will open in fall 2010.

When golfers discuss their favorite golf resorts in Canada, it's often a toss-up between Jasper and Banff, with half the votes going either direction. Both are on your must-play list. With a 4.5-hour drive between the two resorts across the Icefields Parkway, a spectacular high-altitude road that parallels the Continental Divide between Jasper and Lake Louise, many golfers book accommodations at both the Fairmont Jasper Park Lodge and the Fairmont Banff Springs hotels and play both courses.

At Banff, several holes play next to the Bow River and are overlooked by the commanding Fairmont Banff Springs hotel. Hole 15 tees off just below the hotel, some 150 yards above the fairway. Your tee shot hangs in the air a long while, crosses over a river and lands in a tree-lined fairway as hotel guests watch behind you, providing a feel-good, memorable moment.

Included in a helpful hints sheet at Banff Springs is the notation that, "If your ball hits an elk, play your shot over without penalty." This course is also in the midst of a national park, so the elk are protected (if not loved by the greenskeepers charged with repairing greens gashed by elk antlers and hooves).

The Fairmont Banff Springs hotel is the opposite of Jasper Park Lodge in scope and architecture. Whereas Jasper is moderate and low-key, Banff Springs is majestic and imposing. Styled after a Scottish Baronial castle, everything about Banff Springs is big, bold and elegant. The lobby is grand with towering ceilings, marble floors, sweeping staircases; libraries and drawing rooms are stately with rich wood walls and roaring fireplaces; hallways wander off in every direction to large guestrooms.

A restful Willow Stream Spa, river rafting, hiking and shopping in the charming town of Banff are other favorite activities for guests who don't golf.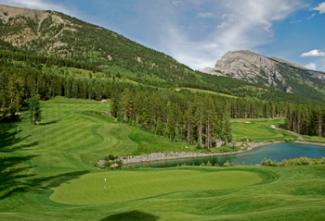 Silvertip's 18th Hole
One course that without doubt can be called mountain golf is Silvertip near the village of Canmore. Hole 18 is so steep from tee to green that it resembles a "black diamond" ski run and, in fact, the course general manager said the hole was used for tobogganing in winter.

Silvertip is one of those courses that you either love or hate, sometimes in the same round. With many hillside lies, elevation changes and precision-demanding shots, it's easy to get tired and discouraged. But you'll never get cheated on spectacular scenery.
A sleeper course that wound up being one of your favorite experiences is Stewart Creek, also in Canmore. Set in the midst of a densely forested area that formerly was used for mining, this straightforward design lays out your task from the tee box. It's all right there in front of you, and your challenge is to hit the right shots. Inspiring views of Three Sisters Mountains and surrounding peaks are enjoyed everywhere on this course, and wandering out of the hills are elk and the occasional black bear, the latter of which is an arresting sight for a golfer seeking an errant ball.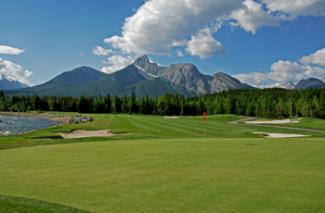 Kananaskis - Mount Kidd's Fifth Hole
The third golf resort of note in this region of Alberta is Kananaskis Country, anchored by the Delta Lodge. Here, 36 holes of golf are found, both designed by Robert Trent Jones Sr. in the 1980s, who said upon viewing the site, "It's the best natural setting I've ever been given to work with." Having apprenticed with Stanley Thompson much earlier in his career, working so near his mentor's gems at Banff and Jasper must have been very fulfilling for Jones.

Carved into the floor of Kananaskis Valley and named after the soaring peaks that serve as their backdrops, both the Mount Kidd and Mount Lorette courses can play as long as 7,200 yards, but with an extra 10 percent distance on your shots promised from the 5,000-foot altitude, length is not a big concern. The Kananaskis River comes into play on a couple of holes on the Kidd Course, giving pause when contemplating club and shot selection.
Also in Kananaskis Country, visitors enjoy horseback riding at Boundary Ranch and river rafting with Inside Out Experience. Hey, you can't play golf every day!
With golf season in the Canadian Rockies running from mid-May through mid-October, and with Calgary only a short flight from most U.S. cities (three hours from Los Angeles, for example), it's a golf destination well worth considering. You'll find plenty to whinny about when you get home.
For more information or to book travel, visit www.canadianrockiesgolf.ca.
Award-winning publisher, editor, writer and photographer George Fuller has been covering golf travel and lifestyle for more than 30 years. His book and magazine assignments and projects have taken him throughout the United States, Canada, Europe, Asia, Polynesia and Mexico.

From 1992 to 1997 he was editor of LINKS-The Best of Golf, based in Hilton Head, S.C. In 2005, after having spent several years in the Pacific starting two magazines for Continental Micronesia Airlines and writing two books, Fuller launched GOLF LIVING Magazine for the Los Angeles Times, a "super-regional" magazine of travel, real estate and the lifestyle surrounding the game of golf. After a successful year of publication, he purchased GOLF LIVING from the newspaper and sold it to Media That Deelivers of Scottsdale, Ariz., with a contract to operate it for them.

In 2007, he launched TEE IT UP Magazine in partnership with the nationally syndicated radio show of the same name; and in 2009 he gained the contract to redesign and re-launch TEXAS GOLFER, a magazine with 25 years of history in the Lone Star State.

He has nine published books to his credit, the most recent being I Golf, Therefore I Am...Nuts! (2008, Human Kinetics Publishing). Others include Discover Hawaii's Best Golf (2001, Island Heritage Publishing) and California Golf: The Complete Guide, (11th edition, 2005, Avalon Books). He has contributed to many guidebooks, notably the Berlitz Travelers Guide, Birnbaum Guide, Citibank's Great Resorts of the World and several city editions of Guest Informant.

Fuller's newspapers and magazines credits include TIME, Wall Street Journal, San Francisco Chronicle, The Los Angeles Times, Robb Report, Coastal Living, Palm Springs Life, Estates West, GOLF Magazine, Golf Digest, Travel & Leisure Golf, LINKS, Successful Meetings, Honolulu and many others. He has reported for Reuters, United Press International (UPI), written for Copley News Service and is still a regular on-line travel correspondent for CBS Sports.com.

George Fuller is based in Newport Coast, Calif. He can be contacted directly at: gfuller@earthlink.net; 310/245-9550 (cell).