Golf is a Winner at Colonial Williamsburg's Golden Horseshoe
By: Steve Habel
When one thinks of Williamsburg, the first thing that comes to mind is its role in the colonization of Virginia, which led to the eventual forming of the United States. The settlement, situated on high ground on the Virginia Peninsula, was a handy starting point for westward movement up the isthmus separating the York and James Rivers as they run east to Chesapeake Bay.
Today, Williamsburg is a hotbed for tourism, with Colonial Williamsburg - a restored section of the city - attracting more than four million visitors a year as part of the area's Historic Triangle that also includes Jamestown and Yorktown.

Williamsburg, founded in 1632, is essentially a living museum, depicting the lifestyles and culture of the colonial period in American history.

In the 20th century, the city spawned upscale suburban communities for Richmond (to the northwest) and Norfolk (to the southeast). With both tourism and residential relevance, the area became a haven for outstanding golf. Most notable among the venues is Golden Horseshoe Golf Club, whose famed Gold course is literally across the street from Colonial Williamsburg.

The club's name derives from an episode in American history. In 1716, Colonial Governor Alexander Spotswood led a small group of men over the Blue Ridge Mountains and into the Shenandoah Valley on an expedition. The journey's survivors received a horseshoe made of gold.

While a trip around the facility's 45 holes is not as dangerous or as arduous as a colonial expedition, the challenges of the three layouts here are varied and ample.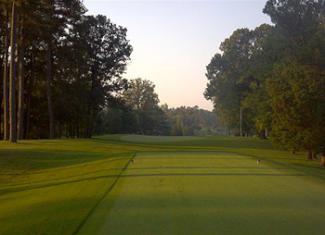 Golden Horseshoe GC's Gold Course
The courses - Gold, Green and nine-hole Spotswood - feel like they were etched into the thick forests, hilly terrain and ravines. There's not a house in sight. Designed by Robert Trent Jones Sr. and his son Rees Jones, respectively, Gold and Green have received top ratings, including Golf Magazine's Gold Medal Award, 4½ stars in Golf Digest's"2006-2007 Places to Play," and a listing in the Zagat Survey as one of "America's Top Golf Courses."

This is core golf at its finest and, because of the Golden Horseshoe's commitment to the environment all the courses have been designated Audubon sanctuaries.

Gold is the Granddaddy & One of the Senior Jones' Best

Opened in 1963, the Jones, Sr.-designed, par-71 Gold was been considered one of the master architect's top courses. Extending 6,817 yards from the back set of four tees, where it's rated 73.8 with a 144 Slope, the bucolic layout demands length off the tee, course management and a heaping helping of guts.

Jones himself called it his "finest design." The narrow fairways contain sloped landing areas before ending at tiny, tilting putting surfaces. Seven holes play across water hazards or ponds, including the downhill, 169-yard par-3 16th, notable as one of golf's first island greens.
The par-3 3rd at the Gold Course
Other fine one-shotters at Gold include the 201-yard third, which plays downhill over water to a diagonal green; the 206-yard seventh with its perched putting surface; and the knee-knocking, 188-yard 12th, a cape design with a green that slopes back toward water.

The course also features a two short par-4s on the front nine, the 348-yard fifth and 337-yard eighth, both of which require strategy over brawn. On the home half, there are three par-4s of 444 yards or more (capped by the 466-yard 10th) and the massive (634-yard) par-5 15th. Gold's 435-yard par-4 17th is listed with its 16th in Golf Magazine's "Top 500 Golf Holes in the World".

The bottom line is that the course requires precision and power, offering a spectacular setting with many risk/reward decisions. It was the site of the 2007 NCAA Division I Men's Golf Championship and is an outstanding example of traditional golf course architecture.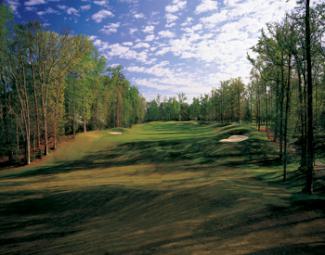 Golden Horseshoe's Green Course
Green Course is Longer, More Forgiving

Rees Jones crafted Golden Horseshoe's Green Course, which opened in 1991 and gave the club a terrific one-two punch. Green follows the same terrain as Gold, but it's longer and not as relentless as it rolls along ridges and across ravines within a mature forest.

"The real quality of this course is in its framing," Rees said. "We wanted to complement the Gold but to give guests a little variety. We also wanted to make it a little more forgiving."

Green is a shot-maker's delight, allowing players several options, and is very rugged and isolated as it plays through huge trees, primarily beech, oak and pines.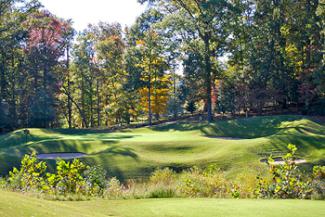 No. 7 at the Green Course at Golden Horseshoe GC
Located a mile and a half from Gold, Green has its own clubhouse. The par-72 measures 7,120 yards from the tips, where it has a 74.8 rating and 142 Slope. Water enters play on six holes, with four others bordered by lateral hazards.

Green's par-3s are not as penal as Gold's, but the 195-yard downhill 11th - with a tee shot over water to an amphitheater green framed by four bunkers at the rear - might be the best one-shot hole at the Golden Horseshoe.

On the back nine there are several tough par-4s, including three of the top-four handicap holes, and one of the most challenging stretches at the entire facility. No. 14, stretching 466 yards, veers right to left around a pond to a small oval putting surface. That's followed by a 616-yard par-5, which doglegs hard left to right to a green guarded front-left by a large, sculpted sand bunker, and the 220-yard par-3 17th, which involves a full carry over a ravine to find a giant green squeezed front-right by a deep bunker.

Green is rated at 4½ stars out of five by Golf Digest and is considered one of the "Best Courses Near You" by Golf Magazine. It's tough enough to have served as the site of the 2004 U.S Women's Public Links Championship.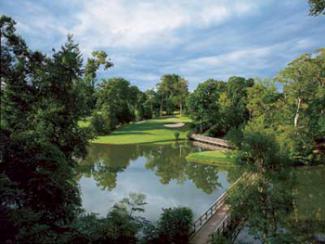 The 11th Hole on the Green Course at Golden Horseshoe GC
Spotswood is Less Intense

Colonial Governor Spotswood is the namesake of this course, a tricky Jones Sr.-crafted, nine-hole executive layout adjacent to Gold. With six par-3s, two par-4s, and a par-5, the layout is an updated version of the Williamsburg Inn's original 1947 nine-hole course.

Spotswood is just right for practicing one's short game and a welcome reprieve from the rigors of Gold and Green. But it's no afterthought, with Golf Magazine calling it the "best short nine-hole course in the country," and Golf Range Magazine considering it one of the "Top Short Courses in America."

In addition to its 45 splendid golf holes, Golden Horseshoe Golf Club boasts two restaurants as well as access to recreation, dining, spa, hotel options and other amenities - making it an ideal destination for a lengthy stay.
For more information, see http://www.colonialwilliamsburg.com/do/wellness-and-recreation/golf/.
Steve Habel is a freelance writer contributing Cybergolf news stories, features, equipment and book reviews and personality profiles from his base in Austin, Texas. He also works as an associate editor for Horns Illustrated magazine, a publication focusing on University of Texas sports, and is a contributing writer for Texas Golf Insider, Golf Oklahoma magazine, Tri-State Golfer and ATX Man magazine. Habel's blog (www.shotoverthegreen.blogspot.com) features news on golf and chronicles his many travels, including playing almost 1,000 golf courses since 2008. Habel is a member of the Golf Writers Association of America and the Texas Golf Writers Association.