Golf is for the Birds
By: David Wood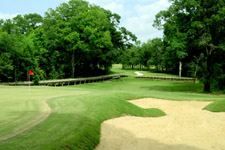 Okay, so I wouldn't know a Spotted Sandpiper (artitis macularia) from a Roseate Spoonbill (Andea alba). However, as a traveling golfer (linkus crazius) I know an exciting golf destination when I find one. Named for the noted 19th century naturist and bird lover, John James Audubon, the Audubon Golf Trail of Louisiana combines excellent, nature-friendly courses with pocketbook-friendly green fees - a delightful one-two punch. After a recent golf trip there, I may have discovered my inner ornithologist. Was that a Magnificent Frigatebird (Fregata magnificens) that just watched me (sandtrapus ineptus) take three shots to get out of that bunker?
Ever wonder where those migratory birds flying south for the winter head? Many set down and winter happily in the wetlands west of the Mississippi River in northern Louisiana. Warm weather, lush rolling hills with scores of lakes, reservoirs, creeks, ponds, and swamps - this is paradise for our fowl-feathered friends. For we non-avian types, the land is also perfect for golf. The Audubon Golf Trail teems with wonderful locales to tee it up. Let's take a look at a few.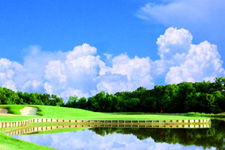 Black Bear

As the newest member of the Trail, Black Bear is the perfect place to start your Louisiana golf expedition. A short 45-minute flight from Houston to nearby Monroe and a quick drive east on Interstate 20 with a turnoff at Delhi finds you out in the serene delta of the mighty Mississippi - 30 miles due east.

Built near the 3,000-acre reservoir which is the centerpiece of the Poverty Point State Park, Black Bear is a treasure trove of natural golfing riches as the Bechtol Russell design winds around two verdant rimmed creeks, the Bogzag and Cypress. Named for an actual bear that lives near the tricky 15th green, the brand spanking new 18 already has an air of maturity to it. Actually, the course is well-named because many of the holes are ferocious, especially the par-3s. My favorite is the 188-yard par-3 6th which requires a well-struck mid-iron to hold the slanted, narrow green. With a steep bunker right and the winding creek left, a perfect shot is required or Black Bear takes a bite out of your score. This is a fine newcomer in a mesmerizing locale. For reasonable lodging, check out the comfortable lake cabins that are actually built out over the water on stilted legs like those of an American White Pelican (Pelecanus erythrorlynchos).

For more details, visit www.blackbear-golf.com; cost: $37 weekdays, $49 weekends.     
Calvert Crossing

One of the great aspects to the Trail is that you're never more than two hours from the next course. Just down the road an hour due west as the Barred owl (Strix varia) flies is stately Calvert Crossing in Calhoun. Built on over 400 acres and with almost every hole lined with tall pines and grand white oaks, Calvert Crossing is golf and nature coexisting in wonderful harmony. There are thousands of potential spots for birds to nest happily in and around the well-groomed fairways and greens.

Throughout the 6,822-yard design, water comes into play on 10 holes so attention must be paid before simply bombing away with your driver. Throttle it down a bit and enjoy the lush surroundings of a superlative golfing playground. Afterwards, savor your round with a drink in Mulligan's - the friendly bar in the clubhouse. The local natives (Louisiana friendilo) are convivial.

For details, visit www.calvertgolf.com; cost: $55 weekdays, $67 weekends.     
Olde Oaks

Two hours west of Calhoun on Interstate 20 takes us to bustling Shreveport and Olde Oaks Golf Club - a marvelous design by homegrown PGA star Hal Sutton. With 27 wildlife-friendly holes spread over 340 acres of gently rolling terrain, Olde Oaks is one of the great golfing values in the country. You'll find few courses this immaculate in the $40-$50 green fee range.

Each nine is a world onto itself. The Meadow Nine, probably the most stalwart of the three, covers the lowlands and requires strategic thinking to be played well. However, "what you see is what you get" and well-placed drives are rewarded with easier approaches to the devious greens.

The Oak Nine is the most visually appealing of the three layouts as the holes flow through swaths of majestic oaks in full foliage and singing birds providing the background music. The two par-5s on this side, the 1st and 6th, are fabulous and require you to know your golfing limitations before challenging the water hazards (golfballus interruptus) protecting par.

The Cypress Nine is the most open side and allows you to loosen your collared shirt and air it out a bit as the holes are routed through a neighborhood of stately homes so grand you wonder if Bruce Wayne lives somewhere close by. Don't worry about hitting any of these estates with your wild slice or hook as they're set well back from the course. Olde Oaks is a gem.

For details, visit www.oldeoaksgolf.com; cost: $44 weekdays, $49 weekends.     
Cypress Bend Golf Resort & Conference Center

Two hours drive south from Shreveport along the Louisiana-Texas border leads you to scenic Cypress Bend on vast Toledo Bend Lake - a bass-fishing Mecca that now is a full-on golf destination as well. If you can't chill out there in the elegant comfy rooms and peaceful lakefront vistas severe medication is your only answer.

The golf course features 10 holes along the lakefront and six times you hit shots over inlets and coves just waiting to add your ball to a watery grave. The par-3 17th of 128 yards plays to a green perched on the edge of the lake and is as pretty a golf hole as you'll find anywhere. The finisher - a stout par-4 of 341 yards - plays much longer as it's uphill. A par there deserves a drink in the nearby resort lounge complete with a beguiling view back over the course and lake. Cypress Bend certainly has its charms.

For more information, visit www.cypressbend.com; cost: $55 weekdays, $70 weekend.     
Gray Plantation

As if saving the best for last, my final round was at Gray Plantation in Lake Charles. Named by Golf Digest in the top-100 greatest public courses as well as GOLF Magazine's "top-three among 50 best U.S. courses for $50 or less," Gray Plantation is a real find for those seeking first-class golf at municipal prices.

Hurricane Rita - a Category 5 storm - roared through Lake Charles in 2005 and the course lost hundreds of towering pines which bordered many of the holes. Nonetheless, the Rocky Roquemore design still has all the challenge you want with 94 bunkers, wetlands, and two par-3s with island greens. As if that all wasn't testing enough, the wind gusts off the adjacent waterway turn several approach shots into mini-torture tests.

The final hole is a brutish par-4 of 439 yards that plays directly up to the elegant clubhouse. Two stout hits are necessary to find a putting surface surrounded by a series of evil bunkers. It's a great end to an excellent layout. After the round, I sat out on the wide veranda and enjoyed the club's crawfish boil with the cheerful locals which made me yearn to trace my family tree for Cajun roots.

For more information, visit www.graywoodllc.com; $50 weekdays, $65 weekends.     
Summing Up . . .

Both bird- and golfer-friendly, the Audubon Golf Trail has another seven courses I didn't play with similar low green fees and high-caliber wildlife. In addition to great golf perhaps you'll spot a Green Heron (Butorides virescens) or even a Wilson's Plover (Charadrius Wilsonia).

That prospect makes me one happy golfer (smilio hackeris).

For more information about Louisiana's Audubon Golf Trail, visit www.AudubonTrail.com or call 1-866-AGT-IN-LA.     

This story originally appeared in Cybergolf on February 21, 2008.
David Wood - writer, corporate speaker, and humorist - is the author of the soon-to-be published book "Around the World in Eighty Rounds." With several appearances on "Late Night with David Letterman," Wood combines humor with his love for golf and adventurous travel. For comments or inquiries on having him speak to your group, contact David at David@DavidWoodSpeaking.com. His website address is www.DavidWoodSpeaking.com.