Golf is getting ready for the Prom
By: Elisa Gaudet
Ah spring, the lovely time of year when the flowers are blooming and golf clubs open their doors as the season signals the Masters is approaching. This being the first major of the year it is arguably the most impressive due to the history, allure the limited access and pre-tournament hype.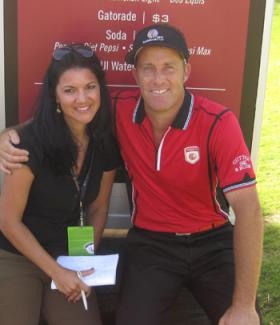 Elisa and Stuart Appleby
It got me thinking that this reminds me of a high school prom and, at least for most Americans, it is an analogy they can relate to and have experienced. The rest of the world has had the benefit of experiencing prom through Hollywood. While it is still early in the school year there is a great deal of build-up for the prom, after all you have to choose a date and that's no simple task.

The school hosts a tropical-themed mixer to kick off the year. You know the one, where the gym is converted into a paradise with ersatz palm trees, plastic leis and fruity punch as the Beach Boys - or perhaps Justin Bieber these days - is playing over loudspeakers. Young high-school kids stand around nervously trying to get the courage to speak to each another. As a guy, you know that even if you are on the golf team you still need ability like the skills for Nunchaku, bow-hunting, computer-hacking skills. Girls only want boyfriends who have great skills. Sony Open Hawaii
Then you hear about a party in the basement of a friend's house while their parents are out of town. Maybe some alcoholic drinks will be served to kids below the legal age. Perhaps the guy hosting the party is on the wrestling team (known as the "Thunderdogs"), and we all know about wrestling parties. There is no list of invitees; everyone shows up. This is all-out fun and craziness, the kind of party everyone will talk about through the year. People are playing beer pong and betting on who will get it in their cups first, who is the better player and who will puke first or be eliminated. This is not for the weak of heart or those who can't take jesting as the jeers are fierce and feelings not spared. All while taking place in front of everyone you know at school and others you've never seen before: Waste Management Phoenix Open - 16th hole.
This last party was a real ice-breaker, so the walls of the respective groups are less fortified and now the cool people and the jocks are mixing with the smart kids, the band and class clown and everyone is having a good time. You are romanticizing high school days and are somewhere between a "Cinderella Story" and "Sixteen Candles" when an international student named Long Duk Dong taps you on the shoulder and asks you if you would like to try sake. You start mingling and perhaps engage in a brief conversation about philosophy or music. A band person mentions "a flute with no holes is not a flute and a doughnut with no hole is a Danish." While you ponder this it gets you thinking about college and what you might want to "be": a doctor, lawyer, fire-watcher, Wall Street suit or underachiever? AT & T Pebble Beach. The amusing thing is you realize the class clown is not only funny but talented! He and a quiet guy that you never really noticed end up stealing the show.
Next thing you know it's Spring Break and everyone is taking off for some luxurious warm beach getaway. Things are looking good as you head to Mexico for some sun and enjoy the time off in a relaxed environment. You and your friends rent a Mazda and cruise around Playa del Carmen for the week, play a little golf and even enjoy a Corona or two; after all you are legal in Mexico. Mayakoba Golf Classic at Riviera Maya-Cancun
Around this time the school has an international exchange program where students from other countries spend time at your school. Through this experience both parties are enlightened to cultural difference and languages in hopes that everyone will expand their horizons. World Golf Championships-Cadillac Championship
Maybe the cliquey people have their own private party, the one for all the in-crowd. They have fun toys like the ultra-cool Sport Nautique 226, used for wakeboarding and wake-surfing like the one Stuart Appleby will use for a year for winning closest to the pin. Each group dresses in the same color so they can spot friends when they see them. This is a more upscale version of what teenage girls do when they go to the mall or how families wear matching shirts when they go to Disneyland in hopes of not losing each other. No expense is spared for the food, drink and merriment. The shrimp, stone crabs and champagne are flowing: Tavistock Cup
Then there's the most popular guy in the school; you know the one. Really good-looking, a jock, smart and nice to everyone; he seems to have it all. The one who's going to be prom king has a party and this is the party invite everyone wants, but not everybody gets: Arnold Palmer Invitational presented by MasterCard. Things have changed a bit since I went to my prom, so apparently not only does he have a cool party but has a credit card to buy whatever he wants. The host even has a private bartender who serves a drink named after him.
Down this road there is a fork in the road. For one, there's no prom queen. But that's okay because I wouldn't want guys trying to pledge my sorority anyway and, hey, no one has ever heard of Boy Scout cookies. As well, green has never been a popular color on the prom gown circuit. So as spring arrives this year, our boutonniere and wrist corsages are made of azaleas and we wait in anticipation to see if we get invited to the prom (get a badge) and, most importantly, who will be crowned this year's prom king.

In high school, I went to a prom with a guy from an all-boys private school in Buffalo and, perhaps, he waited too long to book a limo or just had a family member that worked for Mary Kay, but the chariot that picked us up was a Pepto-Bismol-pink limo. Even to this day, every time I hear Springsteen's "Pink Cadillac" it puts a smile on my face. Oh, another difference between a prom and the Masters: instead of taking a limo the jocks and cool guys fly private on a Marquis Jet.
Elisa Gaudet brings a wealth of entertainment and golf experience to Cybergolf. Elisa has spent the past several years in the golf industry in the U.S., Latin America and Spain. She worked for the PGA Tour and the Tour de las Americas before founding Executive Golf International, a golf marketing company that works with clients to develop strategies using golf as the medium. Often referred to as the Maria Bartiromo (a business analyst for CNBC) of golf, Elisa says: "Golf, as a marketing tool, has been around for years. It's amazing how many new ways companies can align their brand with the golf market to reach their target audience. Our goal is to create alliances and establish cross-border relations." Elisa also worked in the entertainment industry for over 10 years, including five in Los Angeles as a model and actress. She can be seen at many celebrity golf events and often gets the inside scoop from PGA Tour players. For more information about Elisa, visit her websites at www.onthelip.com or Executive Golf International www.execgolfintl.com.