Golf is Hot & Hopping in the Alamo City
By: Steve Habel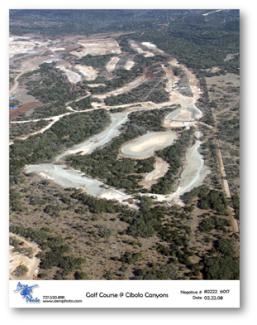 Seeding of the Greg Norman-designed AT&T Oaks Course at the TPC San Antonio is well underway and projected to be finished by the end of the summer. The TPC San Antonio also announced the hiring of Tom Lively to the position of golf course superintendent for the project's two courses, a role in which he will oversee all agronomy for the highly anticipated 36-hole facility.
Lively comes to TPC San Antonio from Medinah Country Club in Chicago, where he served as director of golf course operations for the past seven years. His tenure at Medinah included the 2006 PGA Championship. "I have always wanted to be involved with the construction of a new golf course and when this opportunity came along, I couldn't turn it down," Lively said. "The TPC San Antonio project is bigger than I could have ever imagined and presents a very unique and exciting opportunity. I look forward to working with everyone involved and preparing for the opening of two spectacular golf courses."
The TPC San Antonio is scheduled to open in spring 2010 with courses designed by two of golf's most innovative designers, Norman and recently announced World Golf of Fame inductee Pete Dye. Norman, a World Golf Hall of Fame player who has established himself as a world-class architect, is fashioning the AT&T Oaks Course with aid from player consultant Sergio Garcia, while Dye is designing the AT&T Canyons Course with help from player consultant Bruce Lietzke.

"We're very pleased to have someone of Tom's stature come on board at TPC San Antonio," said Cal Roth, senior vice president of agronomy for the PGA Tour. "Considering the agronomic and major championship experience he developed at Medinah Country Club, Tom is a valuable addition to this exciting project and the TPC Network, and we are confident he will do a wonderful job in his new role."

Roth and Lively have revealed the variety of Bermuda grasses that will be used on the AT&T Oaks Course. Greens have been seeded with Champions; tees, collars and approaches will be of Emerald; the fairways will consist of TifSport; and, the roughs will be of Bandera Bermuda. The TPC San Antonio will feature a closed-loop irrigation system designed to insure protection of the Edwards Aquifer, San Antonio's main water source.

Situated on 2,800 rolling acres, both courses are being built with the necessary infrastructure to be host PGA Tour events, as is the case with every TPC project. Once open the tracks will position San Antonio as a premier golf destination.
Play at the club is reserved for members and guests of the adjacent 1,002-room JW Marriott San Antonio Resort and Spa. Deposits for Founder Memberships, the first category of membership available at TPC San Antonio, are now being accepted, and membership information can be obtained at http://www.tpcsanantonio.com).
Foresight Makes Pecan Valley Relevant Again

In late February, Boerne, Texas-based Foresight Golf added San Antonio's storied Pecan Valley Golf Club to its portfolio of Texas golf courses. In the months since, the course has reclaimed its spot as a must-play option for South Texas residents and thousands of golfers who visit the region each year.

Pecan Valley Golf Club, originally designed by J. Press Maxwell in 1963 and renovated by Bob Cupp in 1998, is one of the Alamo City's oldest and most storied layouts. The track played host to the 50th PGA championship in 1968, the Texas Open in 1967, '69, and '70 and the 2001 U.S. Amateur Public Links Championship.

Pecan Valley Golf Club was acquired by American Golf Properties in 1997 from the original developer, the E. J. Burke, Jr. family of San Antonio. Century Golf Partners/Arnold Palmer Golf Management acquired the course from American Golf in 2004, and had held it until the recent sale, which closed February 22, 2008.

"We see this acquisition as an exciting opportunity to apply our hands on and highly focused operating philosophies to the business at Pecan Valley," said Ed Miller, Foresight Golf's chief operating officer.

The long-underutilized layout, which is just two years shy of the 40th anniversary of Pecan Valley's most celebrated event, is undergoing a transition designed to reintroduce it to San Antonio and South Texas' discriminating golfers.

Foresight also owns six other respected courses in San Antonio, Comfort, New Braunfels and Houston, including the Republic just a mile or so up Salado Creek from Pecan Valley.
Working alongside Foresight Golf president Dan Pedrotti Jr., Miller has made the conditions of the layouts a priority. "Foresight strives to create an outstanding product and offer it to the market at a reasonable price," Pedrotti said. "We expect that going forward our team will produce the same results at Pecan Valley."

Miller, whose career includes spells as a superintendent and agronomist at such sites as Medinah in Chicago, Cherry Hills in New Jersey and Pebble Beach in Northern California, suggests there may have been harbinger that Foresight would wind up with the two Southeast Side San Antonio golf clubs. "We were fishing golf balls with Pecan Valley logos out of the creek when we were developing the Republic," he explains.

There have been numerous obvious improvements to Pecan Valley since Foresight Golf acquired the property, but Miller said the real emphasis on the track is under the surface of the grass. The company started with a thorough diagnosis of what's in the soil and leaned heavily on making sure the substructure was getting what it required for healthy growth. The Foresight team worked to restore the needed nutrients to the soil's growing foundation, from tees to the all-important greens, and monitored the foot traffic on the course.
And, as they say, the proof is in the pudding. Pecan Valley is in fabulous shape from tee to green, and its putting surfaces are the envy of most facilities in this drought-ridden region. Foresight Golf's Director of Golf Operations, Ken Holubec, has led the team at Pecan Valley through the transition of ownership.

The Beat Goes on at Brackenridge

Progress continues at the renovated Brackenridge Park Municipal Golf Course as the bulk of the track's grassing is completed. According to Brad Fryrear, superintendent for the Alamo City Golf Trail, sod has been laid on all the venerable course's holes as well as the facility's chipping practice green. "We will still need about 10 more weeks of grow-in to get the course ready," Fryrear added.
If all goes according to schedule, the $4 million-plus facelift of Brackenridge is expected to be mostly completed by mid-October, with an official opening for the public and normal play set for early next year.
Reid Meyers, chairman of Municipal Golf Association-San Antonio, stressed that the historic Brackenridge Golf Course "all but called out to us" to be restored because of its role as the birthplace of Texas golf. "Golfers around the nation have revered Brackenridge as the first 18-hole municipal golf course built in Texas in 1916 by renowned golf course architect, A.W. Tillinghast," Meyers said.

Tillinghast designed such other great venues as Baltusrol in Springfield, N.J.; Winged Foot in Mamaroneck, N.J., and Bethpage State Park in Farmingdale, N.Y.

Legends such as Walter Hagen, Ben Hogan, Byron Nelson and Arnold Palmer all competed at the old "Brack." Plus, the first Texas Open was hosted at Brackenridge in 1922, and the course was the tournament site until 1959.

Arlington, Texas-based Colligan Golf Design has been in charge of the renovations, and - at holes 15, 16 and 17 - John Colligan and his associate Trey Kemp were forced to build holes adapt they felt Tillinghast would appreciate.

A recent look at the changes at Brackenridge showed that the front nine has received mostly subtle work, excepting the par-3 eighth hole (which lost its water hazard, a feature to the front left of the green for decades, replaced by three pearl-string bunkers draped before a peanut-shaped green).

The back nine, however, has been extensively retooled, with the changes to Tillinghast's design forced when U.S. Highway 281 was built on property that was once the lower acreage of Brackenridge in the 1960s. Colligan worked to restore the back nine to some semblance of Tillinghast's original design, and the new holes - some routed on former holes but reversed - look like they will stand up to the test.

The home hole - a 175-yard, par-3 that has golfers hitting almost directly down the San Antonio River toward a square green that will include the historic clubhouse as the backdrop - seems likely to emerge as Brackenridge's signature hole.
Steve Habel is an Austin, Texas-based journalist and Cybergolf's Southwest Correspondent. Since 1990, he has traveled around the globe covering news, business and sports assignments for various news bureaus, newspapers, magazines and websites. He also contributes to Business District magazine in Austin as managing editor and is the Texas football beat writer and a contributing editor for Horns Illustrated, the Austin-based magazine for University of Texas sports. Habel writes a weekly golf column for The River Cities Tribune in Marble Falls, Texas, and is a member of the Texas Golf Writers' Association.