Golf & Much More in the Magnolia State
By: Jeff Shelley
Golfers seeking something different than the courses in Florida and along Alabama's golf trail should take a serious look at Mississippi. Though the venues along its Gulf Coast were ravaged by Hurricane Katrina, alternatives abound in the central and northern parts of the state. In addition to sharing the same excellent conditions and challenges as its neighbors, Mississippi offers a very attractive bang-for-the-buck quotient.

I recently took a first-hand peek at a few of the courses in the Magnolia State. There should have been more - including Annandale Golf Club as a participant in the pro-am portion of the PGA Tour's Southern Farm Bureau Classic. But a bout with bronchitis waylaid those plans.

Before the illness, I enjoyed some of attributes the state is known for: an unerring hospitality toward visitors, some fine food, and a couple of licks of the Delta blues. As for their treatment of guests, Mississippians - particularly those north of the Gulf Coast - went out of their way in hosting Katrina refugees. While I was going up the elevator to my room in a Tupelo hotel, I ran across a man carrying a small dog. The New Orleans native said, "I'm not going back. My house is gone and there's nothing there for me anymore. This is now my home."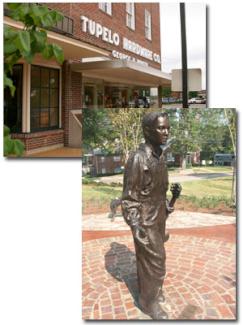 Tupelo, Honey

If you're going to Mississippi, you should visit the birthplace of Elvis Presley in Tupelo (www.tupelo.net). Though many might expect his hometown shrine - which is really a memorial/museum/chapel/gift shop arrangement - to be glitzy like Presley's fabled Graceland mansion in Memphis and final Vegas shows, the opposite is true.

The 15-acre site was purchased by the city of Tupelo in part with funds generated by a 1957 homecoming concert by the soon-to-be-crowned "King of Rock 'n Roll." (During a radio interview after that show, Elvis told the interviewer he wasn't sure rock 'n roll was here to stay.) Presley never forgot his roots, and the people of Tupelo will never ignore their star citizen.

In tribute, the Elvis Presley Park features a "Walk of Life" that chronicles his early years. Concrete blocks denote each year of Presley's life from 1935 to 1977. As visitors pace through the years and stroll past a fountain, they read remembrances from his childhood chums. It's almost comical how a shy and reluctant Elvis - shoeless and wearing overalls and seemingly always in tow of his mother, became such an over-the-top icon. In 2006, the city will celebrate the 50th anniversary of Elvis' first-ever concert at the Tupelo Fairgrounds, the site of his first big public concerts.

Another worthy stop is Tupelo Hardware, where Elvis bought his first guitar. Other hot spots include the Automobile Museum, which showcases the classic collection of local TV mogul, Frank Spain. The city boasts a fine convention facility, the Bank Corp South Center, which features an arena that hosts athletic events. Tupelo also has one of the Southeast's best parks and recreation programs - all provided free to its citizens, with expansive soccer, baseball and softball fields dotting the area.
Big Oaks


The best public golf course in Tupelo is Big Oaks (
www.bigoaksgolfclub.com
), a facility owned by John Soward. When the layout opened it was quite difficult for average players, so Soward softened it up. Situated on a floodplain, the original course had too many tight fairways lined by ball-eating water hazards. So he dug out some of the ponds (some of the leftovers are now filled with six-pound bass) and raised and widened the holes. Water is still a factor, with a few lakes and Mud Creek entering play and creating pristine environmentally sensitive areas.
Big Oak is in a quiet section of Tupelo, with a few homes, a busy road and a home-products center the only intrusions of civilization. Designed by Tracy May, the course features mid-sized bentgrass greens that have a lot more pace and slope than presumed at first glance. For $35 a round, Soward and Co. have a going concern at Big Oaks.
I golfed here with New York-based golf and boxing writer Al Mottau and Dick Hill, the president of Tupelo's city council. Hill is a native Minnesotan who's now well ensconced in the Magnolia State. The lanky Hill played basketball with Wilt Chamberlain during his freshman and sophomore years at Kansas. Hill was on the bench in 1957 when the Jayhawks lost that epic three-overtime NCAA championship game to North Carolina. Dick said that Chamberlain hated being called "Wilt the Stilt," but didn't mind being dubbed "The Big Dipper."
Old Waverly

This exceedingly well-designed course - co-crafted by Robert Cupp and Jerry Pate - is located within an upscale development in West Point, a small town about 40 miles south of Tupelo. Though opened for play in 1988, Old Waverly (www.oldwaverly.net) has the look and feel of a well-established course. Regularly ranked among the top-five courses in Mississippi and the top 100 in the U.S. by Golf Digest, the layout really fits its rolling, forested site.

The golf course is the centerpiece of a 360-acre development. The scattering of homes along roughly half the fairways are Dixie-traditional: cavernous structures built in the plantation style. Founded by George Bryan, Old Waverly has held several prestigious events during its brief life, including the 1999 U.S. Women's Open (won by Juli Inkster) and two SEC Championships. I was told that Mr. Bryan likes hosting big events at his place.

Though a bit removed from Jackson, Memphis and New Orleans - the three major hubs in this part of the Southeast, Old Waverly is ideal for major golf tournaments. On site are six four-bedroom cottages, with more overnight accommodations nearby. The antebellum clubhouse is a marvel. Bryan is quite an art collector, and adorning nearly every wall - especially in the Cameron or Magnolia rooms - are paintings, including an original of Scotland's fabled St. Andrews.

Among the challenges found on Old Waverly's course are deep pot bunkers (one on the third hole took me five shots to get out of), creeks, ponds and a grand variety of wildlife. The bent putting surfaces range from medium to large in size, with most harboring the trickiness needed to decide the outcome of a major championship. Old Waverly also is well-suited for tournament spectators, with many junctures offering views of multiple holes.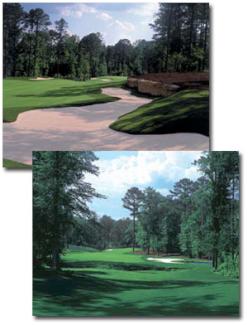 Dancing Rabbits in Choctaw Country

Golfers heading west from Old Waverly will find two very fine golf courses at an establishment owned by the Mississippi Band of Choctaw Indians. Featuring round-the-clock gaming action at the Pearl River Resort (http://www.pearlriverresort.com/) - which includes the Silver Star Hotel & Casino and Golden Moon Hotel & Casino, visitors will find dozens of ways to eat, drink and risk their paychecks.

Up in the trees above all the hullabaloo are two fine 18-hole tracks at Dancing Rabbit Golf Club (http://www.dancingrabbitgolf.com). Stretching across some 700 acres, the Azaleas and Oaks courses are co-designs of Jerry Pate and Tom Fazio.

The Azaleas features Mississippi Choice Bermuda tees, Tifway II Bermuda fairways and A4 bentgrass greens. The venue has received numerous accolades, including spots on Golf Magazine's Top 100 You Can Play list and Golf & Travel's Top 100 Modern Courses, as well as a Golf Digest Top 10 New Upscale Public Golf Courses ranking when it debuted in1997. A cool feature of The Azaleas is the so-called Executive House, a large, well-equipped rental home off the third tee that sleeps five.

Opened in June 1999, The Oaks is differentiated from Azaleas by its Tifway II Bermuda tees and Meyer Zoysia fairways.


I came down with a nasty case of bronchitis en route to Choctaw from Old Waverly, and only played The Azaleas. Owing perhaps to my haggard state, I found the course tough, with sneaky creeks, ball-bouncing land forms, dormant ball-swallowing Bermuda rough and other elements boggling my mental and physical processes. It's hard to believe that the winner of a recent Hooters Tour event at this 7,000-yard track shot 17-under par.
On to Jackson

I was slated to play in the pro-am portion of the Southern Farm Bureau Classic (http://www.pgatour.com/tournaments/r054/) in early November. The PGA Tour event at the private Annandale Golf Club in Madison was delayed a month by Katrina. The layout, designed by Jack Nicklaus and opened in 1981, received substantial tree damage, but nothing like the courses that were washed away in New Orleans and along the Gulf Coast.

Instead of getting the opportunity to embarrass myself with PGA Tourer Shigeki Muryama and the other players in our fivesome, I laid low at the hotel in Jackson (my very own "Heartbreak Hotel"), too sick to even think about raising my head off the pillow at 5:30 a.m. on pro-am morning. The night before, I was taken to the emergency room at the Baptist Health Systems hospital. Accompanying me was Alan Leach, whose wife, Janet, is manager of Golf Marketing & Sports Development for the Mississippi Development Authority.

Alan showed me why Mississippians are known for their hospitality and kindly treatment of visitors. He drove me across town to the hospital and then patiently abided two and a half hours in the waiting room before and during my evaluation, all the while risking exposure to my virus and God knows what other maladies were circulating in that room.

Alan didn't have to do that. Nor did the citizens of the Magnolia State have to open their arms to the hundreds of struggling Katrina "outsiders" from New Orleans and the Gulf Coast. But they have and will continue to do so. Such natural warmth must be in their genes. Elvis would be proud.