Golf of Olympic Proportions
By: Crai S. Bower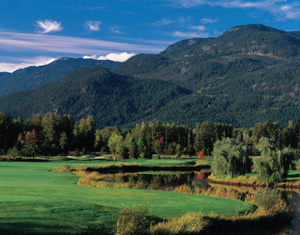 Big Sky's 14th Hole
Photo by John Henebry
Whistler's best golf course isn't found in Whistler at all, but in Pemberton, 20 minutes to the north. The course, Big Sky Golf & Country Club, combines a very fair test of your game with one of the region's most stunning backdrops this side of The Chief, the granite monolith located between Whistler and Vancouver in Squamish. Though Big Sky is not to be missed, any golfer who travels to Whistler owes it to his foursome to arrange a round at each of the four outstanding area courses.
This verdant quartet takes its layout lead from the Whistler-Blackcomb ski area, which is routinely rated the best in North America and where most of the alpine events for the 2010 Vancouver Olympic Games will be held. Whistler offers well-maintained tracks that prove as diverse as any four courses within a 30-minute radius in British Columbia, if not the entire Northwest.
What makes course architect Robert Cupp's design more appealing than that of the three other designers (whose names happen to be Jones II, Palmer and Nicklaus) is landscape and layout. The Pemberton 18 lies below a broad granite-rock face and under the shadow of Mt. Currie. The course wends its way around six lakes, as well as a stream that shows up several times throughout the round, including four times on the signature, if a little wacky, 600-yard par 5 No. 4, aptly titled "Purgatory."

Water is never out of mind at Big Sky, but if you hit the ball straight and know the exact distances in your bag, the 7,001-yard layout is as fair a match as you'll find in the valley. Most of the water stretches out to border the fairways of several holes, including the final five! Stop staring at the glaciers that hang on the rock face like the frequently spied gliders that soar overhead on the breeze - this great finishing stretch demands five excellent approaches. Heave a sigh of relief while sitting on what is by far the best patio vista of the four courses. You should really play your morning round at Big Sky, lunch on the patio and then head to Nicklaus North for the afternoon. And save dinner for the village.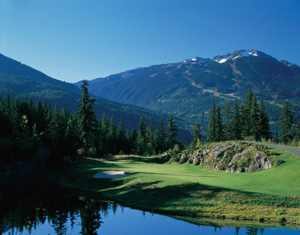 Chateau Whistler's 8th Hole
Photo by John Henebry
Distraction is the rule in Whistler, with fantastic food and nightlife to enrich a golfer's getaway. Like the golf, the dining diversity is as broad as most North American cities. Don't miss Barefoot Bistro, often mentioned among the best resort restaurants in the world. Araxi and Quattro, both developed by a nationally renowned Vancouver-based chef-owner, also offer sumptuous venues for settling the day's scores. Sushi Village is a favorite haunt also, and the Four Seasons Fifty Two 80 Bistro is drawing diners to the upper village.

Next morning, leave all distraction behind when you tee off at Robert Trent Jones Jr.'s Chateau Whistler Course, considered the "must-play" track by most first-time visitors. Be warned: a high handicapper may spend more time in the woods looking for his golf ball than admiring the breathtaking scenery.

Like Big Sky, the Chateau course is gloriously free of almost all houses, quite rare in Whistler and impressive on a golf course where development is always alluring. Unlike the Pemberton 18, this is definitely a cart course, with dramatic elevation changes and a hundred meters between certain holes. Like most RTJ2 courses, there are several tee-to-green jewels, including the 212-yard par-3 eighth, an uphill challenge with a green that taunts the golfer with rocks on the right, a pond on the left. Your foursome will feel you're playing alone in the woods, a treat usually reserved for the local bears.

Whistler Golf Club
Photo by John Henebry
Whistler's ursine summer residents hold a special relationship at the walkable Whistler Golf Club's 391-yard par-4 13th, precisely named "Bear Island." Hole names are often a source of whimsy and history, but this nomenclature is advisory as well as fanciful. Located along the left side of the fairway, the large rocky terrestrial island is fronted by warning signs not to go searching for errant golf balls. The reason? An active bear lair resides not far from the fairway. This is just one unique feature about Whistler Golf Club, an Arnold Palmer design and Whistler's oldest and least appreciated track.

Yet the challenge from this flat, parkland layout should not be underestimated. Like many Palmer layouts, bunkers lay in wait adjacent to every landing area. Palmer's greens, as small as they are subtle, also test the duffer's patience. Witness the aforementioned 13th, a hole that requires a precise tee shot to bypass the ominous outcropping. The 10th, a 326-yard par-4, also requires a bold tee shot, though water alone - and not an actual bear - lumbers along the left side.
The Golden Bear, however, resides elsewhere, specifically in between Whistler Village and Pemberton. I've played Nicklaus North, during twilight on several occasions, and I recommend doing the same. This Nicklaus Signature Course begins and ends among houses, but meanders unimpeded by civilization from the 4th to 13th holes. As with any Nicklaus Signature facility, the 6,908-yard track is always in spectacular shape. Unlike many other resort courses, the athletically-inclined can walk here.

There are several special holes to be cherished here. The par-3s really stand out, especially the 220-yard 12th, a water-carry to essentially an island green. The 226-yard 17th will also disturb your evening's slumber, as Green Lake borders the entire hole and produces winds that can make for a three-club difference.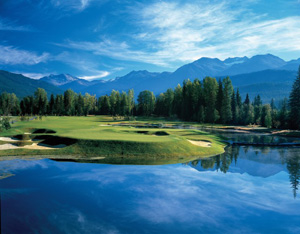 6-09-Nicklaus North 12th Hole
Photo by John Henebry
Rarely do we visit a resort where three of the four courses can be walked. The diversity of Whistler's offerings is also a pleasure. In fact, the Chateau is the only true mountain test in the quartet. As you return to points south, your memories of playing these four jewels will compete with the spectacular scenic vistas along the Sea to Sky Highway. By the time you hit North Vancouver, it is highly likely you and your foursome will already be craving a return to this extraordinary resort and plotting next season's return to traverse the greens that lie beneath the slopes.
The Details

The Courses

Note: Several hotels offer summer stay-and-play golf packages. The fall ("shoulder") season combines (usually) fantastic weather and great golf deals. Also check with the Whistler tourism office (1.800.WHISTLER; www.golfwhistler.com) for special four course packages.

Big Sky Golf & Country Club - Greens Fees: $59-189 (CDN); http://www.bigskygolf.com  

Fairmont Chateau Whistler Golf Club - Greens Fees: $69-195; http://www.golfwhistler.com/courses/chateau.asp  

Whistler Golf Club - Greens Fees: $59-150; http://www.golfwhistler.com/courses/wgc.asp

Nicklaus North Whistler - Greens Fees: $125-189; http://www.golfwhistler.com/courses/nicklaus.asp

Where to Stay

Four Seasons Resort Whistler - 604/935-3400; www.fourseasons.com/whistler

Fairmont Chateau Whistler - 800/257-7544; www.fairmont.com/whistler

Nita Lake Lodge - 888/755-6482; www.nitalakelodge.com


Dining

Bearfoot Bistro - 604/932-3433; http://www.bearfootbistro.com

Araxi - 604/932-4540; http://www.araxi.com

Sushi Village - 604/932-3330; http://www.sushivillage.com  
Crai S. Bower publishes 50-plus articles a year in over 30 publications. He has written about golf in Alaska Airlines Magazine, Journey, Travesías and Travel.MSN.com, among others. He received the 2008 Northern Lights Award for Excellence in Canadian Travel Journalism. He contributes "Destination of the Month" for aaajourney.com and is the travel commentator for NPR affiliate, KUOW. For more details about Crai, visit www.FlowingStreamWriting.net.