Golf on the Rocks
By: Andrew Penner
Golf in Newfoundland is not about posh and perfect country clubs. It's not about a stellar selection of upscale resorts with all the hoity-toity add-ons. It's not about quick and easy trips to the next best course on the list. It's not about pristine weather and GPS-equipped golf carts. Instead, what you have - as their brochure proudly states - is "golf untamed."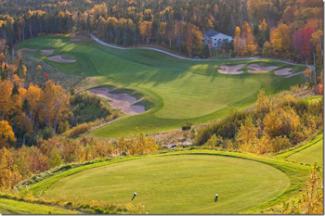 The Par-4 10th at the Humber Valley Resort
Newfoundland is the Palm Springs antonym. And it's exactly why you should go.

Of course, because it's Newfoundland and it's going to take some work to get there - most people fly into the capital and largest city, St. John's - a trip there should not just be about the golf, which is good, and sometimes shockingly so (more on that later). But there is a culture, a way of life that radiates something rich, something unpretentious, something "Newfie." And an effort to explore it will be rewarded. That is, provided only measurable amounts of "screech" are involved.

Yes, the right of passage here does, most definitely, involve kissing the cod and sipping screech, a wicked, dark rum that was first introduced to Newfoundland in the 1600s. The province owes this colorful lore to the Jamaicans who traded the potent nectar for cod. And yes, the word is derived from someone - specifically, an American officer stationed in St. John's during WWII - "screeching" when he reeled back and took a healthy shot.

Speaking of shots, the province's 20 golf courses (there are two golf courses in Labrador) are an eclectic bunch. Represented in the diverse collection is everything from rather rudimentary nine-holers that feel like they could have been laid out by fishermen on a shore break, to drop-dead gorgeous 18-hole crusades that can hold their own against anything in the world.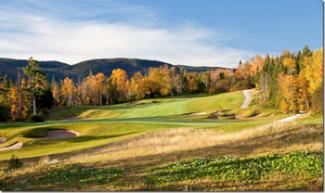 The Par-4 8th at Humber Valley Resort
Somewhat surprisingly, given the long-running European influence here, the "public" golf scene in Newfoundland is relatively young.

(The Spanish, French, Portuguese, and English began fishing here in the 1500s with permanent English settlements appearing around 1630. And, long before that, the Vikings settled briefly at L'Anse aux Meadows around 1000 AD.)

However, even with all those Europeans coming ashore, golf - except at the private Bally Haly Golf Club in St. John's, established in 1906 - was seldom played. Then again, the incredibly rugged nature of the terrain may have also played a role.

But while those prehistoric waves of windswept rock - Newfoundland's geology dates back billions of years when two continents collided to form the present-day landmass - may have been a setback to development, they set the stage for some incredibly scenic golf courses. The first public facility on "The Rock" was St. John's Pippy Park, which opened in 1976.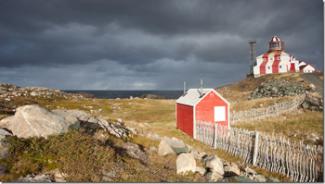 The Bonavista Lighthouse is One of Many Lighthouses
on the Newfoundland Coast
Now a 27-hole municipal course that serves up splendid views of famous St. John's Harbour, Pippy Park is a local favorite. During its early years the locals - somewhat starved for golf and, obviously, having limited options - would wait in line all night (can anyone say "screech?") to get a tee time.

As fun as Pippy Park can be, one can make a strong case that the popularity contest in St. John's is being won by the Clovelly Golf Club. Located in a parkland setting near the airport, Clovelly is a bustling 36-hole facility with a super-fun vibe. The main course here, The Osprey, is a rolling 6,553-yard layout designed by Graham Cooke. It's wide and playable with beautifully contoured greens and just the right amount of sand and water in play.

The Black Duck course, also designed by Cooke, is a sweet little executive 18 tucked away in trees and, not surprisingly, extremely popular with ladies, juniors and time-starved folk. With a warm, inviting clubhouse, terrific food and exceptional "Newfie" hospitality served up by director of golf Ted Stonehouse and his team, Clovelly is the type of place the golf industry needs more of.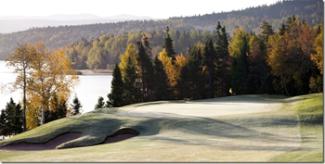 The Par-4 1st at the Twin Rivers Golf Resort in Terra Nova
In some ways, The Wilds at Salmonier, an 18-hole resort venue built during the '90s golf boom, epitomizes what golf in Newfoundland is all about. The 6,750-yard layout is cut through a rugged swath of woodlands and incorporates creeks, marshes, ravines and natural waterfalls. The finishing run, which includes a daring par-5 that can be reached in two, is terrific. Hopefully, your round is also capped off by a moose sighting! It happens regularly.

Twin Rivers Golf Course at the Terra Nova Resort (approximately two hours from St. John's) also has a finish you'll remember. The 18th, a do-or-die par-3 that crosses an energetic, rock-lined creek, is easily one of the best holes in the province. However, the entire layout at Twin Rivers, which features a combination of Doug Carrick- designed holes intermixed with an original nine by Robbie Robinson, is an epic journey through a wild, untamed landscape of boulder-choked rivers and dense, mixed-species forests. True, it's tough as nails and requires extra ammo, but there's a reason why this unique course is regarded as one of the best in Atlantic Canada.
The Par-3 18th at the Twin Rivers Golf Resort
in Terra Nova
Speaking of unique, a trip to Newfoundland should also incorporate a visit to a classic fishing village. And, not far from Terra Nova is the town of Trinity, one of the most interesting historic sites in the province. Known as "The Pearl of Newfoundland's Outports," a visit here is a trip back in time. With numerous restored buildings, including colorful saltbox houses, churches and merchant buildings to explore, you'll want to allow a half-day here. The friendly locals (one helpful fellow guided me to the incredible Skerwink hiking trail, a soaring trek along cliffs that overlooks Trinity Bay) are also a highlight. For that matter, the warm and friendly culture that prevails in Newfoundland is a highlight everywhere you go.

While Trinity may well be the trump card for history buffs, shutterbugs and cultural aficionados, the Humber Valley Resort represents the same for golfers. Located on the western side of Newfoundland in the Cornerbrook/Deer Lake region (a five-hour drive from Terra Nova!), Humber Valley is an awesome Carrick design that deserves to be on your bucket list.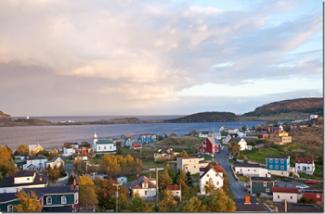 Trinity is a Classic Fishing Village with Many Restored
Buildings and Homes
The brilliantly-routed layout plunges to the scenic Humber River on both nines and takes golfers on an edge-of-your-seat rollercoaster ride through a beautiful valley. Dramatic downhill shots are the norm, with broad, tree-lined fairways, beautiful bunkering and panoramic vistas spicing the experience. Even though the 10th - a downhill par-4 with a serious "wow" factor - gets photographed the most, it's one awesome hole after another at Humber Valley. The fifth and the 14th, par-3s that sit snugly by the water, are exquisite. Regardless of how you play at Humber Valley, it's an experience to savor.

If you haven't already caught on, a trip to Newfoundland should include plenty of sightseeing along the way. Places such as Signal Hill in St John's, Cape Spear (North America's most easterly point), the Bonavista Lighthouse, Ferryland and Gros Morne National Park immediately come to mind.

So allow plenty of time for the journey. After all, Newfoundland is a spectacular place. Just like your golf swing, there's no need to rush it.
Andrew Penner is a golf professional, writer, and photographer based in Calgary, Alberta. His work has appeared in many leading golf and lifestyle publications in North America and Europe. Andrew is also a 20-year member of the Canadian PGA and still teaches the game on a part-time basis. When not on writing or photography assignments, he enjoys chilling out in the backyard with his three boys and his wife, Dawn. Feel free to visit Andrew at www.andrewpenner.com. You can also reach him at andpenner@shaw.ca.