Golf Recovery in Unlikely Places - Two North Carolina Courses Re-branding After Recession
By: Dave Droschak
With more than 550 courses, North Carolina stacks up quite well against golf-hearty states like Florida, California, Michigan and Texas. The Sandhills offers acclaimed Pinehurst No. 2, coastal golf from Wilmington to the South Carolina border that rivals any layouts in Myrtle Beach and some of the nation's more spectacular venues scattered across the Blue Ridge Mountain range.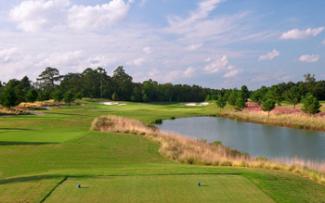 Cutter Creek is in Prime North Carolina Farmland
Traditionally, east of Interstate 95 to the Outer Banks, which accounts for more than one-quarter of the state's vast acreage, has been North Carolina's "golfing dead zone." Tobacco, cotton and corn are king on land devoid of topography and population.

That's what makes the stories behind Cutter Creek and Scotch Hall Preserve so intriguing: two courses opened within the last five years that have battled through the nation's nasty recession - and which hit the golf industry particularly hard. But both facilities have come out swinging in 2012.

Cutter Creek is located in the Greene County town of Snow Hill, about 15 minutes from East Carolina University, while 950-acre Scotch Hall Preserve is in Bertie County, two hours from Raleigh. Each county has just 20,000 residents and would be considered "remote" for city slickers from the "Triangle," Greensboro or Charlotte.

The recession was real for both in what amounted to some serious bad timing for two courses that I would rank as the best and most enjoyable golfing experiences within a 75-mile radius.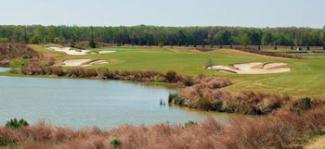 Second Hole at Scotch Hall Preserve
(Photo by David Droschak)
Each started as master-planned, high-end golf communities that expected to move between 400 to 650 home sites but, like many of their counterparts across the nation, you can use your hands and toes to count the number of dwellings presently on site.

In fact, Scotch Hall Preserve's golf course sat virtually idle for two years before IMI, a luxury resort and real estate marketing firm based in Greenville, S.C., was hired in 2009 to redraw the land plan and re-brand the course, including a name change from its original Innsbrook Golf & Boat Club.

IMI's advice was sound: convert what was a private, Arnold Palmer-designed golf course situated along a bluff with a crystal-clear view of Albemarle Sound, into a resort destination. Dirt is moving as we speak along the waterfront as the development's first cottages are due to be completed this fall. A unique lodge is also in the planning stages.

IMI's marketing strategy in 2012 focused on Raleigh and its ritzy bedroom communities, and the firm has received a strong response as dozens of owners have committed to purchase property.

"Where else can you get a waterfront cottage for $300,000 and play a great, great golf course?" said Scotch Hall Preserve spokesman Jim Hughes. "You get a feeling when you're out there that essentially you're in your own world, it's so quiet, so unspoiled.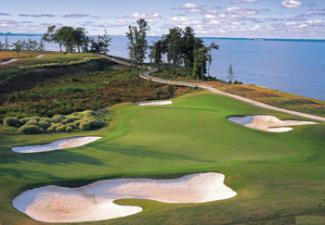 Par-3 17th at Scotch Hall Preserve
Has Albemarle Sound as Backdrop
"The No. 1 objection in the past has been it is too remote," Hughes added. "But the people in Raleigh know it's not remote because it's just two hours away. So what IMI has done has re-branded, repositioned, remarketed the whole place and golf is a strong component because they have one of the best new golf courses in eastern North Carolina. In a sense, it is North Carolina's next great golf destination."

How strong is the golf? Palmer's former director of design services, Harrison Minchew, who has designed approximately 100 courses, lists Scotch Hall Preserve as among his very best layouts. It offers glorious views of the convergence of Salmon Creek, Chowan River and Albemarle Sound while being framed by cypress, pine and oak, along with strategic wetlands.

Seven holes on the back nine have water views, including a stellar closing stretch that includes a 444-yard par-4 with an approach over water, the 207-yard 17th that has a wetlands carry off the tee as the Sound catches your focus, and a risk-reward, 555-yard par-5 with water running along the left portion of the fairway and winds its way to the green.

"The Sound is so massive and so huge that it's hard to comprehend - just a beautiful view," Minchew said. "The pressure was on me. There really wasn't a reason why I couldn't produce a really good golf course. People will fall in love with the ambiance of the area."
Meanwhile, Cutter Creek became the first golf course in Greene County when it opened in 2008. Its seven investors had what seemed like a can't-miss plan: offer the area's best golf course and upscale community to residents of surrounding Greenville, Kinston, Goldsboro and Wilson.

Then the economy began to tank and today the only investor left standing is Cam McRae, who owns more than 50 Bojangles restaurants as president of Kinston-based Tands Inc., his popular chicken and biscuit establishments a model of taste, service and value.

Initial home sales in the 600-acre golf community four years ago were strong as the front nine of the Bob Moore-design opened, but building soon stopped, as did the flow of money. "Some of the other investors happened to be in the home-building business or related to it, and they got caught up in that recession and fell by the wayside so to speak," McRae said. "I just ended up being the only one left standing.

"I view the golf business and the restaurant business as being hospitality businesses. Our customers in both businesses have a lot of choices. There are plenty of restaurants out there and there are plenty of golf courses you can play. We have to provide a quality product with a smile and service. That's what we concentrate on."
A recent marketing campaign aimed at attracting new memberships - and potential homeowners - in surrounding counties has play up 25 percent in 2012.

Like, Scotch Hall Preserve, the Cutter Creek golf experience is unhurried and stimulating. The Chapel Hill-based Moore, recently voted the third-best architect in Asia, transformed the property from flat farmland to a "vertical challenge."

"The secret from my perspective is we didn't use mounding to create separation from the golf course to the housing, we actually lowered the golf course into the land form," Moore said, noting that it went from zero elevation to 26 feet. "That way, as the fairways drop and the features drop into the land, it is much, much easier to make that tie-in from the golf course back to what is now residential property, which was the old agricultural fields. There is a little bit of an art to that."

"Lowering" the land by moving 600,000 cubic yards of dirt was the first piece of the design puzzle that makes Cutter Creek such an enjoyable and stimulating journey. A few holes head back into a pine forest near Rainbow Creek, but a majority of the layout is in open space, which required some extensive planting.

For starters, Moore and his crew planted 1,700 trees. Then, 22,000 ornamental grasses were added for a total planting budget of more than $400,000. "We planted the ornamental grasses to provide the golf course with some enclosure, some scale," Moore said.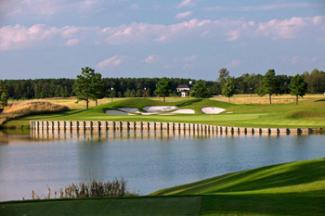 Extensive Bulkhead at Cutter Creek
Provides Risk-Reward & Scenic Beauty
In addition, Moore created picturesque Lake Nina, which borders the entire length of the ninth and 18th, ending each hole with two of the course's four bulkhead greens. "Bulkhead is not only beautiful but it really creates that all-or-nothing kind of shot," Moore said.

McRae has big plans for semiprivate Cutter Creek, some of which have already begun to come together. A new pool house for members is in place, while a clubhouse rendering has been completed, as well as plans for some overnight accommodations.

"The heart and soul of the whole project has always been the golf course," McRae said. "That's my philosophy and approach on this business."
"Cam wants to take the golf course to a higher level and take the community with it, like a race car drafting," added Hughes.

While Scotch Hall Preserve and Cutter Creek once appeared on the brink of failure, each now can be viewed by other such courses across the nation as potential models of recession recovery.

"There are a lot of variables, but if you have the capital strength to lay the groundwork now you will be ready when the economy finally does roll out of this recession," Hughes said. "You can start gaining momentum because there is a lot of pent-up demand."

For more information about Scotch Hall Preserve, visit www.scotchhallpreserve.com. For additional details about Cutter Creek, visit http://cuttercreekgolfclub.com.