Golf 'Staycations' in NYC
By: Elisa Gaudet
Living in New York City sometimes makes it difficult to get to the golf course. I decided to go on a quest and explore the golf options in the city that never sleeps. Some of these you may be able to find in your city.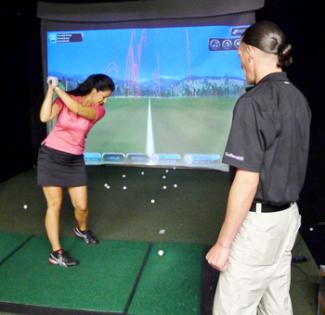 Elisa Swinging at GolfSmith in NYC
First, I have been meaning to get fitted for new clubs and this was a great time to go in and try out what is new on the market and actually see and feel the difference.

Golfsmith on 5th Avenue in NYC has three hitting bays and staff members that are certified as master club-fitters. You can drop by anytime they're open and meet with a fitter, or make an appointment in advance. I was able to try hitting with various clubs in the simulator and discover which clubs had a comfortable feel and were best for my game. I ended up with TaylorMade men's senior clubs because of my height. This was a choice I would not have thought of or even known was an option. Having someone evaluate your swing opens your mind to options you may not have considered.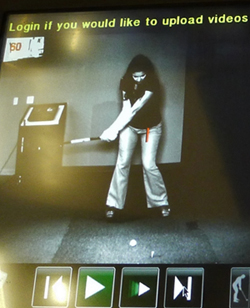 Elisa Getting Fitted for Clubs
New to NYC is Golf & Body, an amazing state-of-the-art gym that offers all the amenities of a high-end fitness facility with the feel of a country club. Perhaps its most amazing feature is the ability to provide the same services available to a touring PGA pro. They have professional staff members who include swing coaches, physical trainers and a physical-therapy department.

A unique aspect of the process is that each department communicates with one other about every client. So if you have a back ailment the therapy professionals will discuss this with both the trainer and swing coach, thereby allowing each to assist the client as needed. Ben Shear is the head golf fitness professional and has developed a system to evaluate and implement golf-specific fitness. I met with Zeon Dolnyckyj, the head trainer under Ben, who took me through a personal assessment and how he and the trainers work with the swing coach and therapy group to create a specific program for each individual.
Then golf professional Jared Seitters took me through some swing analysis on the HD Golf video in one of the high-tech simulators, which produces images that look like a golf sonogram. There are a number of them in the club that members can use themselves or as part of a lesson with a pro. This allowed me to review my swing and save it in a computer as well enabling any of the training professionals to review it at any time. The luxurious interior makes you feel as if you are in high-end country club. Golf & Body is located at 6th Ave & 32nd St. www.golfbodynyc.com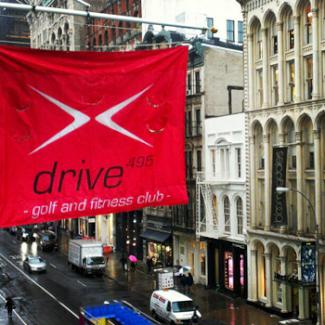 Drive 495
Another option in the heart of Soho is Drive 495. This golf gym has a hip vibe combined with the warmth of a family. This golf-specific center was started by two brothers, Don and Joe Saladino, who really live the golf and fitness regime. Don is certified fitness professional and Joe regularly competes at a high level in national amateur events and has been named Metropolitans Player of the Year multiple times. They are very focused on the combination of nutrition, fitness and golf while offering fitness equipment and golf instruction with trained professionals in both fields. Located at Broadway between Spring and Broome. www.driveclubs.com

The Golf Club at Chelsea Piers is an amazing place to practice. It boasts 52 heated and weather-protected hitting stalls on four levels and an automatic ball tee-up system; no bending required to tee up a ball, all overlooking the Hudson River. One of my favorite times to go is for Friday Night Swings (6:30-8 p.m.; $30). This is combination of happy hour on the Hudson with golf. An open wine and beer bar allow you to mingle and rotate through the stalls while receiving instructions from their teaching pros. Located at Pier 59 at 18th St. & Hudson River Park. www.chelseapiers.com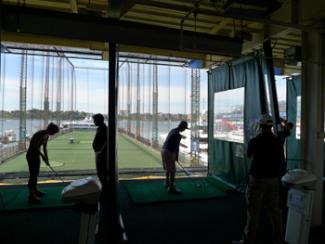 Chelsea Piers
Randall's Island is a great option if you want to play outdoors. This 25-acre facility overlooks the East River and uptown Manhattan and is easy to get to with a shuttle that runs frequently from 3rd Ave. Its practice facility has 82 hitting stalls on two levels, grass tees, a short-game area with a bunker, golf lessons with pros on site, golf clinics, pro shop, beer garden and grill. For a bit more fun, there's also a 36-hole landscaped miniature course. The shuttle van goes up 3rd Avenue and stops at 72nd,77th, 86th & 96th Streets and takes about 20 minutes .Open until 10 p.m. every night, seven days a week. www.randallsislandgolfcenter.com

So if you can't get to the course there are plenty of options for golf in the Big Apple. This list would not be complete without a great 19th hole establishment. St. Andrews Restaurant & Bar is close to the always colorful Times Square. Inside is an authentic Scottish experience that includes plenty of golf memorabilia and Scotch. Located at West 46th St. between 6th Ave & Broadway.
Elisa Gaudet brings a wealth of entertainment and golf experience to Cybergolf. Elisa has spent the past several years in the golf industry in the U.S., Latin America and Spain. She worked for the PGA Tour and the Tour de las Americas before founding Executive Golf International, a golf marketing company that works with clients to develop strategies using golf as the medium. Often referred to as the Maria Bartiromo (a business analyst for CNBC) of golf, Elisa says: "Golf, as a marketing tool, has been around for years. It's amazing how many new ways companies can align their brand with the golf market to reach their target audience. Our goal is to create alliances and establish cross-border relations." Elisa also worked in the entertainment industry for over 10 years, including five in Los Angeles as a model and actress. She can be seen at many celebrity golf events and often gets the inside scoop from PGA Tour players. In 2011, Elisa published her first book, "Two Good Rounds" (Skyhorse Publishing). Her story for Cybergolf, "Golf a Romantic Affair at Cabin Bluff," won the top prize in ING's 2012 Travel Writing category, and that same year she won the ING's Outstanding Achievement award for the Op/Ed Writing Category for her Cybergolf article, "I Want to Fall in Love with Tiger Again." For more information about Elisa, visit her websites at www.onthelip.com or Executive Golf International www.execgolfintl.com.