Golf Tourism Alliance Formed in New Mexico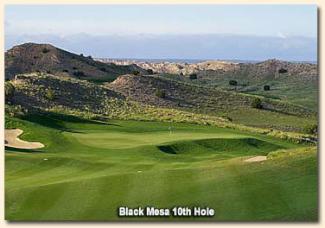 New Mexico's golf and hospitality industries have joined forces to create a non-profit alliance to promote New Mexico as a national golf-tourism destination. The New Mexico Golf Tourism Alliance is being launched through the Sun Country Section PGA. It comprises representatives from the golf industry, the state's lodging industry and convention and visitors bureaus.
"New Mexico has steadily evolved into a highly desirable, yet almost secret, golf destination," said alliance president Warren Lehr, director of golf at Paa-Ko Ridge Golf Club in Sandia Park, N.M. "It's definitely time to get the word out to the rest of the world that we have top-rate golf, lodging and entertainment at terrific prices."
The group's formation fulfills a promise New Mexico's golf industry made in 2005 to Gov. Bill Richardson to create a statewide organization to market golf in New Mexico.
Board members include former New Mexico Gov. Garrey Carruthers (currently dean of the New Mexico State University College of Business), the New Mexico PGA Section chief, and senior managers of New Mexico golf courses and lodging establishments.
The new organization will develop marketing and advertising strategies to attract out-of-state golfers, foster creation of golf stay-and-play packages, cooperate with the New Mexico Tourism Department in joint marketing and develop local golf-tourism partnerships among and between local courses, lodgers and restaurants.
Short-term projects include developing a unified Internet presence, publishing a printed statewide golf guide for the 2007 and 2008 golf seasons, and training New Mexico lodging-industry staff to cater to the needs of golf tourists.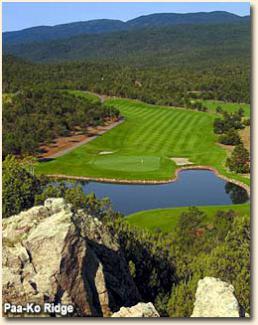 Longer-term projects include development of a national marketing strategy and identification of core golf-tourism markets, as well as integration of real-time, web-based tee-time reservations with lodging reservations. New Mexico has fewer than 75 golf courses, but the quality of the state's golf increasingly has garnered national recognition in recent years. The Golf Digest/Fodor's "Best Places to Play" guide rated Paa-Ko Ridge at five out of five possible stars last May. Only 17 golf courses in the nation hold that rating.
"New Mexico has 11 courses rated by Golf Digest at four stars or higher, but the real beauty of the golf here is the value," said Ken Adams, co-publisher of Sun Country Golf, a bi-monthly newspaper who is serving as volunteer executive director of the new alliance. "We have courses with greens fees of $40 to $100 that would cost $200 to $350 elsewhere. Combine that quality and value with the terrific climate across this state and you have a first-rate, year-round golf destination."
Initial outreach efforts of the new alliance are being funded by golf courses' and lodgers' financial commitments, plus a $20,000 matching New Mexico Tourism Department Cooperative Advertising grant. Individual commitments are pegged to tiered levels of exposure via the alliance's cooperative marketing and advertising. All golf courses in the state are eligible for representation, as are all hospitality businesses and tour packagers willing to make a financial commitment to the organization to boost rounds and room-nights, Adams said.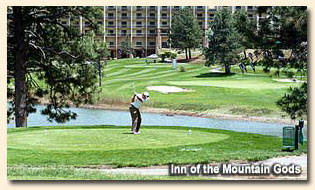 The organization's founding followed months of discussions among golf-industry, lodgers, and state tourism officials facilitated by the Albuquerque Convention & Visitors Bureau and by the Sun Country Golf newspaper. It also fulfills a promise that golf-industry representatives made to Gov. Richardson, House Speaker Ben Lujan and Tourism Secretary Michael Cerletti to create a golf counterpart to Ski New Mexico, a successful non-profit alliance created in 1973 to promote New Mexico as a ski destination.

Unlike skiing, which has a relatively short season, golf is a year-round activity in most of New Mexico. A 2006 industry-funded study by NMSU pegged golf's statewide economic impact at more than $500 million a year. The study identified increasing rounds played by out-of-state visitors as the fastest way to boost room-nights and associated lodgers' tax collections for local governments.

Already identified by the statewide alliance as regional golf-tourism "loops" likely to be promoted in packages to out-of-state players are: Ruidoso, Las Cruces, Northern New Mexico, the Four Corners and the existing Golf on the Santa Fe Trail corridor in central New Mexico.

The alliance will encourage golf courses and lodgers in other sections of the state to establish partnerships to identify similar regional golf-tourism "loop" packages that can be marketed in partnership with the Tourism Department and the statewide entity.