Golf Tournaments & Breast Cancer - More Choices for the Cure
By: Nancy Berkley
In the next few weeks, I - along with many other women and men - will attend a fund-raising golf tournament in support of breast cancer research. We all want to find "The Cure," and the landscape for breast cancer charity golf tournaments is actually becoming a little confusing and a bit competitive. This is probably good.
Going back about five years ago, there were two major breast cancer organizations that women chose for charity golf tournaments. The first and oldest was founded in 1982 by Nancy Brinker, in memory of her sister, Susan G. Komen. (Its original name was the Susan G. Komen Breast Cancer Foundation, which is why it is still often referred to simply as the Susan G. Komen Foundation. or simply the Komen Foundation.)
According to the Komen website, the foundation has invested nearly $1.5 billion (yes "billion") in promoting and donating funds for breast cancer research. Komen's marketing message evolved into what became known as the "Susan G. Komen Race for the Cure." Many men, women and children have participated in actual "races" (and walks) organized by the Komen foundation. For more information, visit www.komen.org.

Closely aligned with the Komen Foundation was the not-for-profit association "Rally for the Cure." Donations from Rally events were sent to the Susan G. Komen Foundation. The full name of rally evolved into "Rally for the Cure - Supporting the Promise of Susan G. Komen for the Cure." For details, see www.rallyforthecure.com.

Rally for the Cure organized fabulous turnkey kits for golf tournament that not only included information on how to run putting and closest-to-the-pin contests, but contained pink-ribbon pins and other informative materials focused on early detection and diagnosis.

The all-in-one kits were critical because the women often had to get the tournaments organized by themselves. Rally for the Cure has sent $50 million to the Komen Foundation and must be credited with building the bridge between breast cancer and golf tournaments and women golfers.
About three or four years ago, Golf Digest - a Conde Nast publication that used to publish Golf for Women magazine - acquired the Rally for the Cure association. Probably most valuable to Golf Digest's marketing department were the names of the many thousands of women who played golf in Rally events.

It was a sad day when Conde Nast shut down Golf for Women two years ago. But Golf Digest - to its credit - has maintained its support for Rally and the Susan G. Komen Foundation. In fact, one of the most helpful planning aids in running a golf tournament is the "Golf Digest Tournament Planner" found on the Rally website (www.rallyforthecure.com). The 12-month planner is so good that it can be used for any type of golf tournament.

Problems loomed, however. As the Susan G. Komen Foundation and Rally for the Cure grew, their organizational structures grew as well. They were charting a new course, and to maintain the integrity of their organizations, they had to maintain staffs that could oversee the operations - all over the country -and make sure that donations were channeled to breast cancer research. The increased administrative costs of managing the Susan G. Komen foundation drew criticism.
Enter another breast cancer charity: The Breast Cancer Research Foundation (www.bcrfcure.org). The BCRF was founded in 1993 by Evelyn H. Lauder, the senior corporate vice president of the Estee Lauder Companies. An important goal of BCRF was to keep its administrative costs down so that 85 percent of all funds raised by the Foundation could be dedicated directly to breast cancer research and awareness programs.

In 1996, the low-administrative-cost goal of BCRF attracted the interest of Laura Lassman, who decided that, by concentrating on running golf tournaments solely with volunteers, the return on charitable donations to breast cancer research could be even better.
Lassman founded "Play for Pink" - known as "P.I.N.K." According to its website (See www.playforpink.org), Play for Pink has a volunteer network in over 26 states. Play for Pink contributed $3 million to BCRF in 2009 and anticipates more growth in 2010.

The volunteer-basis of Play for Pink is very attractive to women as they choose a recipient organization for a golf outing. The good news is that the increased focus on managing costs is good for all charitable organizations and the competition will keep them all on their toes. (To find out the ratio of administrative costs to actual chartable contributions, visit www.charitynavigator.org.)
The landscape for breast-cancer-charity golf tournaments is definitely changing. Next week, I will play in an event that offers yet a different breast cancer charitable recipient: A local hospital with a specific cancer research foundation.

Coming up is the 4th Annual PGA Women's Cancer Awareness Day at PGA National Resort & Spa in Palm Beach Gardens, Fla. Charitable contributions from entrance fees and raffles will go to the Daniel C. Searle Clinical Trials Access Program at Jupiter Medical Center's Foshay Cancer Center. This program provides access to more than 50 cooperative group research clinical trials for patients with cancer. (The Jupiter Hospital is about 15 minutes away from PGA National.) Women from PGA National are the volunteer organizers - so administrative costs are reduced.

When the Susan G. Komen Foundation was established almost 30 years ago, it would have been highly unlikely that a local hospital in southern Florida had its own foundation working on clinical breast cancer trials. That's why Susan G. Komen was so essential decades ago as a national resource for breast cancer research. But times have changed, which is why women's golf events supporting breast cancer are changing also.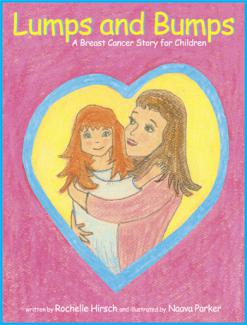 My second golf tournament this month in support of breast cancer research will be at Banyan Golf Club, in West Palm Beach Fla. The designated charity is the Susan G. Komen Foundation. But what is unique about this tournament is that each attendee will receive a recently written book by Banyan member, Rochelle Hirsch (and illustrated by Naava Parker). The title of the book (available at www.lumpsandbumps.org) is "Lumps and Bumps - A Breast Cancer Story for Children." Rochelle is a breast cancer survivor and who has worked with pre-school children for many years as the founder of a nursery school. She recognized the need for a book that families could use to introduce the topic of breast cancer to children. The book is in simple rhyme, fast moving and even humorous at times.

I hope that everyone who reads the book will pass it along to their children and friends - and to their doctors and clergy. Until we find "the cure," many families will appreciate the comfort of this book. I especially like the last page when the little girl telling her story says: "I wish this part of our lives could have moved a little faster. But like my favorite fairy tale, we lived happily ever after."

As the pioneer organization, Susan G. Komen Race for the Cure remains the global leader in the breast cancer movement. But, for those just beginning their planning process for next year's breast cancer charity golf event, you have more choices than ever to bring women and men to the golf course for a successful fund-raising event in support of finding the cure for breast cancer.
Nancy Berkley, President of Berkley Golf Consulting, is an expert on women's golf and junior-girls golf. Her book, "Women Welcome Here! A Guide to Growing Women's Golf," published by the National Golf Foundation, is an industry reference on marketing golf to women. She is a resource for golf-industry trends and is speaks frequently at golf industry conferences. She offers information and advice about the golf industry on www.nancyberkley.com. She is also the author of the NGF publication: "Insider's Guide to Careers in the Golf Industry." She was a contributing editor of "Golf for Women" magazine and a founding advisor of "Golfer Girl Magazine." Her interviews with women in the golf industry now appear on her new site: www.golfergirlcareers.com. Nancy lives in Palm Beach Gardens, Fla., and is a graduate of the University of Minnesota, Harvard University and Rutgers Law School. After a business and legal career, she decided to write about the game she learned as a teenager and loved. She describes herself as a good bogey golfer with permanent potential.