GolFantasy Interview
By: Jay Flemma
We'll have something different for all you readers this December. We'll be doing another Chuck Klosterman-esque sports societal experiment - checking out what it's like to attend a fantasy golf trip.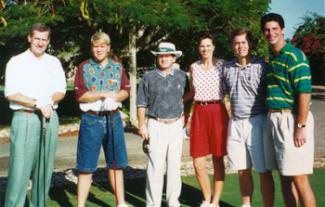 John Daly (second from left) at the First GolFantasy Trip in 1993
Interestingly, while football and baseball "fantasy camps" are fairly common, they aren't in golf. Our game's closest rejoinder seems to be the expensive and ubiquitous pro-am (or celebrity shoot-out, though that's slightly more vicarious and less visceral for the fan or rank-and-file golfer).

But there is a company that has a solid track record for running half-week and week-long dream golf vacations with touring pros. GolFantasy is the oldest (and may be the only) group producing what are essentially fantasy trips for golfers. WFAN's Ann Liguori did a story on GolFantasy a few years back and was wildly enamored. The company took a few years off, but now has returned with yet another event at fabled Casa de Campo in the Dominican Republic, where they had great success before.

Casa de Campo, for those of you scoring at home, is one of the greatest golf resorts in the world, now with addition of nine more holes at Fore, which Pete Dye called, "the best I've built there since Teeth," The resort has an eye-popping 63 holes of public golf. (The private 27-hole La Romana Country Club accounts for the rest of the facility's total of 90 holes.)

So when I was approached by friends who thought this was a good story, I knew they were right. What do guests expect from a fantasy golf week? What kind of person takes such a vacation? What are these vacations like? How good are the pros? The accommodations? The golf? The food? The overall experience? And most importantly: are they a good value?
Moreover, we examined broader questions like why has Casa de Campo remained Number 1 in the Caribbean since the day it opened? How do the courses at Casa de Campo compare to other Caribbean resorts like Dorado Beach? We'll even interview Pete Dye about his 90 holes of golf at Casa.

So to get us started, let's meet Howie Hacker (a pseudonym, to be sure), who's been the producer of GolFantasy events for almost two decades, and find out from him what GolFantasy is all about.

Jay Flemma: What is it like when someone takes a week long fantasy golf trip? What's the experience like?

GolFantasy: We have a single focus - we want our guests to feel like they had the best vacation of their life. I know that sounds like a lofty goal, but that's truly what we strive for, period. We make a point of remembering that it's a vacation. And when people are on vacation they want relaxation and respite, ambience and, in this case, the excitement of playing and hanging with touring pros. We want them to leave feeling invigorated and with fond memories.

To do that, we need to pick the right venue and run our event at the right time of year, at a beautiful location that is both exotic, yet also convenient - meaning easily accessible by jet from the U.S. mainland. That's why we picked Casa de Campo in the Dominican Republic. We then pick touring pros with personality, guys who really are excited about being there, and who genuinely like hanging out and meeting people..

This December, our guests can join us for four or seven nights. They stay in the resort's "Elite" rooms, which are new and have many first-rate amenities. They'll play unlimited golf, including 18 holes a day with touring pros from the PGA and Champions tours, plus partake in early afternoon golf events like clinics and contests, then enjoy dinner each night at one of the resort's many fine restaurants, including Chinois, and the Beach Club by Le Cirque, sharing tables with the pros. Casa de Campo is not only a magnificent resort overall but it focuses on its golf - the Jim McLean Golf School has a location there, and even Pete Dye, the architect who designed the courses has a house on the seventh hole at Teeth of the Dog.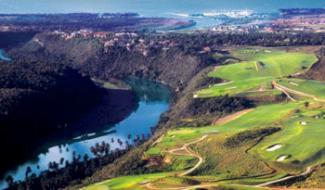 The Magnificent Dye Fore Course Clings to Clifftops
Happily, the golf takes care of itself. We add a few offbeat activities, a couple of offsite excursions, and clinics and skills challenges, but we are careful to leave people ample time to do what else they want to do on their vacation, whether it is relax, party, be romantic or make new friends.

Then there is price. It's critically important to us that the price be reasonable. We believe a reasonable price is part of the actual fantasy, especially in today's world. So another clincher for me in choosing Casa de Campo was the resort allowing us to adopt their "all-inclusive" option for our package. This truly created a lot of value for the dollar and has allowed us to make GolFantasy accessible to more golfers.

JF: Had you ever gone on anything like this yourself?

GF: I went to a Mets baseball camp as a youth and had a nice time. That's the only one I've attended as a guest, but of course I always attend every GolFantasy, and my team and I are hands-on and attentive in our production and oversight of all activities.

JF: What did you like about the Mets baseball camp? Was it what you expected? What they said it would be? What would you have liked to have seen improved that you try to do at your events?

GF: I was young and a huge sports fan and was thrilled to get to be with the players. It was better than I expected from the standpoint that the players were such regular guys and fun to be with. Yes, it was pretty much as represented, but looking back on it, it certainly paled as a value proposition. Other than the interface with players, there was not much else. It was before the era of all-inclusive packages. The vacation elements like room and food were mediocre, and it was priced in a way where you felt you were really paying to be with the players. I felt early on that I could improve on that, offer more value, and do it better.

JF: How do you pick the pros? How many and what caliber PGA Tour pros will attend in any given year?

GF: The number of pros is a ratio to the number of guests, it varies. But this December we anticipate between 14 and 18 PGA or Champions tour pros, and probably two from the LPGA. Everybody plays at least 18 holes of golf with a pro every day, and we rotate everyone around so as to get as many different people to play together with as many different pros as possible.
As for the "caliber" of the pros we select, I find that what works best is booking high-caliber human beings: all-around, great guys that will contribute to the experience, and who will really be a part of it and interact. Yes, we like to pick pros who are familiar and ranked, but we also want them to be capable of enhancing the experience of our guests through real, meaningful interplay. So they should possess friendliness, patience, gratitude, extroversion and some flair.

What's worked well for us are either the really young guys who recently turned pro, or the older and more experienced guys who have been pros forever. The really young guys are physically amazing to watch, and they play with pure joy because they aren't caught up too much in the trappings and hoopla of fame and money nor jaded by the crowds and the media. The more experienced pros are loaded with stories and willing to share and teach. And boy, can some of these guys teach. Everybody that comes to GolFantasy as a guest has every chance to leave it as a better golfer!

JF: Who is coming this year?

GF: We have not yet announced all of the names for this December (we will very soon), but the younger stars are going to be a really talented collection. As for the guys with the history, stories and experiences, I know our guests are going to love Bruce Fleisher, Dan Forsman and Mark Lye, to name three. Lye is great as he's both a golfer and an analyst on the Golf Channel. Jim Thorpe will be there too - and he has got as much flair as any pro. These guys have had long careers as both PGA Tour pros and Champions Tour pros. For what it's worth, and it's not the main reason we picked them, but Fleisher and Thorpe are among the top 10 all-time money winners on the Champions Tour.

JF: It was six years since the last GolFantasy event. Who were the celebrities/pros you had in the old days?

GF: It's actually been longer than six years for our last public event (our last private event was six years ago), but we sure had fun with John Daly, who was fond of having a guest lay on his back, placing a tee on his head and whacking the ball 350 yards off that tee.

In fact, one of my favorite personal memories of GolFantasy was hanging poolside one evening after dinner with John Daly and a few of our guests smoking Dunhill cigars that were freshly rolled and just brought back from the local Consolidated Cigar factory that day. Daly and I looked at each other and simultaneously - to the very second - we each said "this is the best cigar I ever smoked."
We had Roger Maltbie, who was especially great to hang with on the 19th hole. Other personal favorites of mine were Scott Hoch, Curtis Strange, Missie Berteotti from the LPGA, and younger guys back then who people liked such as Greg Kraft and Donnie Hammond. Ann Liguori from WFAN was a fan favorite, and as for celebrities Arnold Schwarzenegger once hung out for a bit with our group while he was there for his own vacation and that was really nice.

JF: About how many participants are there usually? How many celebs/pros?

GF: We have run different size trips, but this December we are limiting it to 100 golfing guests. Some will travel with non-golfing spouses, so the total number of people is more. It's a good number because we'll have all skill levels of players and everyone will have plenty of chances to make new friends. With this number of people, we'll have somewhere between 14 to 18 touring pros with a few well-decorated amateurs, some really great private club or resort pros, instructors from the Jim McLean Golf School, a few novelty pros who put on fun shows, and yes, perhaps a few celebs.

JF: How did you come to pick Casa de Campo?

GF: Casa de Campo has everything. It's breathtakingly beautiful, it's exotic, yet accessible, and the golf is spectacular, with multiple courses to accommodate a group like ours. GolFantasy actually started at Casa de Campo in 1993 so it's always been a home for us and we couldn't be happier.

It's a 7,000-acre resort, and it's amazing how much it offers vacationers. There are beaches and swimming pools. There is tennis, water sports and skeet shooting. There is a lot of interesting shopping at both the Marina and the village a short distance away - last time I was there I purchased a couple of 16th century coins from a sunken ship, and they hang on my wall at home. I am also told their spa is one of the best.
JF: What courses will the participants play?

GF: They will play The Links, Teeth of the Dog and Dye Fore - all of these are 18- or 27-hole courses designed by Pete Dye.

JF: How tough are Teeth of the Dog and Dye Fore? Do players ever walk the courses?

GF: When you play Teeth of the Dog, you are not struck by how tough it is as much as how scenic and majestic it is. Dye Fore, on the other hand, is tough. Little mistakes on Dye Fore can become big mistakes on the scorecard. We're not talking sand, we're talking cliffs. As for walking the courses, yes - people do it all the time. Of course, it's tough to accommodate that during the more peak periods of the day, so that is best arranged with Gilles Gagnon, the golf director at Casa. Gilles has been there since our first GolFantasy and in fact, he is another major reason we chose this resort.

JF: Tell us some more about a typical GolFantasy day and the general schedule of events.

GF: Pretty simple. It's golf with pros all morning, every morning. (Tee times are staggered from early morning to mid morning. Most foursomes are actually fivesomes.) Afternoons vary. There is a golf-oriented activity each afternoon just after lunch, and this is when we run our clinics, tourneys, exhibitions and instructional elements. Lots of prizes get won at GolFantasy. But we leave the late afternoon for our guests to do with as they please, go shopping, lay by a pool, take a nap or even golf some more. One afternoon we'll do an offsite excursion to Altos de Chavon, and another afternoon we'll visit the cigar factory.

Later in the day, we have cocktail parties where we give a little speech and summarize the day, and the pros join our guests and share tables at dinner. We don't get heavy-handed about dress code - GolFantasy is casual - but dinner is jacketed. Of course, just like we rotate the golfing between the three courses, we rotate the dinners across the top on-site restaurants. After dinner, we leave the guests to do as they please nightly, but the opening night and closing night dinners will run late.

JF: Do guys ever bring their families? What's there for the spouse and kids to do?

GF: Guests sometimes come with wives, sometimes without, and a few with kids, but not often. The non-golfing spouses that accompany golfers partake in all meals, excursions and activities except the actual golf. And the resort has age-specific activities for kids.

The pros are a bit more likely to bring their kids - after all, they have a short off-season. Mark Lye is bringing his two children this December - they are 7 and 5. Scott Hoch brought some friends and family to our first GolFantasy, so his children were there too.

JF: How much are the four-night and seven-night packages?

GF: The seven-night package is $4,995, and the four-night package is $3,295. Both packages are all-inclusive.

JF: How "all-inclusive" is "all inclusive?"

GF: This is a great question, thank you for asking! I say that because the term "all-inclusive" does not have a uniform definition in travel circles. But at GolFantasy, we take it seriously and we include everything - accommodations, transfers, unlimited golf, all the GolFantasy activities, all the GolFantasy tours and events, all meals - three per day, even unlimited beverages - alcoholic and otherwise. Taxes, government charges, cart fees and greens fees are all included. We even include the airfare up to a certain booking date - nobody else does that. Hard to find anything not included - unless you dine out on your own or go shopping, of course.

JF: What gave you the idea to do events like these?

GF: I come from an advertising background, and I began packaging promotional events for sports teams in the 1980s. As I got to know a few athletes, I began doing post-season fan trips, mostly in baseball. A friend broached the idea of doing it in golf, and GolFantasy was born.

JF: What do you do differently than other fantasy golf-event packagers that sets your event apart from the rest?

GF: It's a truly great vacation at a world-class resort, it's a chance to spend a week both golfing and hanging out with the pros, and it's all at a great price. We think that combination is unique.

For more information, visit www.golfantasy2012.com.
Since launching his first golf writing website in 2004, http://jayflemma.thegolfspace.com, Jay Flemma 's comparative analysis of golf designs and knowledge of golf course architecture and golf travel have garnered wide industry respect. In researching his book on America's great public golf courses (and whether they're worth the money), Jay, an associate editor of Cybergolf, has played over 420 nationally ranked public golf courses in 40 different states, and covered seven U.S. Opens and six PGA Championships, along with one trip to the Masters. A four-time award-winning sportswriter, Jay was called the best sports poet alive by both Sports Illustrated and NBC Sports writers and broadcasters. Jay has played about 3 million yards of golf - or close to 2,000 miles. His pieces on travel and architecture appear in Golf Observer (www.golfobserver.com), Cybergolf, PGA.com, Golf Magazine and other print magazines. When not researching golf courses for design, value and excitement, Jay is an entertainment, copyright, Internet and trademark lawyer and an Entertainment and Internet Law professor in Manhattan. His clients have been nominated for Grammy and Emmy awards, won a Sundance Film Festival Best Director award, performed on stage and screen, and designed pop art for museums and collectors. Jay lives in Forest Hills, N.Y., and is fiercely loyal to his alma maters, Deerfield Academy in Massachusetts and Trinity College in Connecticut.