Golfer Girl Magazine - Perfect Timing!
By: Nancy Berkley
Just when you think there are enough golf magazines, another publication hits the market. Golfer Girl Magazine™ (http://www.golfergirlmagazine.com) is the new girl in town and a first for the industry. It's tagged as "The Only Magazine for Girls Who Love to Play Golf" and targets the youth golf market - girls and young women between the ages of five and 17. The potential market for the magazine is estimated to be 2 million girls and young women.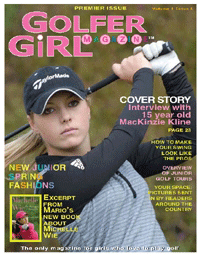 Yes, 2 million young female golfers is a big number. Included in it are about 1˝ million girls between the ages of 5 and 17 who are early in the learning curve and only play golf occasionally. They may go to driving ranges, take a few lessons or just play one or two holes when on a course. Also included in the overall market are another half-million girls who have never played golf but, according to a recent National Golf Foundation survey, report a strong likelihood they will learn and play the game. The most avid segment consists of 180,000 girls who play eight or more regulation rounds of golf a year.

The initial distribution of the magazine will reach all segments of the girls' golf market, including girls attending the David Leadbetter Golf Academy in Florida and the Stanford Golf Camp at Stanford University in Palo Alto, Calif.
The 72-page premier issue of Golfer Girl Magazine will be distributed at all junior golf tournaments this summer, including the Callaway Junior Worlds and the International Junior Golf Tour, and to thousands of girls participating in the LPGA-USGA Girls Golf programs. It was through the LPGA-USGA Girls Golf program that LPGA Tour professionals, Morgan Pressel and Brittany Lincicome, discovered their talents and passions for the game. Now they are the role models for the next generation of girls.

In addition, arrangements have been made with advertisers to assist in distributing and promoting the new publication. Advertisers in the premier issue include Garb Clothing (makers of golf attire for the youth market); Sandbagger (manufacturer of stylish golf shoes for women); the IJGT-International Junior Golf Tour (manager of nationally-ranked junior golf tournaments); and U.S. Kids Golf (maker of golf equipment for juniors).

Golfer Girl Magazine will be published quarterly, and have an annual subscription rate of $26. For more information or a complimentary copy of the premier issue, visit www.golfergirlmagazine.com.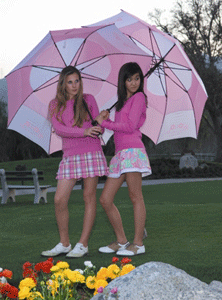 The inaugural issue features a cover story about the inspiring 15-year-old golfer, MacKinzie Kline. Every issue will include golf instruction specifically for girls by professional golf instructors Suzy Whaley and John Darling. Other features include interviews with top junior tournament players as well as young women on the LPGA Tour, and special sections on physical and mental fitness. The magazine will incorporate educational features about the history of women's golf, junior tournaments schedules across the country, and how to prepare for tournament play. I will be writing an interview feature in each issue about women who work in the golf industry - ranging from magazine editors to golf course architects.

Each issue will have fabulous fashion pages. (We know our customer!) Here's a peek at some featured fashions.
The idea for the magazine arose over a year ago, and several pieces had to fall into place before it could become a reality. It's true that "timing is everything." Here's how it happened.

Last May, I received an email from Claude Hooton, a San Diego resident and father of three girls who play serious junior golf. Claude explained that one of his daughters asked a simple question, "Why isn't there a magazine for us?" The girls wanted to read stories about girls like themselves, with age-related golf tips and, of course, golf fashions.

Claude asked his girls whether they wanted to start a magazine. When they said "Yes," Claude looked around for some advice. He found me and my website and asked what I thought of the idea.

I learned quickly that Claude was not only serious about the magazine, but that he also brought crucial skills to the table, including a Harvard Business School degree and a wonderful wife, Michelle, who shares his enthusiasm for the venture.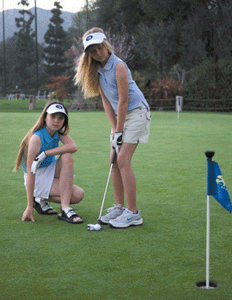 I thought the idea was great and that the timing for launching a girls' golf magazine was never better, for a variety of reasons. First, the industry is making a big push for "family golf" (the PGA of America has designated July as family golf month - visit www.playgolferamerica.com for details), and the First Tee and National School Golf Program are introducing hundreds of thousands of juniors to the game. Secondly, today's young LPGA stars have never been more appealing, both as athletes and celebrities.

In addition, parents of young children today are unique. More so than previous generations, they take their kids with them on vacations, including many destinations with golf courses. In fact, the recent May-June issue of Golf for Women magazine has a special section describing the best golf resorts for families.

Today's parents are also aware that their children will grow up in an increasingly competitive world. Providing children with a good education and as many diverse skills as possible are important to future success. Golf is a "life skill" that successful women and men seem to have. So encouraging children to play golf is another way to give them an "edge." Of course, these are generalizations - but that's what trends are all about.
For all of the above and, because I liked Claude, I didn't ponder too long about whether or not to help Golfer Girl Magazine. I even liked the name of the publication, and told Claude I'd put together an Advisory Board. My next step was to call two industry colleagues to get them on board as advisors. (All advisors serve without any compensation as we believe in this project.)

My first call was to Suzy Whaley, the first woman to qualify and participate in a PGA Tour event in 58 years - the Greater Hartford Open in July 2003. Suzy consistently appears on the Top 50 Instructor list of Golf for Women magazine. Suzy has two young daughters who love golf, and she knows all about girls. In fact, Suzy's oldest daughter, Jenn, will interview other young golfers and write a special feature in the new magazine entitled, "Embarrassing and Interesting Moments."
My second call was to Karen Moraghan, president of Hunter Public Relations. Karen is one of the golf industry's leading media relations and marketing specialists. She has many of the top names in golf as her clients, including the United States Golf Association. Karen and I have previously worked on behalf of women golfers on many industry projects.

Suzy, Karen and I are privileged to contribute our expertise to this project. But Claude and Michelle Hooton and their daughters, Libby (age 15), Courtney (13) and Chloe Belle (10), are the ones who've worked tirelessly on the magazine from its inception to the actual launch and distribution.
Fortunately, the Hootons live in San Diego, which may have the best year-round golf weather in the country. A bonus is that the San Diego Junior Golf Association, one of the most active junior golf associations in the nation, has been a consistent supporter of the new venture.

The pieces are coming together. Golfer Girl Magazine is the right magazine at the right time for the right market. And my granddaughter is almost old enough to read it. Perfect timing!
Nancy Berkley, President of Berkley Consulting, is an expert on women's golf. Her book, "Women Welcome Here! A Guide to Growing Women's Golf," published by the National Golf Foundation, is an industry reference on marketing golf to women. She is a resource for golf-industry trends and marketing advice on her website www.nancyberkley.com. She also consults with golf facilities on how to attract more women golfers.

Nancy provides a Quick Question-Free Help Line on her website for those seeking marketing advice in the golf industry. Nancy is a frequent speaker at golf industry conferences and conducts The Woman's Only Guide to Golf programs for women golfers. Nancy's golf course reviews have appeared in The Golf Insider, an international golf and travel newsletter (see www.golfodyssey.com). She also contributes articles for women golfers on Cybergolf and www.ladiesgolfjourney.com.

After a career as a lawyer and business executive, Nancy founded Berkley Consulting and The Woman's Only Guide® to Golf to share her long-time passion for golf and to help grow the game. Nancy describes herself as a bogey golfer who is too busy to play enough golf. Contact Nancy at info@nancyberkley.com or on www.nancyberkley.com.