Golfing Royalty Turns 50
By: Dave Droschak
The Country Club of North Carolina is a 2,000-acre private golf club and residential community framed by majestic Watson Lake, nestled amongst towering 100-foot-tall pines and just a driver or two away from the Village of Pinehurst.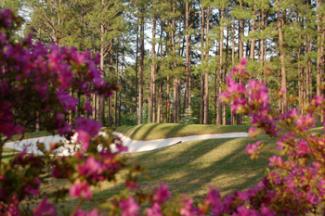 Spring Golf Scene at CCNC
Golf's movers and shakers will converge on the Sandhills in the summer of 2014 for a historic U.S. Open doubleheader at Pinehurst No. 2, and it's a good bet most of the fans staying in and around the area will be pulling every string, calling in every favor, to try and land a tee time at prestigious CCNC.

Hall of Fame basketball player Michael Jordan has played there numerous times and lists CCNC as one of his all-time favorite golfing experiences, while Speaker of the House John Boehner has also logged a round here.

CCNC is the only private golf club in North Carolina with two courses (Dogwood and Cardinal) ranked in the state's top 20 and, with a location in Pinehurst, remains a global target on the private-club radar screen as it turns 50 years old in 2013.

Maybe it's fitting former landowner John Watson from Philadelphia invented the shock absorber, since CCNC has been able to maneuver through the rocky landscape faced by private clubs across the country as changing social habits and a weak economy have eroded membership numbers.
CCNC appears to have emerged virtually unscathed, now boasting a membership of around 1,000 - including 800 golf members.

Its five decades of success can't be traced to a singular entity. The fiber of CCNC began to take shape in its early days when a group of powerbrokers from across the state - led by Dick Urquhart and Skipper Bowles - purchased the property and commissioned Ellis Maples and Willard Byrd to lay out the now-famous Dogwood Course around 60-acre Watson Lake.

"Almost immediately after it opened in 1963, the golf course was recognized as just special, one of such high quality," says director of golf Jeff Dotson, who has been at CCNC for more than two decades. "Everyone would talk about the beauty of it and the test of skill that it was, but it kind of developed that reputation quickly because of who the members were. The guys who built this club were literally a 'Who's Who' in North Carolina."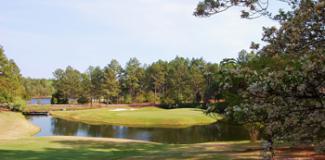 Dogwood's Third Hole
Bill Hensley, the dean of golf publicists in North Carolina for more than five decades, says CCNC has been a longtime favorite.

"I can play either course and be happy, and I can play them every day," Hensley said. "One of the things I like best about the club is its leadership. The late Dick Urquhart of Raleigh was a founder and club president for over 30 years. Like Augusta and other clubs, he ran the club with an iron hand and was a one-man management show. But he was smart and fair and turned the club into a well-managed place and a joy to be a member."

"We certainly had a dedicated board of directors," added John Andrews, 79, a member of CCNC since 1975. "And we were run by a club czar. Dick Urquhart spent so much of his time looking after the club so everything has always been first-class. There aren't many of the original members who are still alive but they were dedicated to entertainment, so when people came from all over the country they got entertained and they remembered the club and loved it. Many came down from the North and joined."
Hosting a series of high-profile tournaments in the 1970s and '80s enhanced CCNC's growing reputation as a top-notch test. Jack Nicklaus won the U.S. Professional Match Play Championship/Liggett Myers Open in 1972 and Hal Sutton captured the U.S. Amateur eight years later. The club also hosted six Southern Amateurs (one won by Ben Crenshaw) and seven North Carolina Amateurs after the final nine holes of the Cardinal Course opened in 1981.

And then there was beloved long-time head pro Buck Adams, who at times was more popular than the North Carolina governor, counting former University of North Carolina basketball coach Dean Smith among his golfing buddies.

Famed amateur golfer Harvie Ward, who passed away in 2004, was once a member, along with just "a lot of really good, low-handicap players," Dotson said. "And we still do have a lot of good players who are members here. Those players have also really helped enhance the club's reputation."
Since 1999 there have been some major renovations to both courses by architect Arthur Hills (mostly to the Cardinal Course that was once two nine-hole hybrids), but the real changes to CCNC have occurred in the composition of its membership, which once had an average age of 70. That stat is now 59, with more than 150 children residing in the community, making the pool and tennis courts as "cool" as golf.

Reasons behind the decline in the club's average age are threefold. Part of it is natural attrition, while some is the recent growth and diversity of Moore County. And then there are CCNC's stable real estate values, making it a popular investment among upper-middle-class families.

The club's founders never really envisioned a gated golf community, originally intending to build a few cottages along the water for overnight accommodations. However, residential development began in the 1970s and there are now about 400 homes inside the gates.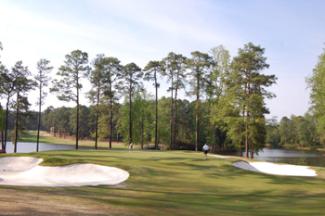 One of the Picturesque Holes on Dogwood's Back Nine
(Photos by David Droschak)
With that being said, few of the homes infringe on the golfing experiences or views. The back nine of the Dogwood Course, ranked among the state's top-five courses annually, is regarded by some as the most sublime golf real estate you'll come across. And the front nine features an island green three holes into the round that sets an unparalleled scenic tone.

Andrews, who is approaching 80, still travels from Charlotte to Pinehurst on occasion to enjoy his "vacation" home on the 17th hole of the Cardinal Course. He has seen many of his friends pass away over the last decade, but is proud the club has remained a desired destination for golfers who covet a combination of quality golf and top-notch service.

"We have a couple of great golf courses that are beautiful and user-friendly or as difficult as any you would want to play," Andrews said. "It's just a good crowd of people."
While an exclusive private club, the idea that CCNC is "off-limits" to non-members isn't necessarily true. Golfers can be sponsored by members, and numerous homes are available for nightly rentals starting at $100 per person/per night.

"In the local community there used to be a notion, and probably still is in some quarters, that CCNC has a reputation of being sort of stuffy, kind of an older membership of pretty wealthy people who didn't want to have anything to do with the outside world," Dotson says. "Actually, that's about the furthest thing from the truth."

With a membership now equally split between local, statewide and national golfers, the experience of playing either the Dogwood or Cardinal is often an unhurried piece of golfing paradise.

"City clubs tend to be more social . . . and they have a golf course. Here it is kind of different, we're more of a golf club with a full-service country club component," Dotson noted. "That, for us over all these years, has helped develop our reputation. It is more about golf than all of the other things."

For more information, visit www.ccofnc.com.
David Droschak has covered golf in the Carolinas for three decades, mostly with The Associated Press, where he worked for 20 years as AP sports editor in North Carolina prior to launching Droschak Communications, a full-service marketing and PR firm based in Apex, N.C. Dave, 51, has covered numerous major golf tournaments, including the 1999 and 2005 U.S. Opens at Pinehurst Resort, and is a longtime member of the Golf Writers Association of America.

Dave was honored with the Sports Writer of the Year award in North Carolina in 2005, and is currently editor of Triangle Golf Today (www.trianglegolf.com), a print and online publication regarded as the "No. 1 Source for Golf News in North Carolina." He is golf editor for Pinehurst Magazine, an award-winning glossy publication, and was instrumental in helping launch Triangle Golf Deals powered by Twongo (www.trianglegolfdeals.com) in the fall of 2011.

Dave also is the co-founder of www.HurricanesBeat.com, a website devoted to coverage of the Carolina Hurricanes, an NHL franchise he has covered since the team moved to North Carolina from Hartford in 1998.

Dave grew up in Penn Hills, Pa., about five minutes from the famed Oakmont Country Club and was introduced to the game of golf as a caddie at Green Oaks Country Club in nearby Verona, Pa.

Dave was the co-captain of the 1978 Penn Hills state championship baseball team, was a pitcher for the 1982 Atlantic Coast Conference champion University of North Carolina Tar Heels, and pitched professionally for two years in the St. Louis Cardinals organization. He is a member of the Penn Hills High School Sports Hall of Fame, which also includes NBA coach George Karl and former four-time Pro Bowl offensive lineman Bill Fralic.