Golfing with Wolves
By: David Wood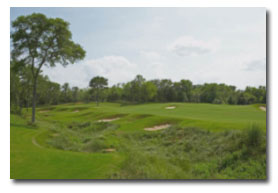 Give a golf course architect as talented as Arthur Hills a couple hundred magnificent acres of gently rolling Texas land teeming with native pecan trees and Loblolly pines and, like Mike Tyson vs. Barney Fife, it's just not a fair fight. We Northern folk tend to think of Texas as one big dust bowl with cows and oil men fighting for arid turf, but the lush Hill Country of Texas between San Antonio and Austin is as sweet a landscape as you find outside of a Monet watercolor. Throw in a maestro like Arthur Hills and you have yourself a heck of a place to play the old Scottish game.

Wolfdancer Golf Club at the Hyatt Regency Lost Pines Resort and Spa just outside Austin is a splendid symphony of golf as the 18 holes showcase the Hill Country at its scenic best. The course is a flora-lover's bargain – a three-for-one if you will – as the holes gently cascade from rolling prairie land on the highest ground through a heavily wooded ridgeline with the river valley of the nearby Colorado providing the crescendo.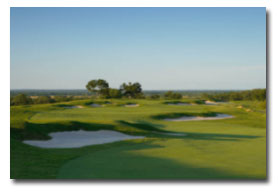 I've long had an affinity for Arthur Hills' designs after reading John Strawn's book: "Driving the Green," which chronicles the building of a golf course in Florida from scratch to finish. The wonderful read might be mistaken for a novel as we follow the plot's twists and turns while Mr. Hills creates and builds the golf development despite interference from zoning commissions, inhospitable weather, and clueless financiers with egos larger than their brains. After reading that account, I've often wondered how any golf course ever gets made. The art of design has come a long way from a simple rabbit hole stuck into a seaside dune in the Kingdom of Fife.

The Kingdom of Texas gives Hills the perfect ingredients for his naturalist ways. He is a firm believer that as little earth as possible should be moved in his creations. Playing his layouts over the years, it's easy to tell he's an arborist as I get the feeling he'd rather have his front teeth pulled out with rusty pliers than uproot a flourishing tree just because it might be in some hacker's line of flight. A case-in-point is the excellent par-5 fifth – a 594-yard brute called "Through the Trees." Craggy mature oaks and greedy elms horseshoe the comma-shaped green. One grand tree stands sentinel – a leaning oak fronting the right entrance to the putting surface that would like nothing more that to slap your third shot out of the sky like a mosquito meeting the business end of a flyswatter.
Another par-5 demands attention as well – the third, accurately coined "All of Texas" which breaks the 600-yard barrier from the tips. On the apex of the land with central Texas laid out before you, there isn't a tree in play, but rather 15 silent bunkers waiting like assassins to slay your chance of par on every shot. If you tacked around the hazards correctly and read the slant of the green with any degree of acumen you might get, luckily, a par. If so, pay homage to the Tonkawa's' – the Native Americans of the area who danced in wolf skins to celebrate life and for whom the course is named. Then proceed to the next tee quietly because more pars are going to be hard to come by. Mr. Hills bares his own fangs often as you wind back to the clubhouse.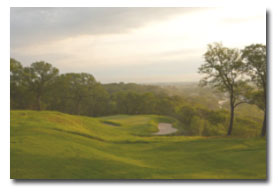 Wolfdancer's par-3s are classy (and difficult!) as well. My favorite was the severe downhill 12th with the handle "Top of the World." With trouble lurking nowhere but short, long, left, and right it looks as if you're trying to land your ball onto a Frisbee 170-yards away. The truth is you have no chance, so enjoy the fabulous 180-degree vista of the rest of the course lying in the lowlands to your right, the Colorado River ahead, and the Hill Country horizon. Who needs crackerjack shots with a view this calming?

The par-4s are of the highest caliber with the standard set by the uphill, dogleg-right opener, with a devilish hollow short and left waiting to gobble up weak approaches, to the drivable 15th. At a mere 297 yards, the latter sports a putting surface smaller than a landlord's heart. The 16th, a monster two-shotter at 478 yards, is as mean as a tornado in a trailer park.

The par-5 18th – "Up the River" – is a first-rate closer. Stay left the whole way and you have a chance for a decent finish as the right offers nothing except one last chance to lose a ball. A row of hidden bunkers protects the left side of the fairway on your lay-up, but if avoided, a crisp wedge and two-putts will replenish your golfing pride. Well done.
To be honest, Wolfdancer is a demanding layout for a resort golfer. You better have spurs on your golf shoes to tame this bronco. Your key to happiness is to pick the correct tee-box. From 7,205 yards at the tips, you'll feel as if you played the course in a wolf suit yourself and no amount of praying to the Golf Gods or the Tonkawa tribe is going to help. There's ample reason "Wolf" is in the title – it's a carnivore in carnivore clothing. Suck up your Texas-sized ego and mosey up to the white markers of 6,314 yards. While it's going to be difficult to get within howling distance of your handicap – at least you won't be a bloody carcass at the end of your day.

After your round, the creature comfort-loaded Hyatt Regency Lost Pines has tons of activities for the non-golfer: kayaking on the sleepy river, 16 miles of serene nature trails, quiet spas with Willie Nelson crooning in the background, and horseback riding. If you decide to go horseback riding ask to be put on Pokey (who's grossly misnamed in my lame, not-ridden-a-horse-since-I-was-five-years-old mind). Like the mightily talented Arthur Hills, he'll give you all the challenge you want. But at least you'll get to enjoy the wonderful Hill Country of Texas along the way.

David Wood Bio

David Wood – writer, corporate speaker, and humorist – is the author of the soon-to-be published book "Around the World in Eighty Rounds." With several appearances on "Late Night with David Letterman," Wood combines humor with his love for golf and adventurous travel. For comments or inquiries on having him speak to your group, contact David at David@DavidWoodSpeaking.com. His website address is www.DavidWoodSpeaking.com.