Golfplan Authors Novel Addition to Tuscan region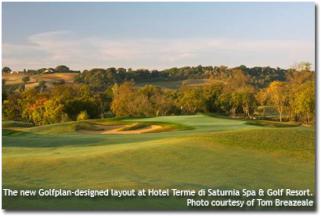 The design team at Golfplan, along with golfers from across continental Europe, is anticipating this spring's grand opening of the new 18-hole course beside the Hotel Terme di Saturnia Spa & Golf Resort in the ancient Tuscan village of Saturnia, Italy.
Situated in the heart of the Fen Tuscany, known for hot springs that rejuvenate the senses, the 6,900-yard Golfplan layout complements a full-service European spa resort surrounded by gorgeous scenery, medieval fortresses and Roman ruins.
Ringed by hills where olive groves flourish, Saturnia is located in southern Tuscany, approximately 90 minutes from Rome, an hour from Siena, and 30 minutes from the sea. The resort, considered among the top spas in Europe, is comprised of three separate structures: the Hotel Terme di Saturnia, within a beautiful parkland and offering 140 rooms and suites; Saturnia Country Lodge, a quiet country hotel on a 3,000-acre natural preserve; and Relais La Stellata, an ancient country house refurbished for guest use.
The course, Golfplan's first in Italy, is varied throughout, but the closing three holes are particularly memorable. The 16th is a long par-5 that wraps around the property's large lake. The 17th is a par-3 tunneling through a stand of mature trees and over a small pond that fronts the green. The 18th is an uphill par-5 with the clubhouse and village providing majestic backdrops.
"It's a strong finish and a strong course that people should remember," says Golfplan partner Kevin Ramsey, who directed the Saturnia project.
The resort's owners are avid golfers. In fact, the principal's daughter competed at San Jose State University in California, according to Ramsey. They first conceived the project in the early 1990s, but permitting issues are typically cumbersome in Italy. Terme di Saturnia was no exception and construction did not start until 2003.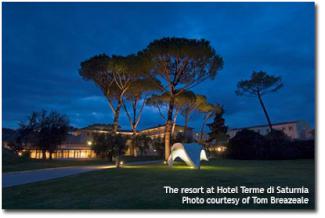 One of the major challenges for Santa Rosa, Calif.-based Golfplan was working with the land itself, which, though perfectly suited to golf, abounded with hot springs and historic artifacts. The government restricted earthmoving depths to no more than 3 meters, about 10 feet.
"When we cut into the ground we were almost sure to find something," Ramsey recalls. "We cut as little as possible. Fortunately the land is gently rolling, so in most places we had to move very little earth."
A 100-year storm washed away much of the grass seed and seriously eroded many bunkers shortly after initial planting in 2007. Golfplan and the builders persevered, re-prepping the ground, replanting the seed and reshaping the damaged bunkers. The course had a soft opening in late summer 2008, and is poised for a full season of golf traffic in 2009.

Founder Ron Fream formed Golfplan in 1972. Partners David Dale and Kevin Ramsey signed on with the firm in the late 1980s and 1990s, respectively. Together they have designed some celebrated courses in some of golf's most exotic locations: Pezula, on South African cliffs overlooking the Indian Ocean; Bali Handara and Jagorawi in the tropical jungles of Indonesia; Shoregate, in the storied sand barrens just a few miles from Pine Valley in New Jersey; the 27 holes at Disneyland Paris; Krakow Valley, the top course in Eastern Europe; and the mountainous Bonari Kogen GC, Japan's top-rated resort course and recently rated No. 4 in the country.

At Saturnia, the layout has a natural feel that takes advantage of the wide-open and rolling meadows of native grasses; the course winds comfortably through and between the natural undulations, Ramsey says. The routing crosses a stream several times, but Golfplan's approach necessitated very little tree-cutting.

"Healthy living is the theme of the spa. This goes for the trees, too. It also explains our decision to create a design that is easily walked," Ramsey explains.

Apart from one small pocket of a dozen homes, and a tiny villa remodeled into a boutique hotel, very few residences border the course. "It is all golf," Ramsey adds. "It has five sets of tees, ranging from 5,000 to 6,900 yards, making it friendly for players of all abilities. It could easily be stretched enough to accommodate a professional tournament."

Saturnia's green complexes are simple and strategic; its fairway bunkers provide ample corridors plenty of punch, although their lips are generally low-profile and escaping is rarely a problem. Putting surfaces are average-sized, roughly 6,000 to 7,000 square feet and planted with smooth-rolling A-4 bentgrass. Fairways and tees sport Tifway 419 bermudagrass with roughs of tall fescue.

For additional information, visit http://www.termedisaturnia.it/en.  
About Golfplan

As the North American golf development market continues to run on fumes, most U.S.-based course designers are scrambling to secure work overseas where markets are stronger. Golfplan is at work on projects in 11 different countries, including the United States. Over a single 10-month period, Golfplan will unveil four new projects with ocean frontage: at Weihai Point Golf & Resort, opened this fall in the northeast Chinese province of Shandong; at New Kuta GC, opened in April 2008 on cliffs above Jimbaran Bay, in Bali, Indonesia; at Sea Links, unveiled in December 2008, high in the towering dunes along Vietnam's pristine Binh Thuan coast; at Pine Beach Golf Links on the southwestern coast of South Korea, where a February 2009 opening is scheduled. For additional information about the firm, visit www.golfplan.com.