Golfplan's New Kuta GC Debuts on Bali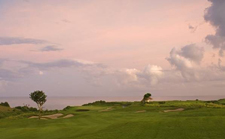 Indonesia's ailing tourist economy received a shot in the arm this spring with unveiling of the full 18 at New Kuta Golf Course, a Golfplan-Fream, Dale & Ramsey design in Balangan Beach on Bali's southernmost tip.
The first nine opened last October and the second nine in May. Perched mainly atop limestone cliffs overlooking Balangan Beach, the championship track at New Kuta GC offers broad vistas of the Indian Ocean and a pair of holes that play directly along the shore.
The course is centerpiece of a resort development that will eventually contain hotels, villas, restaurants and shops. The Ritz Carlton and Four Seasons Jimbaran Bay are already nearby; both have arrangements for guests to play New Kuta, which will serve as the site of the 2009 Indonesian Open.

Golfplan partner David Dale believes that New Kuta, with its native vegetation sitting along the edges of fairways, will remind many of another tournament venue, the Plantation Course at the Kapalua Resort in Hawaii, where the PGA Tour holds its Mercedes Championship each January.

"It has a quasi-links feel to it, though it generally plays along cliff tops rather than down near the shore," Dale said. "This tableau has a real appeal, of course, as places like Kapalua and Pebble Beach exemplify. At New Kuta, there are holes that run right along the sea. The par-4 14th and par-3 15th play right down to the water and travel along ocean's edge. They are very memorable, but the holes that sit higher on the property have water views that are longer and, in their own way, are more breathtaking.

"We are very happy with the final product," Dale continued. "Many local events have already taken place there and the owner seems very pleased. It would have been difficult to build a golf course on this site that wasn't drop-dead gorgeous. New Kuta is all that, but it's also got real strategic integrity."

The par-72, 6,812-yard layout features native grasses, vegetation and a handful of trees bordering its seashore paspalum fairways, tees and roughs. The greens are planted with smooth-rolling ultradwarf bermudagrass.

The new course should help stimulate a Balinese tourist economy that was hit hard following the 2002 terrorist bombings that killed 240 foreign tourists, many of them Australian. The United States recently lifted its almost decade-long travel advisory to the country. Other nations with similar policies are expected to follow this lead and ease their travel restrictions Indonesia's famously inviting eastern outpost.

What visitors will find when they return to Bali's Pecatu region, located south of Jimbaran, is a semi-arid landscape with unsurpassed sunsets along Dreamland Beach. The surrounding rugged terrain reminds many of what they might find in the American Southwest, Tunisia, or drier portions of South Africa.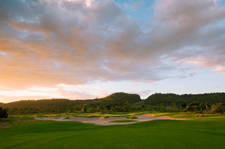 Golfplan, which has built more than 160 golf courses in 65 countries, first became involved with the project in 1994. The course was well on its way to completion when Indonesian President Suharto was ousted from power in 1998. Construction of New Kuta Golf Course came to a halt during the next eight years of political and economic unrest. In 2006, the developers were able to resume construction.

The surprised Golfplan staff was cautiously optimistic in 2007 when notified of the progress. Nine holes had been completed before the office had been contacted. However, in a testament to the accuracy of Golfplan's construction drawings, these holes were found to be quite good and in tune with the original design.

Subsequently, Golfplan founder Ronald Fream made several site visits to oversee completion of the project. Indeed, departing from the initial land planner's concept, Golfplan was able to reroute the course so the future hotel and residential components would have equally compelling views of the course and ocean. The new routing also reduced the amount of earthmoving to just 200,000 cubic meters.

"We were able to maximize the real-estate frontage," Dale explained. "That meant additional savings in terms of course drainage and resort infrastructure. The little earth we did move helped better define landing areas, green and tee sites, as well as pick up water and move it off the course quickly when it does rain."
The developers, Golf Links Resort headed by Director Aulia Putera, have big plans for New Kuta GC (for details, call +62 361 8481 333 or email info@newkutagolf.com ). Once the hotels have been built, plans are to add a second course on the cliff tops. The resort's primary audience will be north Asians, mostly from Korea and Japan, and Australians with a sprinkling of Chinese, Singaporeans, Europeans and the occasional North Americans seeking an exotic destination.
Golfplan-Fream, Dale & Ramsey specialize in the exotic and are among the industry's most well-traveled designers, with projects now in some stage of development in 21 different countries around the world. Since its formation in 1972 by Fream, the firm has built courses in some exotic locations: Pezula, on South African cliffs overlooking the Indian Ocean; Bali Handara and Jagorawi, in the tropical jungles of Indonesia; Shore Gate, in the storied sand hills just a few miles from Pine Valley and the boardwalks of Atlantic City, New Jersey, in the United States; the 27 holes at Disneyland Paris; the mountainous Bonari Kogen GC, Japan's top-rated resort course; and The Club at Nine Bridges in Korea, host to the Samsung World Championship and now firmly ensconced on the world Top 100 lists at both Golf Digest and Golf Magazine.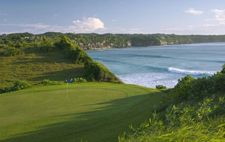 Dale and partner Kevin Ramsey are based out of Golfplan's U.S. headquarters in Santa Rosa, Calif., while Fream now operates a satellite office from his home in Johor Bahru, just over the border from Singapore in Malaysia. Golfplan has recently been retained to handle the renovation work at Singapore Island Country Club. The firm recently retooled the Serapong Course on the Island of Sentosa, which sits in Singapore Harbor. Serapong is current host of the Barclay's Singapore Open and was recently named the top tournament course in all of Asia by Asian Golf Monthly magazine.
For more information about Golfplan-Fream, Dale & Ramsey, call 207/526-7190, or visit http://www.golfplan.com/.