Golf's Embarrassing Moments
By: Bob Spiwak
Golf is a game that encourages moments ranging from embarrassing to downright humiliating. Standing on the first tee at any course, with other foursomes waiting behind and as the golfer swings – and misses – is not a moment to be treasured. This is a fairly common occurrence.
There are, however, more unique situations that can cause a red face, and in some instances the red turns purple with rage. We'll deal with that in a bit. In one unique situation, I was playing with three other guys at Christina Lake, Canada. My friend Dick, a more than competent golfer, teed up his ball and hit a low drive. To understate it, the drive was tad too low, went about 20 yards out and hit a sign on the forward tee, ricocheted straight back narrowly missing another of our foursome and came to rest behind us. It is the only time in a half century of golfing I have witnessed a drive of MINUS 30 yards. Dick was also my cart companion when, parked down the fairway waiting for the green to be clear so we could hit, a ball came crashing into the roof of our cart thanks to a premature escalation by friend Bob.
Maybe it is something about Canadian golf, because it was on the same hole that day that Don sliced a tremendous drive out of bounds. The act itself is a common occurrence, but what made this unique was that across the fence was a housing development. Now it is not unusual in proximity such as this to put a ball through someone's window, but Donald was victimized by a more unique conclusion of his ball flight when his ball collided with, and penetrated, the big satellite TV dish in the homeowners' back yard. It was one of the old 4-foot metal dishes and the impact sound resonated loudly. Nobody appeared at the house, so he hit another, better drive and scurried down the fairway.
On a press trip to Hawaii, I took Bob (same as above) along as a guest. This guy is a born comedian, in part because he has a propensity for creating embarrassing moments, such as forgetting a club on the practice tee half a mile away and holding up play while he went back to retrieve the club. But the most memorable moment came at a course on Kauai where a rain squall stopped play for some and there was a backup at the tee: our foursome with eight spectators waiting behind to hit.
We were all part of golf cruise group, playing from island to island, and knew each other. Bob had, over the course of days, established his standing as a comic and was therefore much enjoyed by the rest. When the storm passed and he teed off, his ball sliced badly out of bounds to the right. The crowd behind cheered loudly; he took a half bow and teed up another ball. This one was topped and went bippity-bippity-bip in a slow dribble ahead of him. The crowd cheered even more wildly.
At this point, Bob became semi-livid. Rather than play that ball, he teed another and swung, and we watched it sail in a partially vertical direction and plop into a deep canyon 50 yards ahead. Before the ball even reached the canyon rim, the golf club was already sailing in the same direction, sounding like, and looking like, a helicopter rotor. The cheers of eight people were louder than a winning putt at the U.S. Open. Bob decided right then, "I'm never playing this *%&*ing game again," and stalked down the fairway. (He did resume halfway to the green.)
I've had my share of embarrassments, too. A team of American golf writers was playing our counterparts from Japan on the island Bali. I was one stroke ahead of my opponent and, approaching the green, asked my caddy for my 7-iron. This was the third day she had been with me and knew what passes for "my game." "No, Meester Bub, you want 5-iron here." I insisted on my 7-iron. She handed it to me, saying "You not good enough for 7-iron Meester Bub," and she was correct. I lost the hole.
The ultimate humiliation came when I was not even playing. I was reporting and photographing the Lilac Tournament at a new course in Cheney, Wash. One of the leaders was approaching the 18th green on the second day of the three-day event. As he lined up his putt I was across the green with a new motor drive and booga-booga telephoto on my camera. Just as be began the swing, I realized the camera was not turned on and flipped the switch. "KACHNIGA-ZORP" went the motor drive, he jerked up his head and the putt missed by 6 inches. He stared at me. About 400 eyes followed his stare as I looked for a hole in which to bury myself.
At the Ernst Classic in Seattle, I ran across the fairway, far down from where Ernie Els was getting ready to drive. (This is a no-no.) Looking over my shoulder I saw he was waiting, and I stumbled underneath a spruce tree. Els' drive landed under the same tree. When he approached his ball, I humbly apologized. "Oh, it wasn't you," he said graciously, "But you certainly were no help."

One of these days I will relate the tale of Arnold Palmer and the Sani-can: We're out of space right about here, and I am due on the tee.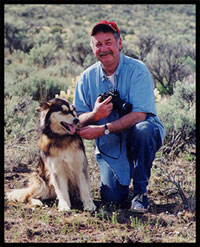 Bob Spiwak took up golf in 1953 as a respite from the rigors of selling bibles door-to-door in North Dakota. Though recently suffering a three-year lapse, he's been a fanatical golfer ever since. Spiwak has written articles for almost every golf magazine in the Western world, although few have been published (not true). Bob's most treasured golf antiquity is a nod he got from Gerald Ford at the 1990 Golf Summit. Spiwak lives in Mazama, Wash., with his wife and several pets next to his fabled ultraprivate Whispering Rattlesnakes Golf & Flubbers Club.