Golf's Last Action Hero
By: Tony Dear
The life of today's typical golf course architect seems pretty mundane compared with what Robert Trent Jones Jr. has been up to for the last 30 years.
Robert Trent Jones Jr. totters to the platform looking weary to say the least. Dressed in slacks, a red polo shirt, and a slate-gray jacket that's at least two sizes too big for him, he rolls out the obligatory formalities, then gets down to the business of why he is standing before a bunch of press folk and local councilmen at Pierce County's Environmental Services Building in Tacoma, Wash.
Now 66, slightly eccentric and clearly of an age where he is happy saying and doing his own thing, Jones begins his presentation with a poem, his tribute to the Old Course at St Andrews. As his thoughts wonder off in the direction of the Fife Coast, many in the audience are left wondering what all this has to do with Chambers Bay, the course Pierce County officials have commissioned him to design and which they hope will become Washington's answer to the acclaimed Bandon Dunes along Oregon's Pacific Ocean.
Chambers Creek Properties, a 930-acre site on the banks of Puget Sound 40 miles south of Seattle, has some nice views across the water. But the property was once home to a seemingly inexhaustible gravel pit and an 18-million-gallon-a-day sewage plant. To transform 250 of these desolate and pungent acres into a world-class golf course, one that might host PGA, LPGA and USGA events some day and to which golfers from all over the world might want to come, an architect with immense skill, sensitivity and imagination was required.
Fifty-seven applications for the job were received and, from that total, a final five – including Jones, Bob Cupp and Phil Mickelson, was drafted. When the nine-man 'Chambers Bay Golf Course Architect Selection Committee' met to consider the final decision, Jones got the nod.
And it's not hard to see why. Over 100 of his courses have been used for prestigious championships around the world. And while his designs invariably prove popular with golfers, they also offer developers a healthy return for their investment. According to a March edition of the Bradenton (Fla.) Herald, only designs by Jack Nicklaus and Tom Fazio attract more dollars for on-course housing and club membership fees in America. Houses on Jones courses, the article says, sell for an average of $623,000, while club memberships usually fetch around $60,000.
"His name is magic," says Peter Walton, CEO of the International Association of Golf Tour Operators (IAGTO), which presented Jones with a lifetime achievement award last December. "When Jones creates a signature course," Walton continues, "customers literally come running with their clubs and wallets."
A Chip Off the Old Block

Developing the reputation that guarantees such success was certainly made easier by being the elder son of the man who made golf course architecture the high-status profession it is today. Robert Trent Jones, Sr., who died in June 2000 at the age of 93, was an intrepid pioneer who built more than 500 courses and made significant tweaks to Augusta National, Oakland Hills, Baltusrol, Olympic Club and Firestone among others.
His two sons, Robert and Rees, received the best apprenticeship possible by tagging along whenever their father visited a project site. But each was determined to make a go of it himself. In 1962, after dropping out of Stanford Law School, Bobby, as Robert prefers to be known, persuaded his father to set up a West Coast office, which he managed for 10 years. In 1973, he went it alone.

Since then, Jones Jr. has designed more than 230 courses of his own in 40 countries on six continents. While his designs may not be considered as spectacular as Fazio's, as distinctive as Nicklaus's, as thought-provoking as Donald Ross's, as pure as Doak's or as strategic as MacKenzie's, they are nonetheless suitable for just about everyone who plays the game. They're also always built with due consideration of the environment and the course's surroundings.

"I try to tread very lightly," says Jones of his design philosophy. "But I'm not a minimalist. Minimalist courses, which seem to be all the rage in the U.S. at the moment, often leave you feeling empty. There's not much architecture going on, and there are very few sites that are so good you don't have to alter them in some way. I often move some earth to give interest to a flat site, but I always try to make it look as if what I created is totally natural."

One of his ploys has always been to walk a site backwards by himself, an exercise that gives him a better idea of how a course should be defended. "I design golf courses through the soles of my feet," he said in his 1994 book "Golf by Design." It also gives him an opportunity, he says, to "listen to the land."

Having met the man, it is easy to picture Jones standing alone in the middle of a forest, eyes closed, tapping into the ground's natural energy source and mulling gently over what his routing should be.

To describe him as cerebral would be an understatement. A poet of some merit and a man devoted to advancing the game, Jones is a card-carrying Democrat who takes a keen interest in human rights. From 1992 to 2000, he served on the board of Refugees International and, in 1980, was chosen as part of the U.S. delegation to the Helsinki Accords Conference in Madrid. In 1982, he was elected Chairman of the California State Parks and Recreation Commission, and he has also been involved with the Urban Land Institute's Recreational Development Council.

With a record like that, some might argue that the "father of modern environmental design" is something of a tree-hugger. And they'd have a point. "I would much rather leave a tree standing than cut it down to build a bad golf hole," he says. But far from being the wishy-washy liberal some of his affiliations might suggest, Jones was, in his younger days at least, was golf course architecture's answer to Don Quixote: a fearless and idealistic trailblazer who designed courses in places some of today's architects probably haven't heard of and in conditions most would avoid.

He has worked in Kashmir, Korea, Indonesia and the Malaysian jungle, where he was at the mercy of highly poisonous krait snakes. In Transkei, South Africa, black mambas provided the danger.

It's not just snakes that have kept Jones on his toes, however. In 1979, he was busy overseeing construction of a course near Sapporo in Japan when Jimmy Carter requested his presence in Seattle for a meeting with Chinese president Deng Xiao Ping. The topic up for discussion was the potential development of Shanghai International Country Club. After four more years of to and fro, Jones made it at last to China. For one reason and another, some that included the government's detestable gunning down of anti-corruption protestors in Tiananmen Square, it wasn't until late 1989 that Jones returned to complete the job. The course finally opened in 1990.

The course design industry's new kids on the block would probably find venomous reptiles and Chinese politicians obstruction enough. But for Jones, they were merely minor inconveniences, especially when compared to the crisis in which he found himself in the Philippines, seven years later.

The Thrilla in Manila . . . And Other Stories

On January 13th 1986, Jones arrived in Manila expecting to be shot. For the previous 11 years he had sought funding and support for the Philippines' pro-democracy People Power movement, led by Benigno Aquino, and brutal dictator Ferdinand Marcos was on to him. The President Marcos's human rights violations were well-known and Jones, who had built six courses on the island chain, lobbied hard at Congressional hearings for Marcos's removal. He even became a go-between for Reagan administration officials wanting to get messages through to People Power members.

Two years and five months after Aquino's assassination, on August 21st 1983, Jones returned to Manila despite repeated death threats to assure Aquino's widow, Corazon (Cory), that the U.S. would recognize her presidency if the uprising was successful. Six weeks later, Marcos unexpectedly called for an election that was, of course, rigged. Massive demonstrations followed his 'victory' and, fearing for his life, Marcos fled the country, leaving Cory Aquino in power.

"Bobby put his life at risk for us more than once, even though I never played golf," Aquino said years after the revolution. "He helped me become president."

The same year he was helping bring democracy to the Philippines, and seven years after the initial meeting with Communist China, Jones received a call from the Kremlin asking if he was still interested in bringing golf to Russia. Plans for a course outside Moscow had originally surfaced in 1974 when Dr. Armand Hammer, an American industrialist with ties to the Soviet Union, persuaded a highly skeptical Leonid Brezhnev that if the country was ever to attract outside investment it needed a golf course or two.

Brezhnev did eventually give the project the green light but, thanks to a cumbersome bureaucratic machine every bit as complex and sluggish as China's, progress over the next five years was painfully slow. And when Russia invaded Afghanistan in 1979 and the Cold War escalated to a whole new level of intensity, trips to the Soviet Union were not deemed prudent.

Even after Jones received the call in 1986 asking him to resume work, it was several years before the course took shape. President Mikhail Gorbachev needed convincing the bunkers Jones intended building weren't traps designed to slow his T-90 tanks down in the event of armed confrontation. "The maps of the area they give me were all wrong," says Jones. "I asked how I was supposed to do my job and they said they did not give an accurate map to foreigners because our military would use it to attack them. I said I would build them an incorrect golf course unless they gave me a correct map. Paranoia, understandably I suppose given their history, comes naturally to Russians. They didn't trust me for five years."

The Moscow Country Club, in the suburb of Nakhabino, opened in 1994, 20 years after Hammand's initial proposal. "And it would never have happened were it not for the Deputy Foreign Minister, Ivan Sergeev," remembers Jones. "He was very passionate about the course. At the opening ceremony he said that Russia was an environmental cesspool but that now here was a garden growing. That's all he said. Before that, Sir Michael Bonallack had made an equally short speech: 'On behalf of the Royal and Ancient Golf Club, chartered in 1754, we welcome our Russian comrades.' They were the two greatest golf-related speeches I have ever heard."

The course at MCC is a fine one and it's hosted the Russian Open since 1995. In 1996 the event became part of the European Challenge Tour and, in 2003, was added to the regular European Tour schedule. "It is probably the course of which I am most proud," says Jones. "That's not to say it is the best I have designed, but rather the most significant. Soon people who had never heard of golf were out helping to maintain the course. Members of the Red Army showed up at the opening ceremony. It was very gratifying. I think it helped bring East and West closer somehow. It was definitely the hardest project I've ever undertaken though, and I am in no particular hurry to go back."

Robert Trent Jones Jr. Isle

One of the places to which Jones does like to return is the island of Kauai in Hawaii. Of the Garden Isle's 162 holes, Jones has built half of them, with 18 at both Kiahuna and Poipu Bay and 45 at the Princeville Resort, whose main attraction is the Prince Course, which opened in 1991. The Prince is a monument to Jones's creativity and a course that Herb Kohler, CEO of the world's biggest bathroom-fitting company and owner of the Old Course Hotel in St Andrews, once described as being among the greatest in the universe.

"For a course to be called great, every hole must try to be as memorable as the Road Hole at St Andrews," Kohler said. "The Old Course is a fluke of nature and remains the touchstone for greatness in all modern golf-course architecture. There are well over 15,000 golf courses in the U.S., and The Prince is one of the very few where every hole meets my definition of great. That doesn't make Jones a good architect, it makes him good-God amazing."

Jones agrees it is one of his best efforts. "It is exciting, dramatic, interesting and heroic," he says. "You must avoid the creek on the first hole, cross the chasm on the second, cross a cliff on the seventh, and avoid waterfalls on 12, 13, and 15. It tells the story of natural wonders combined with great physical challenge. That's a heroic golf course, full of exciting lines and edges of doom. Heroic, to me, involves a quest on which you never give up. It's like Odysseus returning to Ithaca after the Trojan War. Like him, you're always searching. And if you seek you'll eventually find."

Not every course Jones builds is, sadly, quite as exciting or comparable to Odysseus's return to Ithaca for that matter. But the stimulation and anticipation players feel on the Prince are what Jones strives to build in to all his designs and are, he says, emotions bad courses fail to evoke. "Bad golf courses result from what I call production architecture," he says. "The designer creates holes with thoughtless repetition." Among those architects guilty of repetition he says is Jack Nicklaus. "He's gotten much better in recent years, but really I think Jack's courses are too much alike."

As for others designers, Jones is very tight-lipped. The only ones he mentions by name, other than Nicklaus, are Harry Colt and Albert Tillinghast. "Colt was a master of subtleties," says Jones. "His courses are fun and challenging, quite straightforward. But if you stop concentrating or hit a weak shot your ball will run off into a bunker of regret. Tillinghast let the ground dictate his design. He didn't try to impose what he thought worked onto land where it clearly wouldn't. He wouldn't have built similar courses in Hawaii and Florida, for instance, just because they're warm. I regard myself as similar.

"Today many courses are too predictable," Jones continues. "It seems to be all about signature holes, which I admit was a concept my father introduced, and how good the course will look in photos. So you get huge bunkers and unnecessary water hazards that might look good but which don't necessarily add to a golfer's enjoyment. People are so into putting their 'stamp' on a course. And tour pros tend to build layouts that suit their game. My brother once said a mid-handicapper would probably make a better architect than a plus-2 handicapper because that guy would only be interested in building courses that could host a U.S. Open. You have to think about who is going to play the course."

A Celtic Collaboration

In September 2010, 24 Ryder Cup stars will be playing Wentwood Hills, the course Jones designed for Sir Terry Matthews at Celtic Manor in Wales. Regarded as overly hilly for two 18-hole matches a day, it is currently being remodeled by European Golf Design staff who are building seven new holes in the Usk Valley and altering two of the existing holes to create a virtually new layout, Wentwood Lakes.

"Eventually it will have nine by an American architect and nine by a European," says Jones, who seems content to have his original altered. "Terry Matthews, a great friend as well as a client, wanted the Ryder Cup very badly and Wales is my ancestral home so I was happy for the changes to happen. It's ironic, given it will host the Ryder Cup, that the course is a joint venture between a European design team and an American. It will be a great venue though. The finish is very strong and there are a number of exciting matchplay holes."

With that, Jones brings our third and final telephone conversation since the Chambers Bay event to a close. In the last couple of days he has visited Montreal and Vancouver B.C. and he is now back home in California. He travels 250 days a year and doesn't intend slowing down any time soon. "I love being out in the field too much," he says. "I can discuss my ideas with the guy on the bulldozer [shaper] and the superintendent. The shaper makes me look good and the superintendent makes us both look good."

Somewhere in this frenzied schedule, Jones will make time for another visit to Chambers Bay to make sure construction is going as planned. He believes it will be one of his best courses. "I have very high expectations," he says of the new course. "It will have a lot of drama."

Considering the remarkable life this extraordinary designer has led, that's entirely appropriate.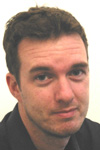 Tony Dear has been writing about golf for 11 years. A former assistant club pro from Sussex, England, Tony started out as a freelancer in 1992 before taking a staff writer's job at Fore!, a magazine based in Peterborough. As the magazine's chief instruction writer, it was Tony's job to compose instructional articles aimed at a youngish readership whose letters to the editor suggested they often got confused by technical jargon and theory. Tony brought his simple approach to teaching golf to the magazine, helping boost sales by 10,000 issues. As a result, he was nominated within the company and nationally for Young Writer of the Year awards.

From there, Tony moved 20 yards across the Emap UK office to join Today's Golfer. There, he was soon promoted to a senior editorial position, focusing on equipment, and became a significant part of a team that saw sales figures double within the magazine's first 12 months.

After three years at Emap UK, Tony was dragged kicking and screaming across the Atlantic by his American wife ("not really, I love it over here") and, after short spells in Phoenix and Denver, wound up in Seattle in May 2003. He recently moved to Bellingham in the far northwest corner of the far Northwest of the U.S. and became a father to a son on whom he has already staked £5 for the 2029 Open Championship. At present, he is freelancing for a number of print and online publications back in England including Today's Golfer, Golf World, Bogey, The Open Championship Magazine and Casino.com. He is also a contributing editor for Denver-based Colorado AvidGolfer.

Recent features include a look at Colorado's self proclaimed 'links' courses, an interview with Suzy Whaley, with whom he played nine holes ("and got soundly thrashed") and a 64-page instruction supplement for Today's Golfer.

Tony has authored three books in the last five years and been nominated for several specialist and young writers awards. "Although I've never actually won one," he admits. He is a member of the Northwest Golf Media Association and the Golf Travel Writers Association based in London.