Golf's Version of 'Believe It or Not!'
Every golfer has a tale to tell, and some of these amazing stories are in the new book from Ripley's Believe It or Not! Called "Enter If You Dare!," the book is an annual collection of unusual and unbelievable stories from around the world.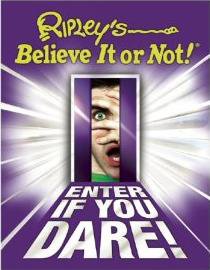 Some of the book's bizarre golf stories include:
Long Drive - page 82: A golf course stretching along 848 miles of desert highway opened in Australia in 2009. The Nullarbor Links spans two time zones, measures more than the entire length of Britain and has holes at 18 towns and service stations. After finishing a hole, golfers have to drive up to 62 miles to the next tee and it takes up to four days to complete a round.
Handicap Golfer - page 83: Forty-five-year-old former soldier Alan Perrin, who is almost blind and has only one arm, hit a hole-in-one at his local Exminster Golf Club in England.
Snow Golf - page 83: An Italian ski resort stages a golf tournament in up to 3 feet of snow and at an altitude of 5,250 ft. Players use brightly colored orange balls on the specially built nine-hole course at the Rein resort in Taufers.
Golf Marathon - page 83: Tom Bucci of New York played 1,801 holes of golf in a week at Albany Country Club in June 2009. Despite losing 75 minutes to a thunderstorm, Bucci played 15 rounds each day, averaging 90 strokes per round, including 32 birdies and his first-ever hole-in-one.
High Tee - page 86: A team from Bay College, Mich., created a wooden golf tee that was over 26.5 feet tall - 80 times bigger than a normal tee. The head measured 23 inches in diameter and the whole tee weighed almost a ton.
Caddie Trek - page 90: Billy Foster, the caddie for English golfer Lee Westwood, walked the 88 miles from the Scottish Open tournament at Lock Lomond to the following week's British Open at Turnberry.
Dog's Dinner - page 73: When their dog Bertie started walking strangely, Mark and Michelle Jewell took him to a veterinarian, who found that nine golf balls were lodged in Bertie's stomach.

Golfer Boy - page 102: After being struck by lightning while playing golf with friends in Cape Cod, Mass., Michael Utley staggered around with smoke pouring out of his mouth, nose and ears. His internal tissues were actually boiling and although his heart stopped, he eventually made an almost full recovery.
For additional information about the book, visit www.ripleybooks.com.