Gonzo Golf in Puerto Rico
By: Jim Moore
Earlier this month, I "survived" a week of golf in Puerto Rico. I would also say that I greatly enjoyed a week of golf in Puerto Rico, but "survived" fits best for reasons I will detail later, one of which involves the crashing of my golf cart.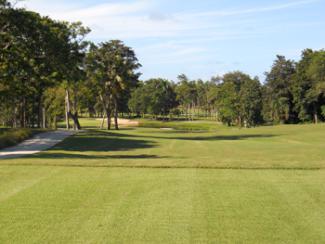 A Plush Fairway at Dorado Beach
You've no doubt read a million stories about golf-travel destinations, as have I. And if you're a natural-born cynic like me, you're thinking: "Let me guess, this guy's going to tell us why we should go to Puerto Rico to golf. We'll get hole-by-hole descriptions of the courses he played, and he'll paint some really cool pictures of them all, which will make us want to get on a plane to San Juan tomorrow."

I live in Seattle. I returned to rain and wind and cold. I would like to be on that plane with you. I would like to be back at Bahia Beach, playing 45 holes, going round and round again - the only thing that stopped us was darkness.

I would like to be at Royal Isabela, one of the nicest courses you'll ever play, situated on 200-foot-high cliffs along the northwest coast. I would like to be at Dorado Beach, where Chi Chi Rodriguez greeted us as we got off the bus. I would like to be at Rio Mar, where I made like Jim McMahon and played the back nine in bare feet.

I would even like to be at El Conquistador, where I would go back to the scene of the cart crash that could have killed or paralyzed or really hurt me in a different way but miraculously didn't.

I've read golf-destination stories, been bored by golf-destination stories, know what's coming in golf-destination stories, and if I'm you, I don't want to wade through another one.

So let me sum the travel element in one little paragraph - you will love it in Puerto Rico. I felt like I was in Hawaii, playing the finest ocean-side courses in a tropical climate. Another plus - because Puerto Rico is a United States commonwealth, you don't need a passport and don't have to go through customs. The resorts - such as the Gran Melia, where we stayed - offer top-notch accommodations along with restaurants and beaches galore.

With that, let me show you Puerto Rico as I experienced it with seven other writers from around the world. As you'll discover at the end of this story, I experienced a little too much of Puerto Rico, ending the trip with my head in a hotel room garbage can.
Day 1

We arrive at Dorado Beach - a resort with four courses - including the one we're going to play, the East Course, which was recently restored by Robert Trent Jones II. As is the case at every course, four or five people welcome us as we get off the bus. They are always smiling, always nice and always have faces we've never seen before.

At Dorado Beach, I shook hands with the general manager and the head pro, and then another man extended his right hand and said: "Welcome to Dorado Beach. I'm Chi Chi."

I think I went through my usual routine of saying: "Hi, I'm Jim from Seattle, thanks for having us," when I realized that this man was someone I've seen before, many times before. He was Chi Chi Rodriguez, and we had no idea that Puerto Rico's legendary golfer would be there to greet us.

I did a two-minute video interview with Chi Chi - complete with his patented sword-swinging - that you can see here: http://www.youtube.com/watch?v=t6t3mf3CBwk&list=UUHczfBNl9afgWwIgPF8IAIg&index=4&feature=plcp.

Chi Chi lives at Dorado Beach in a spectacular-looking white house amid the swaying palm trees. If you plan to stay at Dorado Beach, try the Ritz-Carlton, which is currently under construction but should be up and running in the fall of 2012.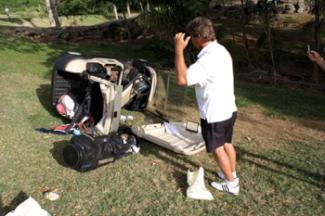 Dale Earnhardt Jr. Impersonator
Timothy Pade Mugging after the Crash
Day 2

We go to Trump International Golf Club, where they're holding the Puerto Rico Open, a PGA Tour event. A news conference is about to begin, featuring Chi Chi and the 2011 Puerto Rico champion Michael Bradley. I'm distracted by the presence of a 6-foot-2 broadcaster who is as hot as her pink outfit. I'm guessing she must have been Miss Puerto Rico at some point in her life.

"Stephan," I say to Stephan Guertler, a writer from Austria, "whattaya think of that girl in the pink?"

"She's not my type," Stephan says.

"Not your type!?!?!" I reply. "She's EVERYONE'S type!"

"Not mine," replies Stephan, whom I'm pretty sure isn't her type either.

That afternoon we went to El Conquistador, a beautiful resort on the northeast coast. There's a water park for kids, and one of the neatest features is Palomino Island - you can take a short boat ride to this 100-acre jewel. Once there, you can snorkel, ride a horse or do what I'd have done if I'd gone out there - lounge on the beach and ask the waitress if she could bring me another one of those drinks with an umbrella in it.

We played a rolling Arthur Hills course in what turned out to be a crazy afternoon at El Conquistador. First off, I say it was crazy because we saw iguanas on the course. They're all over the place here. They're a nuisance, burrowing into sand traps and making life miserable for course superintendents.

But for tourists who have rarely seen these things before, they're interesting in a weird kind of way because they look like little dinosaurs. Frankly, they scare the hell out of me, but I shot a video of one of them and got as close as I could. As I mention in the video, if that sucker had come flying at me, I don't know what I would have done. Death by dinosaur is not the way I want to go.

After we saw that iguana, we saw another one that was being chased by a couple of dogs. The dogs actually caught up to the iguana and started to fling him around. I don't know about you, but I'd bet on an iguana to beat a couple of dogs every day of the week. But these dogs were feisty and getting the upper hand.

So what does Tim Pade do? And who the heck is Tim Pade? He's another writer on the trip - a gold-necklaced, pinky-ring-wearing dude who was driving my cart at El Conquistador.

Tim proceeds to try to break up the fight between the dogs and the iguana. While he's doing this, I'm curling up in the cart, preparing for the dogs or the iguana - maybe all three - to charge toward me with a strong desire to gnaw on human flesh.

Tim publishes golf magazines in Colorado and Arizona. They're coffee-table ready, nice and glossy. He gave me a couple issues, and I'm going to return the favor by printing out this story and sending it to him with a note that says, "Thanks a lot for nearly killing me, you bastard!"

About five holes after the dogs-and-iguana tussle, we're playing an uphill dogleg par-4. This hole is severely uphill. If you hit it the least bit right, the ball goes careening farther right, Rush Limbaugh right.

That's where Tim the hacker hit his shot. While looking for his ball he decided to try to take the cart up the severe slope for reasons of which I'm still not sure. I knew with a couple of 200-plus pounders in the cart we had no chance of making it to the top.

And when we didn't make it, he put it in reverse. Only problem is, he turned the wheel to the left and I knew we were in trouble right away. I had had six or seven beers by that point in the round. And at the time of the cart flipping, I had another one in my hand.

My first instinct was to jump out of the cart before it tumbled on top of me. But then I knew I wouldn't beat the roof of the cart before it crashed to the ground. I'd rather have the roof hit the ground than my head.
So I stayed right where I was and tumbled out when the cart crashed in my direction. I was on the bad side, the downhill side, while gold-necklaced Tim was on the uphill side. He tumbled out on top of me, so he was fortunate because he had 230 pounds of human being to cushion his fall.

We both came out of it unscathed. How, I don't know. Guys on the next tee who saw the crash couldn't believe we were OK.

I'll say this too: It was my most amazing athletic feat in a lifetime filled with not very many athletic feats. I was not only unhurt, I held on to my can of Medalla Light during the entire ordeal. A lot of it spilled on my head and shirt, and the can was pretty crumpled up, but it was still in my right hand before, during and after the crash. I took a sip to celebrate my good fortune.

Suffice to say, the pro wasn't too happy. There was considerable damage to the cart, though the pro was able to drive it back to the clubhouse. A security police officer came out to the course so we could file a report.

Tim had had only one Corona, so his buffoonish move as a driver had nothing to do with alcohol impairing his judgment. We finished the round in another cart. I went to bed that night feeling very lucky, while suppressing a very strong urge to inflict bodily harm on my new friend Tim.

To see the cart-crash video, visit http://www.youtube.com/watch?v=HPVVTRw847U&list=UUHczfBNl9afgWwIgPF8IAIg&index=3&feature=plcp.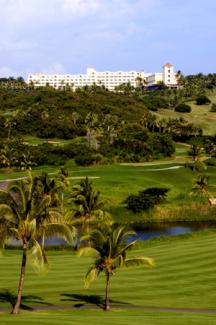 El Conquistador
Day 3

We arrived at Bahia Beach and I immediately fell in love with the place - as I mentioned, I played 45 holes here. This Robert Trent Jones II layout is a gem, with 15 of the 18 holes featuring saltwater lagoons, some of which swallowed up my pink golf balls. Yes, I used pink balls on the trip until I lost them all.

Every inch of the place was impressive, including the St. Regis Hotel, where luxury reigns. But ol' Tim was upset because Bahia Beach only had a continental breakfast for us. He was expecting a full breakfast with eggs and bacon I guess. Personally I'm always happy to see food, no matter what it is, especially when it's free.

Tim aired his issues, and the next thing you know, the wait staff scrambled to make some scrambled eggs for Tim, and I'm guessing they were OK but not as fluffy as he would have liked. Other than the presence of Tim, Bahia Beach was spectacular in every way, a not-to-be-missed course when you come to Puerto Rico.
Day 4

We took a two-hour bus ride to Royal Isabela that's well worth the trip. The course was designed by the owners, Stanley and Charles Pasarell, who were world-class tennis players back in the day.

Royal Isabela and Stanley Pasarell hosted us for an unforgettable lunch followed by an unforgettable round of golf on their dramatic course. If you stay at one of the plush casitas here, make sure you ask for the lobster salad at lunch - which was, in one word . . . unbelievable.

On the front side of Royal Isabela, there's a unique hole, No. 6, which can be played as a par-4 or par-5. You hit your tee shot to the same landing area, but then you have a choice of going right to a par-4 or left and making the hole a par-5. Cool stuff. From the tips it's 622 yards one way and 493 the other.

On the back nine, the 200-yard 17th is an anxiety-laced par-3 with ocean left and a huge ravine to cross to reach the green. Oh, and the day we played it, there was a 30-mph wind in our face.

I think it played 180 yards from our tee, and I've never been so happy with a 3-hybrid that ended up in a trap behind the green. The conditions were so difficult that it felt like a hole-in-one. Stephan, my left-handed Austrian friend, was the only one in our group to find the green, looking like Phil Mickelson, for one swing anyway.

On our way back to the hotel, we stopped at a little restaurant to get some home cooking, Puerto Rican-style. I ordered a lobster mofongo, which was terrific. Mofongoes are made of mashed green plantains. They coat a bowl with the mixture then pour the lobster and red sauce inside. Try one when you're here.
Day 5

We ended our five rounds in five days tour with 18 holes at Rio Mar, another fine layout with palm trees and water from start to finish.

I got stuck with Tim driving my cart again, and this time he somehow kept it on all four wheels. Tim's a piece of work. He's one of those guys who has to make himself feel better by telling you that he's friends with so-and-so, and so-and-so is usually Brad Pitt or some other star.

At Rio Mar, I learned that Tim had had brushes of greatness with Kobe Bryant and Michael Jordan. I guess I didn't look impressed enough, so he followed that up by telling me he has a friend who has found the cure for cancer.

I was going to react to that by doing cartwheels, but then I remembered that I'm 54 years old and I'd probably pull or break something if I tried. Plus, I'd probably had too much to drink to do a cartwheel anyway.

This was our fifth straight day of having a complimentary beverage cart. That's right, a complimentary beverage cart. I suppose I could have let the beverage-cart girl drive by once in awhile, but when the booze is free it's against my constitution to do that. For the most part, if you saw me on a Puerto Rican golf course that week, it was with a Medalla Light in hand.

At Rio Mar, on the 10th hole, I went to hit a shot near a fairway bunker. As I sized it up, I felt something strange on my right ankle. I looked down and discovered that I'd stepped in an anthill, and lots of little red ants were running up my leg. Naturally, I freaked out and ran around and took off my shoe. I then took off my other shoe and figured, what the heck, I'll play the rest of the round barefoot.

I'm happy to report that Tim and I made a match-play bet on our round - and I beat his sorry ass barefoot, thank you very much.

That night, I continued to drink like the 24-year-old that I'm not. I played 21 at a table and nearly got into it with a caddie from the Puerto Rico Open - he was mad that I stayed on 14 and didn't take the face card that busted his hand. I left the table and went over to a roulette table, where PGA Tour player Chris DiMarco was trying his luck.

I didn't go to bed until 2:30, and it all caught up to me the next day.
Day 6

When you're an idiot like I am, God or someone up above finally steps in and has to tell you you're an idiot. By the time you get the news, it's delivered in a terrible way.

By 9:30 on the morning of Day 6, I was in bed, throwing up in a garbage can. I didn't get up until 4:30, wasting what could have been a nice day at the beach.

The question I asked myself: "Will I ever learn?"

Day 7

We caught an early flight to Seattle through Houston. I had a $75 bet on Kevin Stadler at 20-1 odds to win the Puerto Rico Open. He was one shot back heading into the final round.

I had my wife tape the final round so I could watch it when I got home. Stadler made every putt in the first three rounds but couldn't make a thing in on Sunday. He didn't win, didn't even challenge.

It was quite a week nonetheless, one that I'll never forget. Next time I go to Puerto Rico, I'm leaving Tim behind. Care to join me?
Jim Moore also writes for his website, www.jimmoorethego2guy.com. You can reach him at jimmoorethego2guy@yahoo.com and follow him on Twitter @cougsgo. Jim co-hosts "The Kevin Calabro Show" on 710 ESPN Seattle and www.710Sports.com.