Goofy Golf Holes
Ernie Els blasted the famed island green on the 17th hole at TPC Sawgrass, saying it should be "blown up" after he carded a triple-bogey six that took him out of contention during the 2008 Players Championship. "It's not an appropriate hole for a championship like this," the 'Big Easy' said. Then he took a deep breath, half-apologized and admitted he had "chunked" his shot with a wedge, but reiterated that he still didn't like the hole.
"Anybody will be wanting to blow up 17 after making a six," the South African said. "It was tough out there and I had played so well all day. That makes it tough to take. I am not the only one who has done something like that and I won't be the last, but that doesn't make it any easier."

Els' swing coach, Butch Harmon, considers the hole a mental challenge for even the world's best golfers. "It's crazy," Harmon said. "If the green was surrounded by sand, I guarantee the guys would have no difficulty in hitting the green. It's the effect the water has on their minds."

The 17th at Sawgrass is but one of the world's many goofy and controversial holes. Those who regularly play these holes during 18-hole rounds become inured to their idiosyncrasies, while others - such as the traveling golfer who plays high-profile resort layouts as the TPC Sawgrass in Ponte Vedra Beach, Fla., come away shaking their heads in frustration.

Three writers on our staff were polled to get their contributions to goofy golf holes they've encountered, and they're listed below.
Jay Flemma is a golf architecture aficionado, visiting many of the nation's top and most sacred courses and writing about them. Jay casts his votes below.

David Wood, who recently released his book, "Around the World in 80 Rounds," has literally golfed in the world's most remote nooks and crannies. As might be expected, David has an international view of things. But he's also traveled extensively in the U.S. and has glimpsed a few domestic doozies.

Jeff Shelley is Cybergolf's editorial director. Before going to work for the Internet company, he authored three editions of the book, "Golf Courses of the Pacific Northwest," in which he played and/or toured all 550 courses included in his 640-page tome. Jeff has also played many places around the U.S. as well as in Europe and Mexico. He weighs in with his selections as well.

So here we go, with Jay teeing off first.
Jay Flemma

I've seen some real head-scratchers in my day, but these holes are downright noxious.

No. 16 at Orchard Creek Golf Club, Altamont, N.Y. This "apple tree-themed" golf course has more than a few moments where the cider turns to vinegar. The par-5 16th is the worst of the bunch. This par-5 is touted on the course website as: "Our signature hole . . . target golf at its best!" [Author's Note: This is an oxymoron!] Three distinct landing areas must be found in order to have a chance at par as the entire left side of the hole is wetlands. The green is guarded by a pond and bunkers. "Don't get too crabby playing this hole!" Great fun, if you're idea of a good time is walking single-file and playing three 3-woods down a criminally narrow fairway to an even tighter "green complex."

No. 12 at St. Andrews Golf Club, Hastings-on-Hudson, N.Y. Picking the worst hole on this course is like giving a starving man a menu. Between dreadful 90-degree doglegs, a noxious rock-strewn creek that has more turns than Barry Burn, and tight targets, the course underlines almost every design mistake Jack Nicklaus made back in the 1980s. In particular is the par-3 12th hole, which features out-of-bounds all along the right side. But it's just forest; it's not like there's anybody's yard there or a road. Why the white stakes? Isn't the huge pond from tee to green, the bunkers and the foot-deep rough enough?

No. 10 at Dismal River Golf Course, Mullen, Neb. While we're on a Nicklaus rant, his ghastly green at Dismal River's par-3 10th is another joke that needs dynamite and bulldozers. Start by taking the sixth green at Riviera - the one with the bunker directly in the middle of it - then design five-foot swales up and down the interior of the green. Don't forget the clowns with seltzer bottles to spray down the players when they finish.

No. 7 at the Links at Gettysburg, Gettysburg, Pa. There are 17 good holes here and this mess of a par-5 that requires you to drive your tee ball between two diagonally cut ponds. Don't go too long, don't go too short, and be prepared to reach in your ball pocket.

No 12. at Deering Bay Yacht and Golf Club, Coral Gables, Fla. This course has an collection of mind-boggling par-4s, including the 12th where you must thread a 6-iron between two ponds on either side and one directly in front of you. You then turn left or right, depending on the hole, and hit another 6-iron that is all carry over water to the green. Lather, rinse, repeat.
David Wood

No. 7 at Campo Publico De Golf Juan B. Segura, Buenos Aires. Situated on one of only two public courses in all of Argentina, this par-3 doesn't have a bunker, dramatic change of elevation, or even a sloped putting surface in its 175 yards from the azules (blues). What it does have is a grove of 50 or so poplars on steroids directly between the tee box and the green. It requires the 5-iron of your golfing lifetime to get up and over the leafy flora and still have enough steam to reach the green. In all my travels I've never seen another like it. Don't they have chain saws in South America?

No. 3 at Club de Golf Rio Lluta in Northern Chile. On the coast of northern Chile is the Club de Golf Rio Lluta, the driest course on Earth. With no rain in its recorded history, there isn't a blade of grass for miles around. This is ultimate desert golf and the brutal par-5 3rd hole at 558 yards features rocky badlands that border the sloped-dirt fairway to gobble up your drive. If you had the unlikely occurrence to hit a shot between the chalked outlines that define the fairway, you get to use a piece of Astroturf for your next shot. However, if you don't accomplish this feat (which is way more likely) you play your ball as it lies off cement-like ground that's harder than a landlord's heart to an uphill green that looks as far away as the horizon. If you don't break your hand or club while swinging, perhaps you have a chance at par on the oil-and-dirt putting surface. More than likely, though, you'll walk off the "green" a little dirtier with a score to match. This is bizarrely wonderful golf.
No. 18 at Osprey Meadows in Donnelly, Ida. The great holes on this course at the wonderful Tamarack Resort in Idaho go on and on. I could rave about all of them except the finisher - a severe uphill, dogleg par-5 with three different landing areas that entails the strange sequence of hitting a driver, then a little 50-yard half-wedge to a miniscule creek-surrounded island for your second, followed by a full-throttle 200-plus-yard fairway wood third to a green perched uphill in front of the picturesque resort. It's an all-or-nothing hole, with nothing the winner more often than not and the strangest lay-up I've ever seen. The original Robert Trent Jones Jr. design of the hole wasn't followed as Tamarack's owner wanted the green to sit directly behind the clubhouse. It's an awful, funky hole on a wonderful course. Leave the design to Mr. Jones!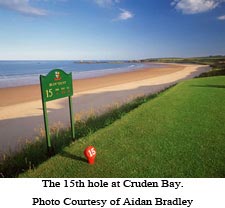 No. 15 at Cruden Bay in Scotland. Hard against the North Sea in Scotland is one of the strangest par-3s in the game. With 231 yards of length and the gale force winds common here, it would be difficult enough all by itself. However, the putting surface is completely out of sight from the tee box as a giant dune blocks the view. Take a deep breath and aim your shot over a pole stuck into the side of the hill and hope the ball somehow gets near a green tucked in front of another giant sand dune. It's thrilling and fun, but strange to not see the green on a par-3 while teeing off.

No. 17 at the Old Course at St. Andrews in Scotland. One of the funkiest holes in golf is also one of the most infamous - the dreaded 17th at the Old Course in St. Andrews. Though the scorecard calls it a par-4 of 466 yards, it's actually a par-6 in my mind. With the Old Course Hotel flanking the entire right length of the fairway, a blind tee shot is played over a shed no more than 30 yards directly in front of you to a diagonal fairway that's tougher to find than a contact lens in a haystack. The second plays to a narrow green that's small enough to be on a miniature golf course and protected by the treacherous Road Hole Bunker - a villain of the darkest hue that seems to savor devouring any shot foolhardy enough to land near the pin. It's easier to escape from Guantanamo Bay than the Road Hole Bunker; just ask Tommy Nakajima or David Duval. Any approach shot hit long finds the gravel road behind the green from which no relief can be taken - play it as it lies off the pebbles. Take your six (or worse) and know that the strange and mighty 17th at the Old Course has broken the hearts of almost every golfer since the game began.
Jeff Shelley

No. 12 at Doonbeg Golf Club in County Clare, Ireland. This Greg Norman design along Doughmore Bay has all the accouterments of a big American resort development, including the recent construction of a massive lodge-clubhouse (with a spa!) that dominates the landscape. Five of us went on an Irish trip two years ago and Doonbeg (one called it "Douche Bag") was far and away the least favorite. In his defense, Norman's design was stinted by the removal of a critical 54-acre interior parcel where two endangered species of snails were discovered as the project evolved. As a result, the layout is almost a loop-style - nine holes out and nine back. The weirdest hole here is the 12th, a 365-yard par-4 with a hidden bunker in the middle of its green. The course's website doesn't mention the bunker in its hole-to-hole descriptions, so maybe it's been fixed. Let's hope so.

No. 7 at Longview Country Club, Longview, Wash. Now fixed, this 148-yard par-3 hole is worth mentioning because it's the funniest "test of golf" I've ever seen on the 1,000 or so courses I've played. The members called it the "Mickey Mouse" hole, not because it's, well, Mickey Mouse, but because from the tee it looked like Disney's famous cartoon character. The steeply front-sloping, mouse face-shaped green had three grass bunkers around it that resembled the animated rodent's ears and mouth. You had to see this to believe it.
No. 9 at Discovery Bay Golf Club in Port Townsend, Wash. Another memory of the past, this short par-4 that finished off the original nine holes at this 1925-built course (formerly Chevy Chase) began in the backyard of one of the cabins on the property. From a rubber-mat tee, golfers could peer into the bedroom (during one memorable round some hanky-panky was definitely going on) of the cabin. From there, one launched their drive directly over Cape George Road - a moderately traveled route - to the fairway. Another odd hole of note here was the second, a 160-yard par-3 whose tee was a wood platform perched 20 feet above the ground.

No. 5 at West Cornwall Golf Club in St. Ives, England. Originating with nine very confusing holes in 1889, this course added a back nine in 1921 by "Long Jim" Barnes, one of the greatest players in the last century. I talked my way on to this private course about 20 years ago while staying with my sister-in-law at her nearby B&B. I bought three Robin Hood balls (at that time the R&A and USGA still hadn't come to an agreement on a uniform-sized golf ball) and went at it. My first tee shot sliced into a graveyard with headstones dating back to the 1600s, the ball lost forever. My next shot was also a wicked slice into the boonies, so I'm down to one ball the rest of the way. I ditched the rented driver. On about the fifth hole, a par-3, I heard someone shout, "Where you going mate? The green's over there!" With no scorecard map, let alone a yardage guide, it suddenly dawned on me that I'd been playing my own course throughout the front nine. Thankfully, Barnes' nine is an out-and-back loop and, yes, I finished all 18 holes with the same ball thanks to a trustworthy 3-iron.

No. 6 at Christmas Valley Golf Club in Christmas Valley, Ore. Situated on lunar-like, white-alkaline soil at 4,000 feet above sea level, this is one of the most godforsaken courses in the West. When built in the 1960s the course was to serve as the centerpiece for a posh resort surrounded by palm trees (!). What unsuspecting investors eventually learned was that they were victims of one of the largest land swindles ever perpetrated in American history. Yet the 3,517-yard course, now the property of the Christmas Valley (population 780) Parks Department, lives on and this 600-plus-yard hole typifies the "challenge." We're talking straight, flat and very funky.
No. 8 at Lakeview Golf Challenge in Vancouver, Wash. Originally called Duke's Lakeview Challenge in homage to its designer and developer, the aptly named Duke Wager, this par-3 is given a rating - on a scale of 1 to 10 - each day, depending on the malevolence of the pin positions and the speed of the greens. Before he sold the 11-acre course in 1990 Wager would close it on Fridays for high-priced, all-comers stroke-play tournaments. While in town for the Safeway Classic in Portland, LPGA Tour players would often come over for gambling games. It was not uncommon for skilled players such as these to get a 20 on a single hole. Trees are situated in mid-fairway, fringes of greens are grown over seven inches high, one greenside bunker is 14 feet deep and accessible only by a ladder, and ponds run up right up to the edges of greens - which slope toward the hazards. Guess where the pins are on these holes when the course is rated a 10? The oddest of this odd lot is the eighth, which has a tiny pond smack dab in the middle of the green.

No. 5 at Plains Golf Course in Plains, Mont. When I showed up at this rural course while researching my book I came across a comical sight - an elderly man sleeping soundly in the bright-red "clubhouse" (actually a 10x10 shed) while AC/DC blasted out of a boom box. I hesitated to wake him, so I wandered onto the course after dropping a couple of bucks into the "honor" pay slot. I soon came across another man, sweating like the dickens, trying to coax an antique tractor with a mower attachment up a very steep hill on the par-5 fifth. I learned he was a volunteer greenskeeper who, try as he might, was never able to get the blasted tractor up that hill. With massive Bonneville power lines crossing overhead, and greens recently converted from sand to grass, this course just shows how much people love the great game of golf, regardless of the goofiness of their playgrounds.

This story originally appeared in Cybergolf on May 21, 2008.