Governors Club Unveils Newly Reconstructed 18-Hole Course
Only eight months after announcing they were breaking ground on two reconstructed holes and upgraded tee boxes, the Governors Club in Brentwood, Tenn., will unveil the newly renovated Arnold Palmer Signature Course on June 22, 2007, at a members-only tournament.
The event will feature members teeing off against each other in a Closest to the Pin contest. Proceeds will benefit Palmer's organization, Arnie's Army Battles Prostate Cancer. A prostate cancer survivor, Palmer founded the group to raise funds and public awareness for the disease. KP participants will have a chance to win a 2007 Lexus ES350.
"Our members have been so patient during this construction process, and we wanted to host a grand re-opening weekend that would thank them for standing beside us during this renovation," said Scott Bailey, head golf professional.
The course has been under renovation since October 2006. "Existing utility easements running through our property forced us to shut down two holes in 2005," said Whit Davis, golf course superintendent. "We spent a lot of time and money trying to find an immediate solution but decided that a total hole and tee upgrade was the best decision for the well-being of our members. We found it to be the least invasive way to renovate the course and make it playable for early summer. We are so pleased to be at the finish line."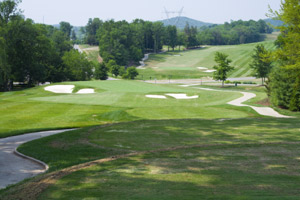 The new design improves the playability of the overall course. Features include the addition of a new greenside bunker and green on the second hole. The eighth hole received a new greenside bunker and a fairway bunker, as well as improvements to the putting surface. The tee project focused on replacing the turf from bent to zoysiagrass, a warmer climate grass. The change gives the golfers better conditions during the course's prime months, April through October.
"We are so pleased to be able to bring this improved course experience to our members," said Davis. "The goal of the Governors Club has always been to be one step ahead of other courses in its design and execution. I'm glad that we're able to show that to our members this weekend."
The Governors Club is located within a gated residential community in Brentwood, Tenn. The development is comprised of more than 430 residences that surround the course. For more information, call 615/776-4330.