Great Choices among Ireland's Inland Courses
By: Steve Habel
Thoughts of golf in Ireland involve grasses high and waving in the cool breezes along the tops of huge sand dunes, and golf courses carved along the edges of cliffs and beaches, with the salt water surrounding the island nation so close a player can lose a golf ball in the thrashing surf.
The 13th Hole on East at Powerscourt
Such is the "links" experience on the Emerald Isle, where the game can be played along craggy coastlines bordering the Atlantic Ocean on the west, North Sea to the north and Irish Sea to the east.

But golf in Ireland is more often played inside the island's edges. According to the Golfing Union of Ireland, an organization begun to 1891, there are more than 350 courses in the country. With a population of only 4.5 million (about a tenth less than the Houston urban area), Ireland boasts the most golf courses per capita in the world.

Just 49 Irish courses are categorized as links; the rest are considered parkland varieties and situated inland on rolling hills and within thick forests, watched over by mountains that seemingly mark every horizon here. Some border massive lakes; others are split by streams and rivers.

Some occupy homesteads demarcated by gray-rock walls, with ancient castles in the near distance. Others are within grand resorts (the Irish love their holidays) and are popular because virtually everyone in this nation has some knowledge of golf and most regularly play.

Anyone who enjoys the game owes it to him or herself to have an Irish golf trip on their bucket lists. Yes, the famed links courses (The European Club, Ballybunion, Lahinch, Old Head, et al) are musts to any journey to Eire - just be sure to make room for the inland, parkland-style courses as well.

Here are three to keep in mind when teeing it up in Ireland.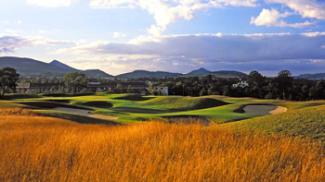 Druid's Glen Golf Club
Druid's Glen

Druids Glen Golf Club lies in County Wicklow, about 20 miles south of Dublin in the tiny village of Newtownmountkennedy (yes, that's one word). It is less than a mile from the Irish Sea and within shouting distance of the towering Wicklow Mountains.

It is appropriate that Druids Glen is in County Wicklow, which is known as "The Garden of Ireland"; the course is as visually breathtaking as any parkland venue you'll play. Its name originates from the Druids' altar, a stone preserved on a hillside to the right of the downhill and over-water par-3 12th hole.

The course occupies the estate of the Woodstock House, which was built in 1760 by an Irish earl. The property features ponds, high banks planted with trees and shrubs, a walled garden and low-lying areas where streams meander over rocks. The course is turfed completely in bentgrass and impeccably landscaped with many species of trees, shrubs and flowering plants. The design makes masterful use of the terrain's natural contours and elevation changes.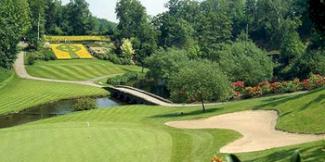 The 12th hole at Druid's Glen GC
Opened in 1995 and a host to three Irish Opens, Druids Glen was designed by Pat Ruddy and Tom Craddock, veteran Irish architects who were heavily influenced by St. Andrews and Augusta National - the course is marketed as the "Augusta of Europe." As an example, the par-3 second hole is played entirely within a walled garden a la the No. 17 - the Road Hole - on the Old Course, and the 12-14 stretch is called "Ireland's Amen Corner."

The long dogleg-right, par-4 13th ends at a green that's a tiny island, a spot allegedly used by the earl's family as a place to swim and sunbathe.

For more information, visit www.druidsglenresort.com/golf-courses/druids-glen.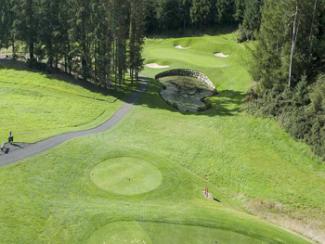 The Diabolical 16th at Powerscourt GC's East Course
Powerscourt Golf Club

Powerscourt is within a 1,000-acre estate with roots stretching back to the 13th century when it was an Anglo-Norman stronghold. The Powerscourt Estate is noted for its main house (originally a castle) and 47 acres of landscaped gardens. Just a half-hour south of Dublin and set in one of Europe's finest manors, Powerscourt is one of Dublin's premier golfing venues with two championship courses.

The resort's East Course (designed by Peter McElvoy) is the original layout; it hosted the 1998 Irish PGA and 2001 Irish Seniors Open. It offers panoramic views of the Atlantic and Sugarloaf Mountains. Some holes have links characteristics that contrast nicely with the parkland elements found at the start and end of the round. Throughout are trees, many of which are more than 200 years old, and multi-tiered greens ranging from mildly to severely sloping.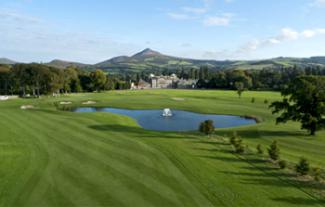 No. 18 on the East Course at Powerscourt
The West Course, opened in 2003 and fashioned by David McLay Kidd, is rated among the top-20 parkland courses in the country. It's hillier than its older sibling, and offers severe elevation changes augmented by well-placed bunkers.

For more, visit www.powerscourt.ie/golfclub.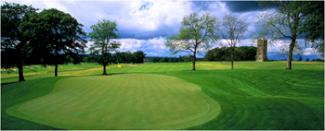 Carton House Golf Club's O'Meara Course
Carton House

Carton House, a luxury destination known for its hospitality on Dublin's doorstep, hosted the 2013 Irish Open at its Montgomery course, one of two layouts on the massive property.

Voted the Golf Resort of the Year in 2008 and located 14 miles west of Dublin City Centre and 30 minutes from Dublin Airport, Carton House not only features two of Ireland's finest - though wildly different -golf courses, it's home to a stylish hotel and spa.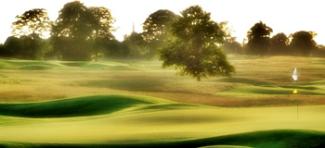 Carton House Golf Club's Montgomerie Course
The O'Meara Course, designed by two-time major winner and California native Mark O'Meara, offers a classic parkland experience as it meanders across pastures and woodlands. The O'Meara is the older of the two courses, but only by a year. In 2005 the course hosted the Irish Amateur Championship. Its 14th through the 16th holes play along the River Rye.

The Montgomerie course, the site of this year's Irish Open, was designed by seven-time European Order of Merit Winner Colin Montgomerie of Scotland and is a 7,300-yard links-style venue. It offers firm fairways and a maze of cavernous bunkers. The blustery, prevailing winds add to the challenge.

Carton House's 1,100-acre estate is intended for leisure and corporate guests. One of its attractions is Shell Cottage, which is situated on the 16th hole of the Montgomerie Course and decorated with shells of all shapes and sizes.

For more information, see http://www.cartonhousegolf.com.
Steve Habel is a freelance writer contributing Cybergolf news stories, features, equipment and book reviews and personality profiles from his base in Central Texas. He also works as a contributing editor for Horns Illustrated magazine, a publication focusing on University of Texas sports, and is a contributing writer for Golfers' Guide and Golf Oklahoma magazine, Texas Links magazines and Golfers Guide. Habel's main blog (www.shotoverthegreen.blogspot.com) features news on golf and the Longhorns, and another (www.checkinginandplayingthrough.blogspot.com) chronicles his many travels, including playing more than 600 golf courses since 2008. Habel is a member of the Golf Writers Association of America and the Texas Golf Writers Association.