Great Links in Atlantic City
A letter from a famous Brit hangs framed on the wall in the Mays Landing Golf and Country Club clubhouse in Mays Landing, N.J. It is written to Jim Fraser, whose family once owned Atlantic City's grand old course at Atlantic City Country Club (one of the nation's top-10 oldest golf clubs) and who still owns and operates Mays Landing.
It reads, "Dear Jim. It's hard to believe that Atlantic City Country Club is older than I am . . . and I started playing there when I was in vaudeville."

The letter is signed, Bob Hope, and dated July 10, 1997.

The famed comedian and actor was one of golf's great ambassadors before his passing at the age of 100 in 2003. Hope was also a native of England and knew a great historical experience when he saw it. He clearly saw one along the sandy shores of New Jersey at Atlantic City Country Club.

Hope continued in his letter: "I am proud to be a part of the history of such a great golf club. What wonderful memories I have of playing the greatest game on Earth with some of the greatest golfers ever. And, making a hole-in-one in front of reliable witnesses at the club isn't a bad memory either.

"Congratulations to the Atlantic City Country Club and its membership for a historic and colorful 100 years."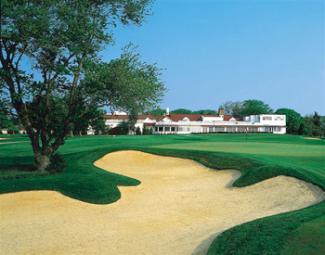 Atlantic City Country Club
More than a Wee Bit of Scotland in Atlantic City

Haggis is a Scottish specialty considered a delicacy across The Pond. Despite its somewhat dubious reputation among Americas, the minced parts of sheep dish are as well known in the British Isles as … well … the Open Championship (or "British Open" as we Yanks call it). This week the world will once again get acquainted with the wonders of Britain - haggis among them as it will also be tuned into the most recent edition of the Open.

The upcoming championship taking place in east-central Scotland at Muirfield, considered among the truest tests of golf in the current nine-course Open Rota (or rotation). While the best golfers converge on this somewhat unusual links overlooking the Firth of Forth, New Jersey summer vacationers will be playing some links of their own.

European influence has always been a part of the golf landscape along the coast of the Atlantic Ocean in southern New Jersey. Nowhere is that more prevalent than at venues like Atlantic City Country Club, where original designer John Reid - a professional golfer and the so-called "Father of American Golf" who was the first president at America's first course, St. Andrews Golf Club in Yonkers, N.Y. - routed the first nine holes in much the same manner as a links. The Scot did so by taking advantage of the site's natural setting along coastal waters and salt marshes and letting nature take its course.

No. 2 at Seaview Bay
Now some 116 years and multiple restorations later, venerable Atlantic City Country Club has evolved into one of the great-granddaddies of American clubs. Anyone interested in the game's history should play the 6,577-yard classic (most recently restored by Tom Doak shortly after its 100th birthday). The club's rich background makes it one of the great destinations in the East, though its 18-hole layout and site along Lakes Bay (named for Simon Lake, the inventor of the modern submarine) overlooking the Atlantic City skyline are on par to its history.

A second course with ties to the Isles is the Links at Brigantine Beach. It was there that some of the earliest competitors from the United States heading for the British Open tuned up their games before crossing the ocean. Legends like Walter Hagen and Harry Vardon are still honored at Brigantine, which at one time was considered the only true seaside links course in America before vacation real estate began to surround it.

Brigantine Beach is a 1927 Stiles & Van Kleek design. Constant breezes and a wonderful routing are what make the course so inviting.

Donald Ross went from being a modest greenkeeper at his local golf course in Dornoch, Scotland, to the most prolific producer of courses in the world. This turn-of-the-century (no, not the latest one, the one before) golf course designer even made his way to the Jersey Shore. The result? The Bay Course at Stockton Seaview Hotel and Golf Club, Atlantic City's home to the ShopRite LPGA Classic.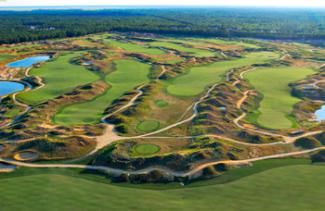 Aerial View of Twisted Dune
The original layout actually had two Scotsmen involved in its design. The Bay Course, which plays along Reed's Bay in Galloway and is situated eight miles from Atlantic City, was initially routed by Scottish immigrant Hugh Wilson (of Merion Golf Club fame) and opened in 1915. A year later, Ross completed the course by adding bunkers and pulling together several strategic elements. Together, these two craftsmen created a jewel on the coast known to all who have stayed at New Jersey's quintessential seaside resort.

Then there's Twisted Dune - possibly the most visually striking golf course in the Atlantic City area. Its name is apt; one local pro described Twisted Dune as the spot where "Phoenix meets Scotland."

The links-style venue boasts gnarled landscapes, dramatic elevations and contoured fairways. Designer Archie Struthers moved 2 million cubic yards of dirt to bring Twisted Dune to fruition, resulting in a true taste of the Scottish Coast right along the Jersey Shore.

Another course with a distinctly Scottish influence is Greate Bay, a primarily private club just south of Atlantic City. Designed by one of the game's pioneers, Willie Park Jr. (a native of Scotland who was recently inducted into the World Golf Hall of Fame), Greate Bay is known for its pace of play and fun atmosphere.

The layout's traditionally small greens are considered among the best in southern New Jersey. Though Park's "touch of Scotland" has diminished over time due to the growth of trees (making it more parkland in style), the course still attracts celebs like LPGA golf legend Annika Sorenstam, a friend of the owners. Other former guests range from Frank Sinatra to Dean Martin to Michael Jordan.
Built on the former Pineland's Park landfill, McCullough's Emerald Golf Links replicates several holes from the British Isles. With no trees on its grounds, the course is characterized by shifting winds, high grasses, rolling fairways and excellent conditioning. The wind truly dictates everything here, while blind shots and heaving terrain make this "grunge to green" layout an adventure.

The only course in the area with 100-foot elevation changes, its No. 7 hole was ranked among the top 18 most-fun holes you can play in America, according to Golf Digest architecture editor Ron Whitten.

Says McCullough's Emerald Golf Links' general manager Tom Sullivan: "The course is so mysterious and captivating the first time you play it, you almost want to go out with a guide. It is truly the type of golf course you need to play more than once. We encourage players to come back."

Rounding out the Atlantic City golf list is Scotland Run. Built in and around an old sand quarry, Scotland Run offers a distinctive blend of wooded, quarry and links-style holes. Its most unique aspects include expansive waste areas and imposing cliffs. Located 20 minutes from downtown Philadelphia and 45 minutes from Atlantic City, Scotland Run was dubbed after a stream that defines the northern boundary of the massive 500-acre property. Appropriately, early Scottish settlers called the stream "Scotland Run Branch."
For more about these and all 20 Atlantic City courses, visit www.PlayACGolf.com.