Greens Aplenty on Prince Edward Island
By: Crai S. Bower
What golfer worth his gap wedge would forego another 18 to ride his bike? But that's just how cool the Cavendish Trails on Prince Edward Island (PEI) in Atlantic Canada are, 60 kilometers of shoreline climbs and dips containing cross-country tracks that wind around inlets and ponds, through balsa forests and over bridges.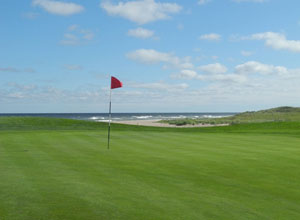 View of Gulf of St. Lawrence
at Crowbush's 7th Hole
I'd probably still be whipping around the different grass and dirt trails today if I didn't have kids back in Seattle. This isn't to say I didn't duff my way across PEI, an island of mild temperatures and steady breezes that arguably boasts the finest assortment of golf resorts in Canada.

This being a narrow and easily negotiated island, the majority of the 29 courses offers impressive water views and challenges, beginning with Crowbush, considered by many the island's toughest test. I foolishly chose to play this track first, having just unfurled my body from my previous day's flight across the continent, at least this was the excuse I fed to myself as my first ball shot right into the grove of birch trees that lined the fairway of the 409-yard par 4 starting hole.

The 6,903-yard, par 72 Crowbush is one of several courses owned by Prince Edward Island Tourism, an original plan to diversify the island's entertainments beyond redheads singing of teaching school beneath green gables. The plan, which teams the courses with Rodd Resorts, worked and today Crowbush sees 16,000 rounds during PEI's relatively short May-October playing season.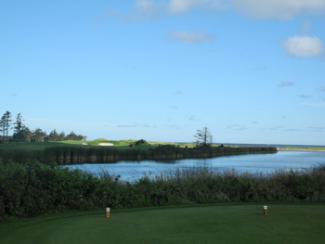 'Heron Lookout' - A 360-yard Par-4
into the Wind at Crowbush
Of the four courses owned by Tourism PEI, 146 Slope-rated Crowbush is by far the most punitive, bringing water into play on almost half the holes, including two significant water carrries on "Pinnacle Dune," a 219-yard par-3 and, more daunting still, "Heron Lookout," a 360-yard par-4 that is actually most challenging from the 349-yard white tees, the lake yawning distantly to a coastal marsh before the fairway invites the well-struck and lucky (winds tend to flare up as this salt pond resides just a few meters from the Gulf of St. Lawrence) to continue.

Winds blow like the local pipers (both the College of Piping and piping plovers reside on the island) from all directions on the courses on Prince Edward Island, nowhere more so than Crowbush. Views of the magnificent gulf, the vast body of water that separates PEI from Quebec to the east and Newfoundland to the west, more than compensate for the constant winds and frequent gusts.

While Crowbush offers cottages and condos for rent, you'd be remiss to visit PEI and not spend evenings in Charlottetown, the mirthful provincial capital, home to perhaps the most musical theaters per capita in North America, a score of excellent pubs highlighted by Gahan House - the isle's lone brewery, and COWS ice cream, often rated the best in the world.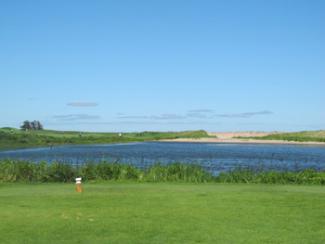 View from the 161-yard White Tees at 'Pinnacle Dune
What was once a sleepy town of familiar lobster, fish and chips fare has become café society with patios lining Sydney Street and people ushered into theaters and several excellent dining rooms, including 30 Lot, which boasts an inventive menu. Clannagh Oyster House combines an excellent selection of crisp wines with at least 10 varieties of fresh PEI oysters, arguably the world's best.

Not that there's anything wrong with lobster, especially when dining onboard the Top Notch Tours lobster boat, where Captain Mark takes guests on a harbor tour to pull preselected lobster pots and, being out of season, an albino blue catch and, most impressive, a 12-pounder. Mark educates his guests about the conservation of the lobster and other harvested sea life as well as the laws of the lobsterman, followed by a dinner of cold lobster, a traditional prep in the Maritimes.

While 29 courses line the island, the local's favorite remains Brudenell River, an unusual layout of equally divided par-3s, -4s and -5s that entice the golfer. The parkland and orchard setting offers subtle views of the Brudenell River along with several carries over river inlets and coves. "Shimmering Water," a reference to the ubiquitous "Anne of Green Gables" (written by Lucy Maud Montgomery, who drew upon her childhood experiences in rural PEI), demands a 135-yard launch through the river's left-to-right wind; this par-3's pond often glares more than it glistens.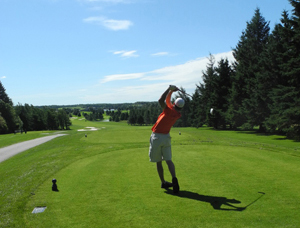 Teeing Off on the 360-yard 18th at Brudenell River GC
While the Brudenell 18 circles itself within full view of the resort's guestrooms, pool and gardens, its peer tract, Dundarave, winds through a balsam forest. The home hole is a daunting and uphill, 522-yard par-5 that Jack Nicholas once reached in two; his eagle sealed a 2006 Legends of Golf match against rival Tom Watson.

Unlike so many courses that boast a signature par-3, Dundarave's breathtaking hole requires a 200-yard carry over a wetland onto the perpendicular fairway, then climbs to a plateau green fronting the Brudenell River far below. Rarely is a course designed today without a housing plan, but the planners here never intended to surround these lush greens with anything but nature.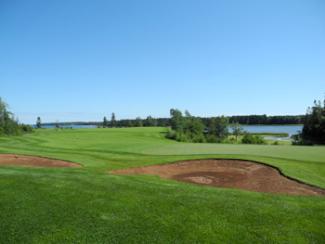 View of the 499-yard Par-5 10th at Dundarave
I first visited Prince Edward Island when I was just eight years old as part of a family tour of Atlantic Canada. I was more interested in ice cream than golf. Today, avid golfers can fill a week's roster with some of Canada's best courses, cycle high above the Gulf of St. Lawrence and sample regional brews and local lobster while still finding time to eat the world's finest ice cream.

Upon my first visit to the green island in four decades, I'm pleased to report the storybook that is PEI continues.

For more information about the golf courses on Prince Edward Island, visit http://www.tourismpei.com/pei-golf.
Crai S. Bower publishes 80-plus articles a year in over 30 publications. He has written about golf in Alaska Airlines Magazine, Journey, Travesías and www.Travel.MSN.com, among others. He received the 2008 Northern Lights Award for Excellence in Canadian Travel Journalism. He contributes "Destination of the Month" for www.aaajourney.com and is the travel commentator for NPR affiliate, KUOW. For more details about Crai, Twitter @craisbower or visit his website: www.FlowingStreamWriting.net.