Greg Maddux-Butch Harmon Invitational Surpasses $1 Million for Las Vegas Charitable Organizations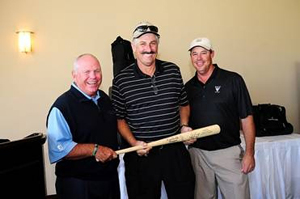 Butch Harmon, Rollie Fingers & Greg Maddux
For many years the Greg Maddux Foundation has worked hard, quietly raising funds and awareness for several worthy Las Vegas charities. Maddux and his wife, Kathy, live in Las Vegas and are dedicated to helping local organizations. And since 2001, they have teamed up with fellow Las Vegas resident Butch Harmon to hold the Maddux/Harmon Celebrity Invitational that brings athletes and entertainers to Las Vegas. The benefit has now raised well more than $1 million.
"This is what it's all about for me," says Maddux, who grew up in Las Vegas and attended Valley High School. "This is our home and we are thrilled to have an event that can continue to support local charities and our community."
The benefactors in 2010 are the Boys and Girls Clubs, Candlelighters for Childhood Cancer, and Child Haven.
The Maddux/Harmon Celebrity Invitational was played October 23-25at Spanish Trail Golf and Country Club, and a special evening event was held at The Venetian. Celebrities and athletes who participated included Nick Watney, Rollie Fingers, Albert Pujols, Jim McMahon, Reggie Jackson, Willie Gault and others.
In his 23 year-career, Maddux racked up 355 wins, with a 3.16 era, 3,371 strikeouts, four consecutive Cy Young Awards, a MLB record 18 Gold Glove Awards (13 consecutive), eight All-Star appearances, a World Series title and, in 2003, surpassed all-time great Cy Young as the only pitcher in Major League Baseball history to ever win at least 15 games for 16 consecutive seasons. In 2004, he extended that record to 17 seasons.
On August 7, 2004, in a game against the San Francisco Giants, Greg won his 300th career victory to become one of only 23 pitchers to ever win 300 games in a career, a rarity in modern-day baseball.
Harmon has been working in golf for over 45 years. In his earlier years, he was an accomplished player on the PGA Tour; in 1971, he won the B.C. Open. Following Harmon's Tour days he teaching golf to some of the best players in the world. Currently, Harmon is president of the Butch Harmon School of Golf in Henderson, Nev. Among his Tour players are Nick Watney, Phil Mickelson, Natalie Gulbis and Dustin Johnson.
For more information about the event and the Maddux Foundation, visit http://www.eventiausa.com/lvci/index.asp.