Grigg Brothers Adds Respected USGA Agronomist to Technical Staff
January 15, 2008. Grigg Brothers Foliar Fertilizers of Twin Falls, Idaho, has signed a leading agronomic light to its technical staff with the addition of United States Golf Association (USGA) Green Section senior agronomist Matt Nelson. Nelson, who spent three years in the Green Section's Northeast office and the last nine at its Northwest headquarters, joined the Grigg Brothers team on January 16.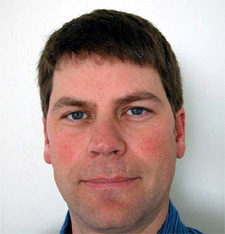 "The Green Section's involvement with championship golf, turfgrass research and environmental programs contributed to a very rewarding experience there," said Nelson, whose new role at Grigg Brothers is that of technical representative and agronomist. "From the thousands of people I've met along the way, and the opportunity to problem-solve at so many diverse golf operations across 6 U.S. time zones, I have nothing but positive comments with respect to my tenure with the USGA. If any organization in golf has its finger on the pulse of this industry, it's the USGA Green Section.
"I will miss my colleagues there most of all, but new opportunities come along and sometimes you have to jump on them. I am extremely excited about joining Grigg Brothers."
Nelson holds a bachelor's degree from Willamette University in Oregon and a master's degree in crop science from Washington State University. He worked on the maintenance staff at Whitefish (Mont.) Lake Golf Club and as a biologist with the U.S. Forest Service before joining the USGA.
"We are elated to have Matt on board," said Grigg Brothers President and co-owner Mark Grigg. "His hiring continues our tradition of recruiting talented individuals who can bring value to the industry. We try to provide service to superintendents, to help them with their jobs and course conditioning. Matt will be one of our technical representatives. He will assist distributors in product knowledge, lead seminars and undertake some technical writing."
"I think I bring diverse knowledge in terms of golf-turf maintenance and a tremendous network of end-users - superintendents, club managers and others involved in course maintenance. My new responsibilities will involve providing service to our distributors and clients, primarily technical knowledge and service regarding Grigg Brothers' products, nutrition programs and maintenance capabilities."
Nelson's duties at Grigg Brothers, he noted, will dovetail nicely with his co-ownership interest in a Twin Falls-based commercial putting green sod operation called Magic Valley Bentgrass.
With input and testing from the country's top turfgrass universities and researchers, brothers Gary and Mark Grigg introduced the firm's line of foliar fertilizers in 1995. The major advantage of foliar products is the speed at which turfgrass absorbs the material through its leaves, according to Gary Grigg, vice president at Idaho-based Grigg Brothers.
Gary Grigg, the company's chief agronomist, boasts 40 years in the turfgrass management profession. He continues to travel the country speaking to superintendents and turf managers about the art and science of turf care.

He will teach a seminar - alongside Roch Gassoin, PhD, Professor & Extension Turfgrass Specialist at the University of Nebraska's Department of Agronomy and Horticulture - later this month as part of the GCSAA Education Conference in Orlando, Fla. The subject will be "The Science and Philosophy of Foliar Nutrients"; the seminar is scheduled for Wednesday, January 30, 8 a.m. to 12 noon.

"Three years of university testing on foliar applications at four separate institutions, conducted on four different turf varieties, has shown that 90 percent of what is going into the plant is delivered there within an hour of application," Grigg explained. "That is considerably faster than a granular, which has to first work its way into the soil, then be absorbed through the roots. Foliars also bypass those soils with problems concerning pH and temperature."

The Griggs recognize the utility and value of granulars, as well, which is why they developed a line of granular, water-soluble fertilizers in 2005. Their granular products are built on the same proprietary protein technology as the foliar line. These high-performance, high-quality granular fertilizers provide the same exceptional nutrient uptake ability and are available in both fairway- and greens-grade granules.
For more information on Grigg Brothers products, foliar and granular, and a listing of distributors in your area, visit www.griggbros.com, or call 888-246-8873. Contact Nelson in his Idaho office at 208/421-2512 or by email at matt@griggbros.com.