Haag Wins Stocker Cup
Randy Haag carded his fourth straight under-par score to win in the 20th Stocker Cup. Named after the late San Francisco stockbroker, Peter C. Stocker, the 72-hole amateur event took place at the Tom Fazio-designed Preserve Golf Club in Carmel, Calif.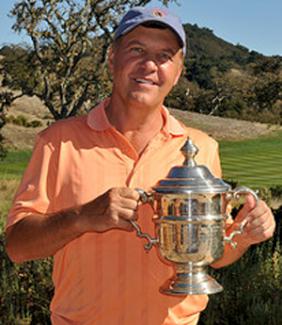 Stocker Cup Winner Randy Haag
Haag posted rounds of 68, 69, 71 and 71 in his wire-to-wire, eight-stroke victory. The 52-year-old San Franciscan can add this latest title to a crowded trophy case. He has captured low amateur honors at the British Senior Open the past two years and has received the Northern California Golf Association Player of the Year award six times. On Sunday he became the first three-time champion of the Stocker Cup.

This was the first Stocker Cup win for Haag at the Preserve, where the tournament moved in 2000 after being contested at other Monterey Peninsula courses.

"I thought time might have passed me by for this event," said Haag, member of Olympic Club. "The field gets younger every year, and some great players come from all over the country. It's very meaningful for me to win this. You always want to compete against the best."
Haag attributed his fine performance to his side-saddle putting style, which he started using in 1997. "My putter really bailed me out the last couple of days." He said. "It's very different and hard to learn, but well worth it for me."
Two-time defending champion and 2005 U.S. Mid-Amateur winner Kevin Marsh of Henderson, Nev., ended up tied for second with Jerry Ledzinski of Carmel, Dan Sullivan of Pasadena and Billy Mitchell of Atlanta. Ledzinski was named the runner-up through a card-off, followed by Mitchell, Sullivan and Marsh.
The Tatum Trophy, for golfers aged 55 and older, was claimed by Brady Exber of Las Vegas, who took the lead after the second round and never relinquished it. The Southern Nevada Golf Hall of Fame member cruised to a five-stroke win over Doug Pool, also of Las Vegas.
For all the scores, visit http://www.ncga.org/scores/2011/stockercup/Stroke_1.html.