Hail Colombia!
By: Elisa Gaudet
How far would you travel to meet a friend for coffee? How about 2493.52 miles southwest from New York City to Bogotá, Colombia!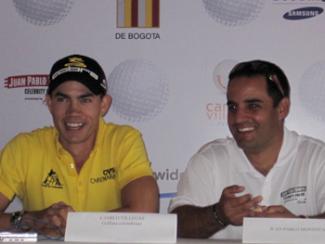 Villegas & Montoya
Perhaps if your friends are Camilo Villegas, Juan Pablo Montoya and Juan Valdez, this would be like winning the Colombian trifecta. These men are probably the three most popular legal exports out of Colombia. So southwest I went and the trip was well worth it.

While the South American country has been perceived as a place with drug cartels, it appears it now has three new ambassadors who are changing that image and inviting visitors to know the true Colombia. When I visited, Bogotá was very safe and welcoming, and the passion of the Colombian people is evident in everything they do. As part of its changed image, Colombia is staking a place in the international golf world with over 50 challenging courses and some of the best the sport has to offer in Latin America.
The nation boasts courses designed by Robert Trent Jones, Jack Nicklaus and Gary Player in exotic locations as diverse as the country itself. While it has put itself on the golf map by hosting a number of professional tours, including the Tour de las Americas and events on the Challenge and Canadian tours, Colombia can now add the Pacific Rubiales Bogotá Open, a Nationwide Tour event, the first such event by that tour in South America.

Golf has always been about taking into account the community impact and changing peoples' lives. As the Nationwide Tour expands its presence in Latin America, the field in the Pacific Rubiales Bogotá Open showcased professional golfers from over 12 different countries. Yet it was 48-year-old American Steve Pate who took home the trophy.

Colombia's capital city of Bogotá, population 8 million, is situated at 2,640 feet above sea level. Given its altitude, a golf ball travels about 12% farther than many other courses around the world. Bogotá contains 24 courses and has the perfect climate for golf. Colombia's No. 1 golfer, Villegas, came through for his country by appearing Tuesday for a press conference to kick off the Nationwide event and welcome everyone. He then took a plane to Florida to play - and win - the PGA Tour's Honda Classic, a victory for himself and Colombia.
In the immediate future, Villegas will play on both the European and PGA tours as he feels golf is a global sport and, since at this point in his life, he doesn't have family responsibilities and, as he jokingly said, "like Pablo who has two, three kids."

He started playing on the Nationwide Tour in 2005, then advanced to the PGA Tour in 2006 and, in 2008, joined the ranks as one of the top-50 players in the world. As you can imagine, Villegas felt a great sense of pride when he entered the gates of the Country Club of Bogotá and was greeted by a giant sign that read: "Bienvenido - Welcome Nationwide Tour."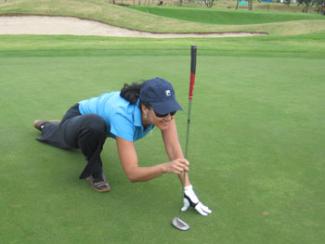 Author Elisa Tries Camila's Putting Style
"It was my dream to have a Nationwide event in Colombia. It took 5 years," he said. "This is a dream come true for me to come through the gates today. It was my hope that if people had direct contact with our country they would see there is a misleading image if you have not been here. Players have been coming up to me and saying what a great place Bogotá is, it's just awesome. This is a special event and a big deal for Colombia."

Camilo's nickname of "Spiderman" came about in 2005 when he was playing the Nationwide. He was not putting well and needed to read the greens better. Before Villegas realized what he was doing, he got himself into the now well-known low-crawling position and soon made a 12-foot putt. Two holes later he did the same thing and sank that putt. The name has stuck ever since.
He explained to me there is a process to winning that is more than just simply saying, "I want to win this tournament or that one."

"It is a process and one I asked 'how do I get there,' " he said. "It is a combination of things like practice, focus, patience, managing my time, being organized, hard work and putting the distractions to one side - there are millions of distractions. I want to play good golf and enjoy it."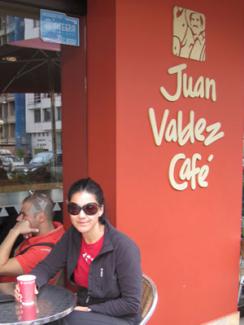 Elisa at Juan Valdez Cafe in Bogota
Juan Valdez, the recognizable Latin man with the mustache and mule, represents more than 500,000 coffee growers in the heart of the Colombian mountains where the sun and secrets of the soil, combined with the passion and hard work of those "cafeteros," nurture coffee beans to perfection. With his trusted friend Conchita always by his side, Valdez's mission is to symbolize the proud traditions of these hard-working men and women, who pick every bean by hand and are 100% committed to their families, communities and the environment. Since 1959, Valdez has been promoting Colombian coffee all over the world and ensuring that the most discerning consumers can always enjoy a cup of the "Richest Coffee in the World."

Juan Pablo Montoya, a NASCAR driver for Earnhardt Ganassi who races the No. 42 Target car, was born in Bogotá and was proud to return and co-host the pro-am for the Nationwide event with Villegas. Both men are extremely dedicated to their respective charities, which help support underprivileged Colombians. Montoya's is the Fundacion Formula Sonrisa (Formula Smile Foundation - www.formulasonrisas.com).
Montoya and Villegas understand the significance of golf in Latin America. Such support is important to Latinos, and the two professional athletes are helping the game while increasing golf tourism in the region. They proudly mention that there are now 27 players from Latin America with victories on the PGA Tour.
"We have an opportunity, behind these events, to give exposure to our country and to charity. These events help a great deal to create funds and draw attention to foundations that help lots of needy people" says Villegas, whose charity is Fondo Camilo Villegas.

Juan Pablo has been playing golf for seven years and carries a 6 handicap. His crew chief is a fine golfer and plays to a 2 or 3. When asked to compare golf and driving in NASCAR, he sees a correlation. "Something that is incredible with golf that relates to racing is that if you make a mistake once you get into the next corner, you can not be thinking about the mistake and golf is the same way. If you hit a bad shot it can not drive you down."

Montoya happily lent his star power to the pro-am as he also believes that in Colombia, "perception is much different than the reality and golf is a way to tell the reality." Pablo and Camilo have played together a few times but, as Pablo says, you can't compare their golf games. "It's like saying who is better at driving."

Camilo made that clear in the Honda Classic who's better on the golf course. His win could not have been timelier as it came the same week that the Nationwide Tour debuted in his home country. It was almost as if he was inspired or that he had all of Colombia routing him on.

As they say in NASCAR: "May the Best Driver Win." It looks like the best driver this time was Camilo Villegas.

For more information on traveling to and playing in Colombia, visit http://www.colombia.travel/en/.
Elisa Gaudet brings a wealth of entertainment and golf experience to Cybergolf. Elisa has spent the past several years in the golf industry in the U.S., Latin America and Spain. She worked for the PGA Tour and the Tour de las Americas before founding Executive Golf International, a golf marketing company that works with clients to develop strategies using golf as the medium. Often referred to as the Maria Bartiromo (a business analyst for CNBC) of golf, Elisa says: "Golf, as a marketing tool, has been around for years. It's amazing how many new ways companies can align their brand with the golf market to reach their target audience. Our goal is to create alliances and establish cross-border relations." Elisa also worked in the entertainment industry for over 10 years, including five in Los Angeles as a model and actress. She can be seen at many celebrity golf events and often gets the inside scoop from PGA Tour players. For more information about Elisa, visit her websites at www.onthelip.com or Executive Golf International www.execgolfintl.com.