Halloween at the Ryder Cup
By: Elisa Gaudet
As I walked the course over the past two days, the one thing abundantly clear that distinguishes the Ryder Cup from any other golf event is the number of fans dressed up in costumes. It is as if Halloween and the Olympics got together and had a baby at the golf course.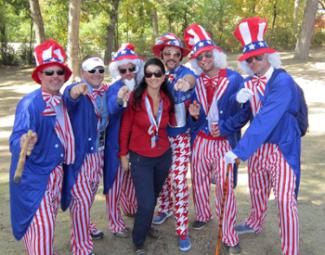 As they say, "A picture is worth a thousand words."

My best guess is that the English don't have Halloween so perhaps this is why they enjoy dressing up at events. A notable characteristic by both Americans and Europeans is that, like wolves, they tend to travel in packs!

These Uncle Sams are from Atlanta and have been playing their own Ryder Cup tournament for eight years and noted, "We play against real Europeans." They consider the U.S. their home course. They run off, shouting, "We have to go! Bubba needs us!"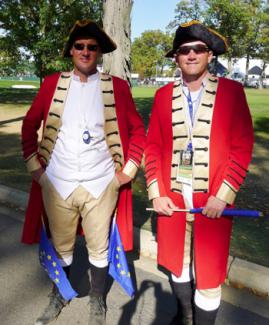 This is the first Ryder Cup for Jason, 12 handicap, and Craig, 15 handicap, who traveled from Dubai to attend. They were watching Rugby, the Dubai Rugby Sevens, when they got the idea to come over for to watch the Ryder Cup. Both being British, they had the idea to come as "Redcoats," the uniforms traditionally worn by soldiers of the British Army. "We thought The British are coming. The British are coming."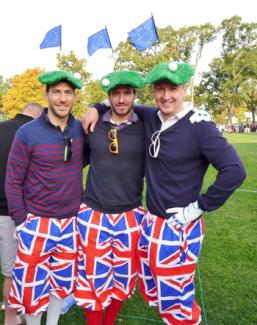 Ben, Rob, Chris came over from the UK and wanted to show their support, so they decided to make a statement. "It has been great. We have gotten a lot of attention." When asked if they made their unique outfits they replied, "No, we bought them online - you can get anything online!"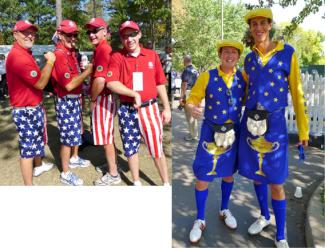 Bob, Lance, Gary and Evan are hometown Chicago men representing the U.S. It is the first Ryder Cup for all of them and they described it as "electric." They have been planning for six months, their shirts are from the Chicago District Golf Association and shorts are Loudmouth. "We wanted to compete with the Euros on dress. We like visiting Europe but there is no place like home."

David and Ed came from London and said they are "Guardians of the Cup and here to protect it."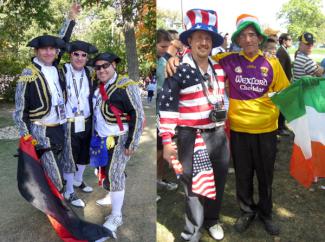 Miles, Lee and Craig flew over from Manchester, England for the Ryder Cup and while they are very British they decided to dress as matadors out of respect for the European Captain Jose Maria Olazabal, a native of Spain. They also added, "We look good as matadors."

Michael is from the U.S. and Richard is 74 years old and from Ireland. This is his first Ryder Cup and he came to the States specifically for the Ryder Cup. They struck up a conversation while watching the matches, as Michael is of Irish descent.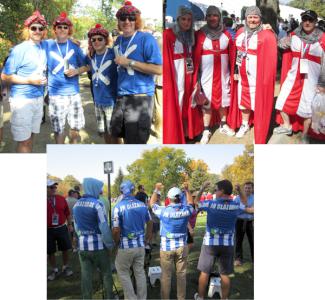 Ignacio, Asier and Juan Carlos are from the Basque region of Spain, the same region as European Captain Jose Maria Olazabal. They are friends with Olazabal and came to support Team Europe.

Standing not far off from the Spanish guys are Dave, Bruce, Chris and Evan came from Scotland. They are all friends from their university days and when asked if they play golf their response was, "Own clubs, will travel."

St. George Crusaders have come to take back the Ryder Cup. "We need to protect it, but right now with the scores we are not doing a good job." In 2010 Ashley, Chris, Colin and Barry, from Liverpool England, were sitting at a pub watching the Ryder Cup being played at Celtic Manor and got the idea and began to plan their trip to come over for this year's Ryder Cup. "We decided to dress up so we would stand out. And my wife thinks I am back home in Scotland working."