Hammer Time! Alexa Hammer, South Florida's 'Pocket Paula' May be LPGA's next Breakout Star
By: Jay Flemma
Back when they still gave out things like Moroccan Belts as trophies, Old Tom Morris showed up at a pro tournament at somber old Carnoustie with his 16-year-old son Young Tom. Fellow pro Willie Park asked Morris, "What have ye brought the laddie for, Tom?"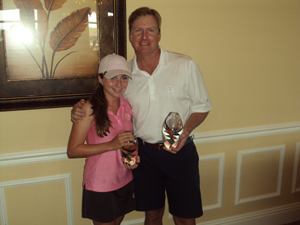 Alexa Hammer & Her Dad Kevin
Old Tom responded, "Ye'll see what for soon enough."

The kid stunned Park in a playoff to win the first pro event he ever entered. Shortly thereafter, Young Tom won four consecutive British Opens.

The gray rains of Northern Scotland are a world away from the swaying palm trees and soaring sea birds of the Sunshine State, but in the Hammer family - for 50 years the "first family" of South Florida golf - the spirit of passing on the game to the next generation lives on.

Thirteen-year-old Alexa Hammer, daughter of well-decorated amateur champion Kevin Hammer and grand-daughter of legendary touring and teaching pro Laurie Hammer, has been skyrocketing up the junior rankings, collecting a closet full of trophies, and still living the free-spirited yet well-balanced life of a well-adjusted but uber-talented golf phenom. Blithe, blond and bubbly, prim, poised and plucky, little Alexa - a pocket-sized version of stout-hearted LPGA star Paula Creamer - may soon be the LPGA's next can't-miss smash hit.

Alexa is the third generation of a gold standard, golf bloodline in which the game is an indelible part of the fabric of the family's life. The eldest of three sisters, she started playing at age 6, entered tournaments at 8, and has since been a perennial standout in such top national and international junior events as the U.S. Kids World Tour, the U.S. Kids World Cup and the National Junior World Championships.
She's even excelled at adult events. Partnered with her dad, Kevin, they won this year's Florida State Mixed Team Championships at Plantation Golf & Country Club in Fort Myers. The pair opened with a 63 in the better-ball format on day one, then closed with a 64 in alternate-shot the next day to win the competition by four strokes.

For their part - unlike some families, the Hammers never engage in competitive parenting, the worst sport in America. Sure, Alexa is ahead of the curve academically, getting steady A's at the prestigious Heritage School, and she spent her youth jetting around the world to play at many of golf's most hallowed venues. But unlike the Wies or the Woodses or the Williamses - who all made the mistake of hovering far too close or never letting a kid simply be a kid, the Hammers have given remarkable freedom to their daughter to balance her own life and succeed on her own talent.

Alexa gravitated to golf because she liked it. "My parents have never pushed me," she explains as she pitches a ball out of a dismal lie to a foot from the cup. "They just support and encourage me. I have to say, 'Dad! Sign me up for more tournaments!' " she adds excitedly while tapping in for par.

Her record thus far has been impressive. At age 12, Alexa played for the U.S. team in the U.S. Kids World Cup. She placed T-6 at the National Junior World Championships. She shot even-par in the Junior L.A. Open and finished third at World Woods's famous Pine Barrens course with a respectable score of plus-4 from the 6,600-yard tees over two days. Her best round is a 68, which is impressive even from the ladies' tees.
Yet the Whiz Kid is still just a kid at the end of the day. She listens to bubble-gum pop music, doodles on her wrists with markers when bored in class, and laughs delightedly at her school's wild science-class experiments.

"I love science class," she beams as she laces a 5-iron to 15 feet. "We blew up a pumpkin the other day. We filled it up with chemicals, and it blew up! It was intense. Then we imploded a soda can. It shrank right up. It's really interesting stuff."

Indeed, her innocence is refreshing amidst the traffic of competition at the highest levels. Even-keeled and humble, just like her father and grandfather, she's just an everyday kid who dons an "S" on her chest whenever she gets to the golf course.

"I go to the gym, play on the computer and listen to Katy Perry, Bruno Morris and the Black Eyed Peas. I actually saw them in concert with my best friend Morgan Gonzalez, who plays in all the tournaments with me," she says.
Then her eyes light up and she turns to me, hopeful. "Make sure to get Morgan in the article! She's my best friend and it'll make her day!"

So I will. Alexa immediately brightens at the thought of Morgan, who lives in Chandler, Ariz., but sees Alexa at all the big tournaments. "I can't wait to hang out with her at the Jr. Honda Classic and the Doral Public Links Junior. We're staying in the same villa."

Alexa also sends a shout-out to her pen pal and golf friend Hannah Henderson from Northern Ireland. "She hosted us at Ballymena when dad took me to Ireland. We also played Royal County Down. That's one of my all-time favorites."

Still, it's all business on the golf course. Trained at the Gary Gilchrist Academy and IMG's school in Bradenton, she has a long, languid swing, great shoulder turn and creative short game. Plus, like Paula Creamer, she's tough as nails mentally.
"I actually like Paula a lot. Her and Annika," she says after lacing a long, straight drive to Position A. Then she pauses for a moment. "I used to like Tiger, but not any more."

Then, after missing her second short putt of the day, the fierce competitor comes out. "I'm going to the practice green for a while after the interview," giving her mutinous putter a fierce glance.

And so a third generation of Hammer carries on the tradition of golf excellence with the same ease and grace as the previous two. With pink shirt, black shorts, pink hat, stylish black nail polish like all the pop-punk kids these days, Alexa is a trendsetter. With magic marker drawings on her wrists, she's also one of the girls.
"When I get bored, I doodle," she admits sheepishly, showing me a red anchor drawn in magic marker. "My friends and I like to doodle on each other."

Yet golf is her first love. She even lists "Caddyshack" as her favorite movie. Tomorrow it's up at 5:30, off to the gym, then to school, and then to the course to play until she can't see the ball. Lather, rinse, repeat.

Admit it . . . you'd do exactly the same thing if you could, wouldn't you? It sounds like a good life to me.


Since launching his first golf writing website in 2004, http://www.jayflemma.thegolfspace.com, Jay Flemma's comparative analysis of golf designs and knowledge of golf course architecture and golf travel have garnered wide industry respect. In researching his book on America's great public golf courses (and whether they're worth the money), Jay, an associate editor of Cybergolf, has played over 220 nationally ranked public golf courses in 37 different states. Jay has played about 1,649,000 yards of golf - or roughly 938 miles. His pieces on travel and architecture appear in Golf Observer (www.golfobserver.com), Cybergolf and other print magazines. When not researching golf courses for design, value and excitement, Jay is an entertainment, copyright, Internet and trademark lawyer and an Entertainment and Internet Law professor in Manhattan. His clients have been nominated for Grammy and Emmy awards, won a Sundance Film Festival Best Director award, performed on stage and screen, and designed pop art for museums and collectors. Jay lives in Forest Hills, N.Y., and is fiercely loyal to his alma maters, Deerfield Academy in Massachusetts and Trinity College in Connecticut.