Room at the Top
By: Tony Dear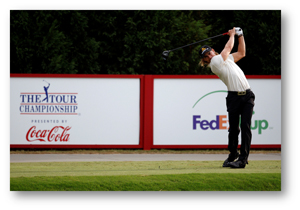 Heath Slocum moving from 124th to third in the FedEx Cup standings after winning the first playoff event demonstrated the extra volatility in this year's system. And with 100 players remaining, it can happen again.

First of all, let's dismiss the notion that Heath Slocum's win at the Barclays last week was a shock. Yes, he was 124th in the FedEx Cup standings at the start of the week, but the way the hosts of Golf Central on the Golf Channel put it, you'd think a high-handicapper with a gammy leg had taken out Tiger Woods in summer 2000 form.
As the PGA Tour is keen to tell us, these guys are good. No longer should Y.E. Yang overcoming Woods at a PGA Championship, Lucas Glover taking down Phil Mickelson at a U.S. Open or Slocum beating Woods, Ernie Els, Steve Stricker and Padraig Harrington into second place at a playoff event be met with such apparent incredulity. Australia's Peter O'Malley beat Woods at the World Matchplay not so very long ago; Nick O'Hern has done it twice since. Angel Cabrera has won two major championships in the last three years. Michael Campbell won a U.S. Open. Todd Hamilton and Ben Curtis each won a Claret Jug; Zach Johnson and Trevor Immelman a green jacket.
It happens. And it does so with increasing regularity nowadays as the gap in ability between No. 1 in the world (okay, No. 2 . . . 3) and 100 (150 . . . 200?) continues to narrow. Is fifth-ranked Kenny Perry really that much better than No.10 Lee Westwood? Will Chad Campbell (No. 50) reach five PGA Tour wins before Jonathan Byrd (No. 100)? In a 10-round contest, how many times would Byrd be beaten by James Nitties (No. 200)?
Just imagine if Earl Woods hadn't crafted the ultimate golfing machine; a player so strong, resolute, and confident in his own ability. At present, the gap between Woods and Mickelson at No. 2 is greater than that between Mickelson and Byrd. That says a lot, firstly about how dominant Woods has been, and secondly how bunched up the rest of the world is becoming.
You get the point. Heath Slocum had won twice and earned well over $10 million in prize money before Sunday. He's no slouch, and besides, he wasn't the only outsider with a great chance of winning Sunday. Paul Goydos, Steve Marino, Webb Simpson or Fredrik Jacobson could all have done a Slocum. No, the 35-year-old's win at Liberty National was hardly the miracle some made it out to be.
Of course, that's not to say it wasn't unexpected. And with 100 players still remaining in the playoffs, there's plenty of room for more surprises. Sweden's Daniel Chopra clung on to the 100th spot by virtue of a second-round 69 last week. His opening 77 spelled doom, but when he shot 2-under the following day he squeezed into the weekend and wound up collecting 53 FedEx points that took his total to 494, a full two points more than K.J. Choi, who fell from 92nd to 101st. So, while Choi's at home in Houston cursing the triple-bogey seven he made on the 18th hole in the second round last week (when a bogey would have seen him survive the cut and pick up points), Chopra will tee it up at TPC Boston with a chance of winning $1.26 million and progressing to the BMW Championship, where he could pick up another $1.26 million. And who's to say he can't do it; the first part at least?
Chopra, like a pre-Barclays Slocum, has two PGA Tour wins. He also has 11 other professional victories at tournaments dating back to 1993. Some of them - the Johor Bahru Open (Malaysia), the European Challenge Tour's Jamtland Open (Sweden), and the Indian PGA Championship - aren't among the sport's most prestigious to be sure, but a win's a win. So the man who moved from Sweden to India at age seven to live with his grandparents does have it in him to pick up the 2,500 FedEx points this week and jump into the top 10.
In reality though, a Chopra win is no more feasible than Slocum's was. Crunch time is approaching fast and. with every passing playoff, so the probability of elite players coming to the fore increases. Four of them shared second place in Jersey City and every one is striking and stroking the ball well enough to win in Boston.
Stricker has been incredibly consistent this year with two wins and 14 top-25 finishes in 19 starts. If he wins this week and Woods doesn't finish second, Stricker will lead the FedEx Cup with two events remaining.
Ernie Els has won precisely one of the 66 tournaments he has played on the PGA Tour since returning from knee surgery at the start of 2006 (and three times in Europe). Though he's clearly not the player he was prior to falling off his inner tube into the Mediterranean in July '05, he insists he still badly wants to win golf tournaments. And with his 40th birthday just six weeks away, he has decided to go it alone, telling John Hopkins of the London Times that he will be trying to find the solution to his problems by himself from now on. "I have been to Butch Harmon, to Bob Rotella, listening to this guy about my putting, to that guy about my chipping," he said. "Everybody is trying to help, but they're not. It's just more going in and that means more doubt. The more quietness there is around me, the better it is. The more 'circusy,' the more 'entouragey' it gets, that doesn't work for me."

Not much was working for Harrington prior to the WGC Bridgestone Invitational three weeks ago, but a second place there, another top 10 at the PGA Championship and last week's 67-67 on the weekend suggest he has rediscovered whatever part of his game was missing. He really should have won at Firestone and was looking very dangerous at Hazeltine, but final-round 8s destroyed his chances at both. That he could shake them off and play so well at The Barclays shows Harrington is back to something approaching his dogged and tenacious best and marks him as a real threat this week.

Surely no one will be more determined to win than the last of the quartet, however. Since beating Harrington with the brilliant 8-iron to a foot on Firestone's par-5 16th, Woods has lost his first 54-hole lead at a major and finished runner-up at a playoff event he would have won had it not been for such a lousy performance on the greens in the final round. With so much attention being paid to the FedEx Cup, and having gone 0 for four in the majors this year, you can be sure Woods will want to reassert himself and show his peers and the world that he is still golf's dominant player.

Not surprisingly, his record at TPC Boston is superb - a win, two seconds, and another top 10 in five appearances. Last time here, he finished runner-up to Mickelson after a tense and exciting final round. He's never terribly thrilled with second place, of course, but a similar outcome this time will be especially hard to swallow in light of recent "failures." He probably hasn't spent much time with Sam and Charlie in the run-up to the Deutsche Bank, working instead on his putting, which looked positively anemic in New Jersey and Minnesota.

This week's defending champion is Vijay Singh who won last year's tournament a week after having won The Barclays - a two-week splurge that basically won the Fijian the FedEx Cup. This year, the 46-year-old comes to Beantown having endured a pretty miserable season, one in which he has finished in the top 10 just three times in 20 starts. He missed the cut last week, and at the PGA Championship went into the third round tied for second, four shots behind Woods. The lackluster 75 he shot Saturday seemed to sum up his year; his swing strangely erratic, his putting only slightly north of woeful. At 78th in the FedEx Cup standings, Singh will need a good week to see him into the 70-man BMW Championship.

To be honest though, a Daniel Chopra win seems more likely.

Tony Dear is an Englishman living in Bellingham, Wash. In the early 1990s he was a member of the Liverpool University golf team which played its home matches at Royal Liverpool GC. Easy access to Hoylake made it increasingly difficult for him to focus on Politics (his chosen major) and, after dropping out, he ended up teaching golf at a club just south of London where he also made a futile attempt at becoming a "player." He moved into writing when it became abundantly clear he had no business playing the game for a living. A one-time golf correspondent of the New York Sun, Tony is a member of the Golf Writers Association of America, the Pacific Northwest Golf Media Association and the Golf Travel Writers Association. In 2009, Tony won first place for Editorial/Opinion in the ING Media Awards for Cybergolf. The article (http://www.cybergolf.com/golf_newsa_euros_take_on_the_2008_ryder_cup_matches) that impressed the judges was the one about Europe's Ryder Cup team and Captain Nick Faldo's decision to pick Paul Casey and Ian Poulter rather than Darren Clarke.