Happenin' in Hawaii
By: George Fuller
I was sitting in the rental car bus in Phoenix, heading back to Terminal 3 for my flight to Kona. The fellow next to me looked depressed. "Where are you headed?" he asked.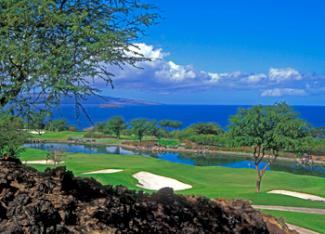 Wailea, Maui
"Hawaii," I said. He waved me off with his hand, looked disgusted and said, "Sorry I asked."

He told me he was headed back home to Omaha, where it was a cheery 22 degrees that morning when he checked his weather app. There wasn't much I could offer by way of solace, although I did assure him that they do sell tickets to Maui too. "Maui," my cold-weather friend said longingly, "I wish."

I missed most of what he was saying thereafter, as my thoughts drifted back to the crystal-clear HD images that were burned into my memory's hard drive from the Golf Channel's broadcast of the Hyundai Tournament of Champions at Kapalua only a week earlier. The humpback whales were splashing offshore in the bathtub-warm Pacific, surfers were hanging 10 on the lips of curlers, the shores of Molokai popped sharp as a tack across the airwaves, and the verdant fairways of the Plantation Course rolled like steep green waves down from the West Maui Mountains.

When I regained my attention on my bus-riding companion, it was time to debark. "Well, safe travels and aloha!" I said cheerfully.
There was that wave of the hand again. "Yeah, yeah," he said in mock disgust. "Soon enough!" and he disappeared into the crowd.

What I would have told him, had we sat down to discuss it, was that Maui is a happening place. It has a hip L.A.-type feel to it, but the Malibu part of L.A. Talented chefs open trendy restaurants and some festival or another can be found almost every month. One of my favorites is the Maui Onion Festival (May 5, 2012) which is holding its 23rd iteration this year.

Unlike L.A., the water is warm, clean and inviting. Snorkeling, windsurfing and whale-watching cruises are just a few of the myriad ocean activities. Locals fish from the rocks, paddle outrigger canoes and kayaks, and picnic on the beaches.

For those of us smitten by golf, the island truly is paradise. There are two courses each at Kapalua (www.golfatkapalua.com) and Kaanapali (http://kaanapaliresort.com/WhatToDo/Golf), both tournament-proven and more than inviting for everyone from casual family outings (Kaanapali Kai) to resort players (Kapalua Bay and Royal Kaanapali) to professionals (Kapalua Plantation).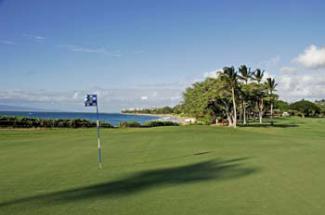 Royal Kaanapali's Fifth Green
Not to be outdone, Wailea offers three courses: Old Blue, Emerald and Gold, to go along with protected swimming beaches, an upscale shopping center and world-class accommodations, including the Fairmont Kea Lani, where a recent multi-million-dollar renovation to every guest room, suite and villa has made this the "go-to" destination of 2012.

The golf courses at Wailea embody the best of both classic and new designs. The Gold and Emerald are shining examples of contemporary resort architecture by Robert Trent Jones II. Immaculate in conditioning and strategic in play, Jones calls the Gold a "television course" in reference to the televised Skins Games that have been played on its fairways. The Emerald is equally scenic, with views out to the Pacific from every hole.

In the clubhouse at the Gold & Emerald courses is the remarkable Gannon's - a Pacific view restaurant, where freshly caught seafood is always on the menu along with farm-to-table dishes from Maui's fertile fields.

The Blue Course, meanwhile, is a locals' favorite, who enjoy its wide fairways, sunny climate and friendly staff. "The Old Blue continues to be a favorite of our local residents and visitors alike because it really is a course for everyone," says general manager Barry Helle, who has been at Wailea for more than 20 years and knows the golf courses there as well as anyone.
"The wide fairways are forgiving for high-handicappers and the nature of its design still gives the low-handicapper a good, fair challenge. The Old Blue has a special charm that everyone can appreciate."

In fact, Wailea and Maui have a special charm that everyone can appreciate, even, if begrudgingly, my poor friend on his way to frigid Omaha.
Award-winning publisher, editor, writer and photographer George Fuller has been covering golf travel and lifestyle for more than 30 years. From 1992 to 1997 he was editor of LINKS-The Best of Golf, based in Hilton Head, S.C. In 2005, after having spent several years in the Pacific starting two magazines for Continental Micronesia Airlines and writing two books, Fuller launched GOLF LIVING Magazine for the Los Angeles Times, a "super-regional" magazine of travel, real estate and the lifestyle surrounding the game of golf. In 2009, he helped redesign and re-launch TEXAS GOLFER, a magazine with 25 years of history in the Lone Star State. Most recently, Fuller partnered with Troon Golf to launch TROON GOLF & TRAVEL, a monthly eMagazine with an annual print component. In addition, Fuller's newspapers and magazines credits include TIME, Wall Street Journal, San Francisco Chronicle, The Los Angeles Times, Robb Report, Coastal Living, Palm Springs Life, Estates West, GOLF Magazine, Golf Digest, Travel & Leisure Golf, LINKS, Successful Meetings, Honolulu and many others. He has reported for Reuters, United Press International (UPI), written for Copley News Service and is a regular on-line travel correspondent for Cybergolf. Based in Pacific Palisades, Calif., he can be contacted at gfuller@earthlink.net or 310/245-9550.