Harbottle Keeping Busy out West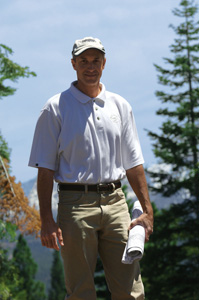 Tacoma, Wash.-based golf course architect John Harbottle, ASGCA, has several projects underway in the western part of the U.S. Here's a look at them.
New Projects under Construction

Palouse Ridge in Pullman, Wash., is a new daily-fee course being built for Washington State University with donated funds. Stretching over 7,300 yards from the tips, the course, say hopeful school officials, may eventually host Pac-10 and NCAA Championships. The Harbottle design is being built by Oliphant Golf Construction. Work on the layout should be completed this fall with it opening for play in 2008.
Timilick Tahoe in Truckee, Calif., is situated between the North Star and Squaw Valley ski areas. The course, now under construction within a new gated residential community, is a co-design of Harbottle and PGA Tour Hall of Famer Johnny Miller. The 7,000-yard course occupies gently rolling, wooded terrain, and will be accented with rock outcroppings and water features. It is being built by Wadsworth Golf Construction and is scheduled to open next summer.
Renovations

A $3.5 million renovation of the Country Club at Salt Lake (Utah) is almost finished. Harbottle's task was to restore the character of this early American classic, including the realignment of a creek through three holes. The work, being handled by Earth Sculptures, will be completed this fall, with an opening next spring.
A $2 million renovation is underway at Canterwood Country Club in Gig Harbor, Wash. Harbottle's plan, now being implemented by Ridgetop Inc., involves upgrades to the bunkers and tees. The project should be concluded later this fall.
Courses Breaking Ground

A restoration of the Park Meadows Country Club in Park City, Utah, will commence in June. The $7 million renovation of the Jack Nicklaus design involves a reconstruction of the greens, tees, water features, and irrigation system, as well as the installation of an extensive fairway drainage system. The project will be handled by Oliphant Golf Construction, with the course ready for play in 2008.
A $5.6 million renovation of Marin Country Club in Novato, Calif., will break ground in May. This renovation by Harbottle involves rebuilding all the greens, tees, bunkers, water features, and irrigation system, as well as extensive drainage upgrades and a re-grassing of the fairways and roughs. The work by Landscapes Unlimited is slated for completion this fall, with the course reopening next spring.
Harbottle continues to oversee a remodel of the historic Waverley Country Club in Portland, Ore. The project involves restoring the original bunkers co-designed by Chandler Egan and Arthur Vernon Macan. The renovation, performed by Ridgetop, Inc., will resume this fall.
Oswego Lake Country Club in Lake Oswego, Ore., has completed a master plan for the refurbishment of this Chandler Egan design. Construction on the tees, bunkers and fairway drainage will begin in the fall.
Projects in Active Planning

Quigley Canyon in Hailey, Idaho, is a proposed new golf course development that has been recently purchased by Greenfield Partners. Harbottle is now finalizing his design for the mountain community's golf course, located minutes from the Hailey Airport and Sun Valley. The course will be surrounded by mountains and occupy gently sloping land with Quigley Creek meandering through several holes. Work on the course is slated to start in 2009.

A huge new development in Bonney Lake, Wash., Cascadia, will feature three golf courses and a residential/resort community. The project is being developed by Patrick Kuo and Cascadia Development Corporation. Harbottle's design of the initial 7,300-yard layout will be a core course with housing nestled into the second growth forest surrounding it. Plans and permitting are scheduled for completion in 2007, with construction to start in 2008.

For additional information on any of these projects, contact John Harbottle Design at 253/582-8058, or visit www.harbottledesign.com.