Harris Golf Acquires Ross-designed Penobscot Valley CC
Harris Golf, the Maine-based course developer, contractor and operator, has completed their purchase of Penobscot Valley Country Club in Orono, Me. With its acquisition of the course, the company plans to reverse membership losses, correct the club's finances and restore a Donald Ross routing that has sat virtually untouched since the famous Scot finished his work here in 1923.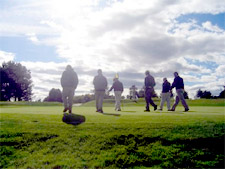 The membership at Penobscot Valley Country Club numbers some 250, down from as many as 400 in the late 1990s. The remaining members voted 153-10 on October 26, to sell the club to Harris Golf for $3 million, with a promise that Harris Golf would spend another $500,000 on refurbishing the golf course.
"We will spend at least that much, because Penobscot Valley isn't merely one of the great old clubs in Maine - it's a Donald Ross design that hasn't been tampered with," said Jeff Harris, president of Harris Golf. "We have Ross' original as-built plans; they are detailed and mighty revealing. It's amazing how much the greens have shrunk over the years, how narrow the fairways have become. It's pretty simple: We're going to put it all back the way it was. We see this as an opportunity and privilege."
Harris Golf has made a name for itself in the Northeast by successfully developing, building, managing and sometimes rescuing golf projects at a time when the rest of the golf economy has slackened. Harris is the developer, builder and operator of Sunday River Golf Club in Newry, Me., a Robert Trent Jones II design that sat on the drawing board for 10 years before Harris Golf revived it. Sunday River was named among the top new courses for 2006 by Golf Digest and Travel+Leisure Golf magazines. In June 2008, Harris will christen Old Marsh Country Club, an 18-hole resort course and real-estate community in Wells, Me. Architect Brian Silva designed Old Marsh; Harris built the course and will manage the semiprivate club. Harris Golf also owns Boothbay Country Club, a venerable resort facility that made the transition to a private club this past summer.
It was the leadership of Penobscot Valley Country Club (PVCC) that approached Harris Golf this fall about assuming ownership of its semiprivate club, which had struggled to make ends meet since construction of a sizeable clubhouse in 2001. As cash flow waned conditions on the golf course deteriorated and members fell away.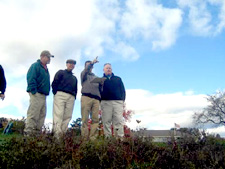 "The Board of Governors felt that in order to preserve [the club], we needed help," club president Paul Rudman told the Bangor Daily News. "We sought a guarantee that for 15 years it would remain a semiprivate golf club and that it would have the financial support it needs . . . Harris Golf has the skill, knowledge and [financial] capacity to do what we could not."
In the short term, Harris Golf has immediately restructured memberships at PVCC, waiving initiation fees for past, current and new members "until we're full," Harris explained, adding that the new membership target is 350. Annual fees have been reduced, in some cases by nearly half; individual memberships have gone from $2,772 to $1,500. For a couple (a designation PVCC didn't have until now), memberships are $2,250; family memberships are $2,750. Monthly food and beverage minimums have also been removed.
On the course itself, the former superintendent was immediately relieved of his duties. He was replaced on an interim basis by Clayton Longfellow, Harris Golf's chief of development and construction, fresh off the grow-in of Old Marsh CC. "We felt it was vital that Clayton take over immediately, so the course could be 'put to bed' properly for the winter, no matter the cost," Harris said. "Clayton's from northern Maine, Machias to be exact. He knows the climate up here and how a course should be prepped for winter."
"When the spring comes," Longfellow explained, "we want to begin the season as strongly as possible. To that end, we're working now on slicing and seeding the tee boxes, then aerating them. From there, we'll move on to aerating the fairways and greens. Next we'll treat all of the greens to prevent snow-mold over the winter and prevent other winter-related damage. Finally, we'll do a dormant seed-and-feed, which will really bring the turf to life when things warm up next year."
For the longer term, the team at Harris Golf is positively giddy about the prospect of restoring a Donald Ross design known to golf cognoscenti across Maine as "Penobby." Save for the renovation of a dozen bunkers on six holes in the late 1990s, the course has essentially gone untouched since "The Original Donald" directed the construction of PVCC in 1923.

"Ross didn't personally supervise construction of all his designs, far from it, but we're quite sure Ross was here, on-site, which makes his plans even more valuable as a guide," Harris said. "The fact that no one has tinkered with that design is something of a double-edged sword. It's a good thing because very little has been altered - by another architect or some green committee from the 1960s with questionable design ideas. Short of some tree planting and the shrunken greens, there's very little to be undone, in other words.

"On the other hand, 80-plus years of natural erosion and sometimes short-sighted maintenance/mowing practices have changed the golf course considerably. Thirty-one bunkers have disappeared. The fairways have been narrowed. The current greens are just a bunch of big circles. It's amazing to see what these things look like on Ross' own plans: enormous greens, some square-shaped and with some of the neatest contours I've ever seen. On average they are 50 percent bigger than what's there now."

Harris Golf, which built Sunday River, Old Marsh and a 15-hole extension/rebuild of Boothbay, will direct the restoration effort at Penobscot Valley. This will include bunker renovation and the recapturing of PVCC's original green footprints, in addition to the aggressive aerification, topdressing and overseeding, and the gradual lowering of the mowing heights that transition these areas from chipping areas to putting surfaces.

For more information about Penobscot Valley Country Club or any Harris Golf project, contact call 207/442-8725 or visit www.harrisgolfonline.com.