Harris Golf Answers the Call at another Maine Club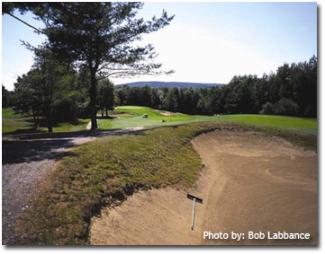 Harris Golf, the Bath, Maine-based course developer and club operator, has acquired Wilson Lake Country Club in Wilton, thereby rescuing another classic-but-distressed Maine golf club from the uncertainties of receivership.
The Board of Directors at Wilson Lake Country Club had for several years faced the prospect of dwindling revenues and growing debt. Board chair Alan Morison summed it up best: "Our expenses are much more than our income," he said prior to the sale. "We can't afford to keep it going."
The recent financial turmoil rendered Wilson Lake's situation even more dire, and so the Board voted February 1 to approve the club's sale to Harris Golf for $249,500. Harris Golf has entered into a purchase and sale agreement and will assume ownership sometime in mid-March, according to Harris Golf Vice President Jason Harris.
"The way we do business, we really consider ownership as a form of stewardship," Harris explained. "We'll operate the club as a semi-private facility, servicing both the members and the public. We're going to return the club to the original vision of [course architect] Wayne Stiles via a low-key form of restoration."
"That said, we recognize Wilson Lake as perhaps the finest nine-hole course in the state of Maine. It's a great track with a great history and membership that cares about the club - and we know exactly where they're coming from. We're a golf company and Maine is our home. We weren't about to let a club like this just go away. We want to see Wilson Lake prosper for many years."
Harris noted that Wilson Lake's story follows that of another Harris Golf holding, Donald Ross-designed Penobscot Valley Country Club in Orono. PVCC had fallen on hard financial times, too, in 2007. Harris Golf purchased the club in November 2007; one full golf season later, the course has undergone a massive restoration and membership has nearly doubled.
Wilson Lake Country Club has been entertaining golfers in the Western Maine Mountains since it opened for play on Aug. 6, 1932. The great Patty Berg held the women's course record for many years, thanks to an exhibition she played there in 1946 - one of many Wilson Lake has hosted over the years.

Open to the public for 75 years, the club has long cultivated a sort of cult following among Maine golf aficionados. It was laid out by architect Wayne Stiles, who designed courses all over the East Coast - at feted venues like Taconic in Williamstown, Mass., at Thorny Lea, Marshfield and Woodland outside Boston. But Stiles produced some of his best work right here in Maine: North Haven. Boothbay. Augusta. And Prout's Neck.

Stiles worked his entire career in the shadow of his contemporary, Donald Ross, but his designs have enjoyed their own revival of late - in 2008, authors Bob Labbance and Kevin Mendik published "The Life and Times of Wayne Stiles," an extraordinary full-length biography and course catalogue. In it, they confirm Harris' assertion that Wilson Lake stands among Stiles' finest work, adding that the Wilton track is "one of the best conditioned nine-hole courses in the Stiles portfolio."
Wilson Lake is located just south of Farmington and west of Augusta-Waterville. Labbance and Mendik conclude their chapter on Wilson Lake CC with this advice: "Don't miss this sweetheart." (For more about Stiles' work and this book, visit www.waynestilessociety.com.)  

Penobscot Valley's story best recalls that of Wilson Lake. Harris Golf has the same goals for its latest acquisition: expand the membership and increase play by providing a better on-course experience. "We can make these things happen at Wilson Lake because of our experience. We're a family business and operating golf clubs is what we do, and have done for 40 years," Harris asserted.

Although Harris Golf has undertaken nine-hole to 18-hole expansion projects in the past, Harris indicated there are no plans to expand Wilson Lake to 18 holes. "Wilson Lake is a great nine-hole facility and it will stay that way. It was profitable for most of its 75 years as a nine-hole course, and it will be again."
About Harris Golf

Harris Golf (www.harrisgolfonline.com) is one of New England's premier course management, development and construction companies. The family-owned firm operates award-winning Sunday River Golf Club in Newry, Penobscot Valley CC, Freeport Country Club adjacent to world famous L.L. Bean, and Old Marsh Country Club, newly opened this past summer in Wells.

Sunday River and Old Marsh were most recently in the news: In September, SRGC was named to Golf Magazine's national list of "Top 100 Courses You Can Play", while, in December, Golf tapped Old Marsh as one of the top 10 new courses to open nationwide in 2008.