Have Sand . . . Got Camel
By: Elisa Gaudet
Tunisia might be the hottest new golf destination, and we are not just talking temperatures. If you want a location with a bit of adventure, history and exotic allure Tunisia is your place. With 10 varied courses and ideal weather conditions you will be most impressed with the quality and diversity of the golf.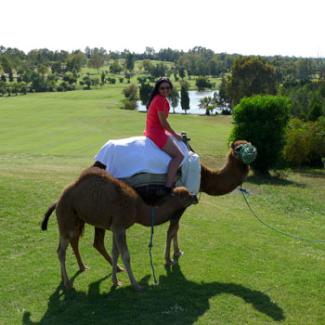 Shakira & Elisa
Tunisia has a history with golf including hosting the Tunisian Open, part of the European Tour's official schedule from 1982 to 1985. The country was the European Tour's first venture outside Europe. The Tunisian Seniors Open was also hosted at Port El Kantaoui GC in 2001.

Within two hours of the Tunis airport you have four great courses. Kantaoui Golf Club - The Sea Course - borders the Mediterranean and features wonderful vistas. It's located within walking distance of the Port El Kantaoui Marina.

Citrus Golf Club - Le Foret (The Forest Course) - is a hilly layout with narrow tree-lined fairways and well-bunkered greens, so have your sand wedge in good working order. The Residence Golf Club, a Robert Trent Jones II design, is Tunisia's newest track. It's located in a beautiful natural reserve with an abundance of birds and wildlife and is adjacent to the luxurious Residence hotel.
My personal favorite is Yasmine Golf Club, which boasts elevated tees, multi-tiered greens and spectacular views. The management here went above and beyond by indulging my desire to ride a camel before I left Tunisia. They brought an adult named "Shakira" and a baby to the 18th green, where I rode Shakira, wedge in hand, down the 18th fairway. Given my propensity to find sand on any course it seemed very appropriate.
After a well-deserved cold Celtia, the beer made in Tunisia, Shakira was waiting for me by the terrace outside the 19th hole overlooking the course.
Tunisia has eight UNESCO World Heritage Sites, including Carthage. Founded in 814 B.C., this was the home of an extraordinary civilization and trading empire that worked throughout the Mediterranean region. In 146 B.C., the original Carthage was destroyed by the Romans who established a second city, Roman Carthage, on the ruins. You can visit these sites and so many more.
One place I am sure to visit on my next trip is on the southwest part of Tunisia. Located in the palm oasis of Tozeur, Tozeur Oasis Golf Course is a truly unique 18-hole layout on the edge of the Sahara Desert. Film fans will love that "Star Wars Episode I: The Phantom Menace" was filmed in Chott el Gharsa and Tozeur, also a location used in "The English Patient."
This trip far exceeded my expectations. Even better than the great golf is a collection of memorable experiences. Viva Shakira!
Elisa Gaudet brings a wealth of entertainment and golf experience to Cybergolf. Elisa has spent the past several years in the golf industry in the U.S., Latin America and Spain. She worked for the PGA Tour and the Tour de las Americas before founding Executive Golf International, a golf marketing company that works with clients to develop strategies using golf as the medium. Often referred to as the Maria Bartiromo (a business analyst for CNBC) of golf, Elisa says: "Golf, as a marketing tool, has been around for years. It's amazing how many new ways companies can align their brand with the golf market to reach their target audience. Our goal is to create alliances and establish cross-border relations." Elisa also worked in the entertainment industry for over 10 years, including five in Los Angeles as a model and actress. She can be seen at many celebrity golf events and often gets the inside scoop from PGA Tour players. In 2011, Elisa published her first book, "Two Good Rounds" (Skyhorse Publishing). Her story for Cybergolf, "Golf a Romantic Affair at Cabin Bluff," won the top prize in ING's 2012 Travel Writing category. For more information about Elisa, visit her websites at www.onthelip.com or Executive Golf International www.execgolfintl.com.