Hazeltine National: It's Gonna be a Long Week at the PGA Championship
By: Jay Flemma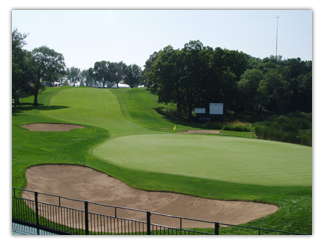 Looking up the 10th Fairway at Hazeltine
Cybergolf's Jay Flemma is in Chaska, Minn., this week for the 91st PGA Championship at Hazeltine National Golf Club. This is the first in a series of articles from Jay at the final major championship of the year.
People who dislike me will love today's piece because during my morning jog I ran face-first into a fruit stand.
I'm staying at my friend Julie's house in a charming small town outside of the Twin Cities and, while out for a run, happened to pass one of the countless storefronts selling the bountiful harvest of the area's fragrant orchards. A hand-painted sign on the sidewalk caught my eye - "Honeydew! $1.50!" - and as I looked to my left, a local with a friendly smile raised one melon enticingly in each hand, as if to say, "Come on in, we got plenty!" I veered a little to my left to wave back: too much because two steps later - WHAM! With an Almighty Crash I clobbered a five-foot display at full speed, and when the dust settled, there I was, ass-over-teakettle, covered in confusion . . . not to mention apricots.

"After your Hazeltine preview, Rees and Bob Jones must be engaging in a little schadenfreude at the thought of you flat on your back and seeing stars, peach nectar dripping from your bony arms," remarked one of my friends, an ardent fan of the Jones family's golf designs.

"Actually not," I corrected him. Rees and Bob always respect professionalism in any writer and, as creators of art themselves, are always gracefully deferential to a dissenting opinion, so long as it is fair and reasonable, and I was heartened when both spoke with me as cheerfully today about Hazeltine as they did before the article came out.

So I have no fear in telling you that, regarding my preview (see http://www.cybergolf.com/golf_news/the_2009_pga_championship_hazardous_hazeltine_wont_dampen_minnesotas_legendary_passion_for_golf), upon further review, the play stands as called: Hazeltine is merely pretty good, but not truly great. I know that for every major championship it's polite and politically correct to genuflect on the greatness of a venue, even a pedestrian one like Medinah, but I do no one any good if - from time to time - I don't issue a truthful analysis in the form of a minority report. Now that I have seen Hazeltine National first-hand, walked it stem-to-stern, and then backwards in its entirety, I stand by what I heard from other writers, read in myriad articles, and wrote last week: It's clear that Hazeltine needs to rely on penal architecture and unbelievable length for its defense.
"It's long," declared Germany's Martin Kaymer. "It may be the longest course I've ever played. I'm hitting woods into greens on the par-4s and the greens are very small, especially for this length," he admitted with some concern. "Not only is it really long clubs to very small greens, but you must hit the fairways, because it's too long to hit the greens out of the rough. The stretch on the back of 12, 13, and 15 is going to be tough."

No. 12 is a 520-yard par-4, 13 is a 247-yard par-3, and 15 is a 652-yard par-5. They are, respectively, the longest par-4, par-3 and par-5 in major championship history.

"They added some huge length to a few of the holes," agreed 2003 U.S. Open champion Jim Furyk. "If it were really wet and they tipped it out, it could be a problem for the medium- to short-length hitter," he added dryly. When the normally affable and phlegmatic Furyk is critical, even though the criticisms are delivered mildly, you know the remarks have merit.

"That's the fad today," he continued, "longer, longer, longer is supposedly better. That being said, I think the best hole on the course is the second [one of] the shortest holes on the course. Longer doesn't necessarily make it better."

Furyk added that tournament set-up committees probably couldn't make courses too long for Tiger Woods, Phil Mickelson, Vijay Singh or Bubba Watson, the longest of the long hitters on tour. If he's right, then long hitters, especially Woods, have a prohibitive advantage this week. He hits it long and high, and he loves flat, fast greens.

Still, even Woods commented about the length of some holes. "12 is over 500 yards. I absolutely roasted a driver down there today and had to hit a full 3-iron in there," he muttered sourly. "And 13 is a full 5-wood for me."

Even Rich Beem, the 2002 PGA champion who won here was astounded by the changes to the course. "I think Mr. Jones went to every tee box and looked down every fairway, and turned 180 degrees and just started walking. This thing is long, and it's nowhere near the same golf course that it was," he stammered. "We're going to have a healthy test out there with our long irons."

Thank goodness the rough is short and thin. Drought conditions prevented a repeat of the Oakland Hills shaggy jungle from last year, so machismo and brute strength are rewarded here rather than cunning play. "The rough is playable this week," said an excited Nick Dougherty, the Englishman who led the U.S. Open after one round in 2007 at Oakmont. "The length will get you and you need to be straight to make birdies, but you can recover on these greens."

That's the game plan and mantra for the week: Hit it long and straight, but with flat greens, the adventure ends upon reaching the putting surface. "I'm not afraid to be above the hole here," said Matt Kuchar. "The greens are not as tough as Oakmont, Winged Foot or Oakland hills. They don't have as much undulation."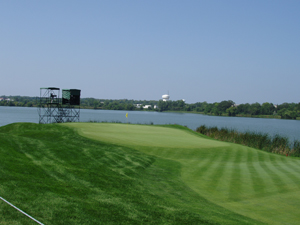 The 16th Green at Hazeltine
Still, the course won't be a pushover. When the starter's gun fires on Thursday, fast and firm conditions - which are used to increase options on links course so the ground game can be employed - actually suppress scoring on a penal course since balls slither into the rough, into one of the 109 bunkers, behind one of the ubiquitous, ash, fir, oak or maple trees, or into one of the water hazards that lurk on nine different holes. On a penal course such as this, accuracy may prove a great equalizer against a long bomber such as an Angel Cabrera, who overpowered Oakmont on Championship Sunday in 2007, firing a 69 while hitting only five fairways, and who could do the same here in Chaska. His length and that of the other long bombers hitting higher lofted clubs into the shorter holes will possibly increasing their advantage over 72 holes.

Even Lake Hazeltine underwhelms. At high noon, the murky currents glow a strange shade of electric green and in the evenings, fade to a dull grayish blue. Only two holes are routed on the lakefront. The 10th fairway cascades dramatically down to the water, but 16 occupies the rest of the shoreline. Perhaps if the course were routed so three or perhaps even four greens were set there, it would be a more interesting use of that corner of the property - like Bandon Dunes did in setting more greens by the ocean, rather than losing the entire section of the property to one hole.

Nevertheless, Minnesota's legendary golf fans were politely boisterous and supportive. Tuesday was the most crowded I've ever seen a practice round since Pinehurst in 2005. Patrons were packed six to seven deep for Sergio Garcia and Retief Goosen. The practice range was a sea of young kids and their families, all getting in one last bit of repose before the looming specter of school shook them rudely from summer's reverie. These good people could make friends at an IRS audit with their stout hearts and warm souls. They could care less about Hazeltine being too this or too that to some scribbler or some rich flounder of an athlete who can't be two steps away form his caviar, masseuse and sports psychiatrist without going through withdrawal.
These people think of Hazeltine the same way my friend Bill thinks about his home course. "We are the girl you fall in love with, slowly, over time, a type that you never get tired of admiring for her restrained beauty, her subtle charm and for never letting you think more of yourself than you deserve."
Nicely put, Bill; what a nice sentiment to leave you all with as you take your toast and tea. And hey: If need some jam to go along with that, Minnesota is particularly well known for its fruit. Take my word for it, the apricots are especially good. I know from personal experience.


Since launching his first golf writing website in 2004, http://www.jayflemma.thegolfspace.com, Jay Flemma's comparative analysis of golf designs and knowledge of golf course architecture and golf travel have garnered wide industry respect. In researching his book on America's great public golf courses (and whether they're worth the money), Jay, an associate editor of Cybergolf, has played over 220 nationally ranked public golf courses in 37 different states. Jay has played about 1,649,000 yards of golf - or roughly 938 miles. His pieces on travel and architecture appear in Golf Observer (www.golfobserver.com), Cybergolf and other print magazines. When not researching golf courses for design, value and excitement, Jay is an entertainment, copyright, Internet and trademark lawyer and an Entertainment and Internet Law professor in Manhattan. His clients have been nominated for Grammy and Emmy awards, won a Sundance Film Festival Best Director award, performed on stage and screen, and designed pop art for museums and collectors. Jay lives in Forest Hills, N.Y., and is fiercely loyal to his alma maters, Deerfield Academy in Massachusetts and Trinity College in Connecticut.