Head Pro Spotlight - Bill Safrin
By: Joel Zuckerman
Contrary to popular belief, particularly among his younger charges, Bill Safrin was not the host pro the last time the U.S. Open was conducted at the delightfully anachronistic, curiously named Myopia Hunt Club, on Boston's North Shore. That final of the four U.S. Opens held there was contested more than a century past, in 1908. Safrin hasn't been there quite that long, it just seems that way.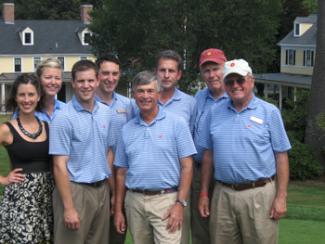 Bill Safrin & His Staff at Myopia
There are many atypical twists to this Pennsylvanian's tale. It's the rare golf pro who spends time in the Ivy League, was raised in a single-parent household by his father in the 1950s, or whose pro shop once served double duty as his bedroom. But despite these unusual circumstances, here's what truly sets Safrin apart: His long, fruitful association with one of the coolest, most revered, littlest-known, peculiar-but-prestigious private golf clubs this nation has ever produced: Myopia Hunt Club.

It was founded in 1875 by the four sons of the mayor of Boston. The Prince Brothers were Harvard baseball players who were nearsighted and wore glasses. With equal parts whimsy and accuracy, they named their sporting association the Myopia Club, with baseball and sailing among the club's primary activities. But with hunting becoming increasingly popular, the club needed far more acreage than the suburban Boston town of Winchester could offer. So they relocated some 30 miles north of the city to the current site amidst the pastoral farmlands of Hamilton, Mass., and in 1882 renamed themselves the Myopia Hunt Club.

Now, more than 130 years later, it still feels as though one arrives to the first tee via a time machine. This eccentric gem of a golf course features blind shots, bizarre hills, tawny, waving fescues, narrow footpaths, gargantuan par-3s and single-file fairways. It's no surprise that the three highest 72-hole scores that actually won the U.S. Open took place at Myopia.

The classic New England, clapboard-style clubhouse was originally a farmhouse, dating from 1772 and built by a Revolutionary War colonel named Abraham Dodge. Also on property is Gibney Field, the oldest active polo field in America. The club's brick maintenance building is one of the original "court tennis" (sometimes referred to as "real tennis" or "royal tennis") buildings in America. Suffice it to say that the rare combination of antiquity, pedigree and quality make the Myopia Hunt Club an entity unto itself.

Bill Safrin and his bride Kathy rolled down the club's long, rough-hewn driveway in the spring of 1980. It was his first day on the job, the first day of the spring season, and the first time the pro had ever laid eyes on the place.
"I had attempted to visit the club prior to my interview in downtown Boston a month or so earlier," recalls Safrin, like the club's original founders, an Ivy League baseball player, in his case at the University of Pennsylvania. "The traffic on Route 128 was snarled, and I realized I had to turn around if I was going to be on time for the interview downtown. So I never saw the club until the day I took over."

It's just as well. Perhaps the daunting prospect of all the work needed to get his new fiefdom up to snuff might have scared him away. Except that hard work has never scared the Philadelphia native.

"I was always self-supporting," explains the soft-spoken pro. "My mother was never in the picture, and my dad, who worked as a professional fundraiser, didn't make much money. So my siblings and I learned early on that we would need to work hard and earn our own way for whatever we wanted in life. Growing up without a mother wasn't ideal, but it taught me independence, and I've been making my own way since boyhood. Due to necessity, I had to develop a very strong work ethic from a young age."

Enrolled at the Wharton School of Business, he realized partway through his undergraduate work he wanted to pursue a career in sports. His education was also interrupted by the Vietnam War. Safrin became a medic during his military service, and when he eventually continued his education he graduated from Temple University in Philadelphia.

"My dad had moved to Dallas for a time, which is where I was stationed temporarily as a medic. He belonged to a 54-hole golf facility called Brookhaven, and when I was in my early 20s I started playing almost every day, as much as possible. Within a few months I had worked my way down to a 3-handicap. It was then I decided to focus on a career in golf."

Eventually back in Philly, Safrin worked full time in a machine shop as he completed his undergraduate work. With diploma in hand he decided to get into the golf business, and used the same technique that has served Fuller Brush salesmen for generations - he went door-to-door. "I had no PGA accreditation, but was hungry to get in the business, and would have worked for just room and board, no salary, if necessary."

His future, which would prove to be in the world of very private, very high-class clubs, was portended from the get-go. His first job was at Gulph Mills Golf Club, considered at the time to have a membership consisting of the crème de la crème of Philadelphia's high society. "The head pro was Willie Scholl, who became my first mentor in golf," recalls Safrin. "He asked me what my salary requirements were, and I told them I had none, I just wanted a job. He told me I sounded perfect!"

After learning the ropes during his first full season, Safrin spent that winter watching the shop (and, unbeknownst to the membership, sleeping on the pro shop floor to save rent) while his boss repaired to Florida to play mini-tours. But the second winter he went to work at another bastion of the aristocracy, the Gasparilla Inn Golf Club, south of Sarasota, Fla. "It was the Gulf Coast equivalent of Palm Beach, but not as showy or as formal," recalls Safrin. "In Boca Grande, where Gasparilla was located, the people were just as wealthy and powerful, but it was low-key, the atmosphere was more relaxed."
Gasparilla and Gulph Mills had plenty of commonality, and it was here that the fledgling pro first heard of Myopia Hunt Club, which also had a fair amount of representation at this western Florida enclave. "It was there I got my first taste of the incredible power of networking," offers Safrin. "I got the Florida job because my boss in Philadelphia recommended me to his friend Bob Kinard, the head pro at Gasparilla. I also quickly realized that I would never have had the exposure to the types of successful, connected and powerful people I was meeting in both Philly and Florida if I hadn't gotten into the golf business."

Over four years at Gulph Mills and two winter seasons at Gasparilla, the up-and-coming pro learned that while discriminating memberships such as these might not warm up to the 'new guy' right away, over time and with a first-rate performance, a mutual trust and affection will eventually develop between the professional and the club members.

Kinard turned down an offer to become Myopia's head professional, in part because he had little interest in building a junior program from scratch. Although he cautioned his young assistant that Myopia would consider him 'tainted' because he worked for the man who spurned their offer, Safrin pursued his first head job with vigor. One of his great advocates was Herbert Jaques III, whose father and grandfather both served as USGA presidents. He was a member of both Myopia and Gasparilla, and told Safrin that though the search committee was comprised of Myopia's "next generation" of members, and were in the process of interviewing some 60 candidates for the position, he would put in a good word.

Safrin was remiss to leave the Gulph Mills family. His wife Kathy, though a schoolteacher by profession, had been moonlighting as a waitress there intermittently for a decade. Her mother Bernadette had been the bookkeeper for 25 years. This 'clubhouse romance' begat a wedding attended by dozens of Gulph Mills members, and no one would have figured that in a few short months the newlyweds would be irrevocably Boston-bound.
It's a wonder they didn't turn around upon arrival, and hightail it back to Philadelphia. They found the pro shop a few hundred yards straight uphill from the clubhouse proper, and Safrin wasn't sure if he was in his new office and retail domain, or if he had inadvertently wandered into the caddie shack.

"It was small, grimy, with cement floors, fly strips everywhere, and virtually no merchandise. One of the powers-that-be told me not to worry; nobody makes the trek up to the pro shop anyway, so it didn't really matter!"

There was no real driving range. Helmeted caddies, often squinting into the sun, stood in the 17th fairway shagging range balls hit by members outside the pro shop door. Safrin reminisces about a golf culture that was almost nonexistent some 35 years ago.

"Tennis was far more popular than golf when I arrived. We did $5,000 in pro shop sales that first year, only played 4,500 rounds of golf, had a season that began in mid-May and ended after Labor Day, even though our weather is conducive for a season three times that long. We didn't have to open the pro shop until 9 a.m. on weekends, because nobody showed up until then. When we began in 1980 this was more of a hunting club and polo club than a golf club. The membership was slowly skewing younger, and with our enthusiasm and energies, we began to build the golf program."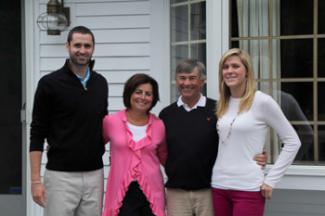 The Safrin Family
"We were in the process of shifting our club's culture somewhat when Bill came onboard," begins Fred Moseley, who was the first incoming president of the club during Safrin's tenure as head professional, taking the reins a couple of years after the pro's arrival. Despite his amazing longevity, Safrin is just a Billy-Come-Lately in comparison to the distinguished Mr. Moseley, who became a member at Myopia more than 20 years before Safrin came aboard as head pro.

"The club was slowly starting to change from an emphasis on being a gentlemen's golf and riding club to a club that was more user-friendly and family-oriented. In my opinion, Bill was the right man for the job, as we began to be more open and inclusive," continues Moseley, who is also a longtime member of Augusta National.

"The women loved him, the kids gravitated towards him, and he was a key component as Myopia became a more fully-faceted club. He's very personable and considerate, an astute businessman and an excellent instructor. I've been around golf and fine clubs for many decades, and while there are likely better instructors out there, and probably better merchandisers, in sum total I have never been around a golf professional who fully encompasses the spectrum of the position any better than Bill Safrin."

His total compensation in Year One was less than he made as an assistant pro at Gulph Mills. "But I knew it was a great opportunity regardless. The club had so much potential. We needed more members, enthusiastic members, and golf-lovers. I thought then and am convinced now this could and would become the finest job in the nation."

It was an uphill battle for years, and not just the walk to the pro shop.

Early on, as his salary crept up imperceptibly, he became aware that some colleagues around the North Shore were making three times what he was. He mentioned as much to the club president, who told him, "while I'm in charge, no golf professional here will ever make as much as $30,000."
Despite his fiscal predicament, Safrin persevered, and soon enough began to thrive. The years rolled by, Bill and Kathy's family grew, they established deep roots in the area, and business increased dramatically. His pro shop eventually generated 100 times the revenue it did initially, thanks in great part to the unique fox-and-horn club logo he commissioned an artist to create. Lesson revenue cracked six figures. The golf season tripled in length, to about nine months, and rounds tripled commensurately. He bought acreage adjacent to the club, with views of the polo fields, and built a home.

Escaping the stark New England winters, Safrin and wife Kathy made a beeline for Florida for seven consecutive winters before children Will and Katey came along, usually to Vero Beach. He was, depending on the year and the situation, a real estate agent, a membership director at a high-end country club, and a director of golf. "Beautiful as it is north of Boston from spring through autumn I've always liked the warmer weather. It's also easier for me to stay active down south, as Myopia is extremely quiet over the winter months."

Safrin has enjoyed long-term contracts that are practically unprecedented in golf. He went from a one-year deal initially to a two-year deal, then a mammoth 15-year deal, followed by eight more, and now eight more. "The club has always thrived on continuity. Presidents hold the position as long as they'd like, the golf chairmen have long tenures, and we've always agreed that this was where we wanted to be. Kathy has been running a play group for 3-year-olds for 30 years. Kids she had in the group during those early years now bring their own kids to the group!"

Safrin replaced another 30-year man, John Thoren, but only after a couple of interim years when the club really waned. "The timing was excellent," offers the former New England Section PGA Professional of the Year. "I was ambitious and hardworking, and the club was truly at a low point when I arrived. We both managed to thrive and grow simultaneously."

It's more than just his work ethic that sets him apart, according to Moseley. "Bill is a perfect gentleman, with the highest ethical standards, and these qualities go way above and beyond his skills as a golf professional," offers the former investment banker. "At the same time, he is great fun to be around, an outstanding individual, and because we have traveled together many times, including overseas jaunts on several occasions, I can also add that he is a fantastic companion."
After a 20-year hiatus from heading south in winter, to give the children stability and continuity while they grew up, once he and Kathy became empty-nesters Safrin took another winter job at the ultra-posh Naples National Golf Club in 2010, with its impressive Hurdzan-Fry-designed golf course.

It was full circle for the 60-something Safrin. It was the Myopia connections he had made all those years ago at Gasparilla that lead him up to Massachusetts, and here again, it was Myopia member and Naples National Ladies Golf chairman Mary Jo Bovich who enticed him to southwest Florida.

The differences between his clubs are stark: One is ancient, understated, multigenerational, with deep New England (and specifically Harvard) roots, peopled by members in traditional professional disciplines.

The other is new, grand in scope, luxurious, with many entrepreneurial-oriented members who created their own fortunes, many of whom call either the Midwest or the Northeast home. "Driving in my first day on the job I was struck by how meticulous the grounds are," relates Safrin. "Not a blade of grass out of place. The Italian Renaissance clubhouse is magnificent, well-appointed, but not overdone. The course is exceptional, but so is everything else; the valets, the caddies, the locker room, the practice facility, the food is amazing, it's considered the best in town, and Naples is known for its exceptional cuisine."

His clubs are 1,500 miles apart and are different in so many ways, but the golf pro focuses on their respective similarities. "The common denominator is that everyone is there to enjoy their golf experience and have a good time. If my staff maintains their enthusiasm and passion for the job, and all of us together continue to make the members happy, and ensure they take pleasure in coming to their club, then we are doing our jobs properly.
"Naples National is extraordinary, and I love my affiliation there. But there are a number of reasons as to why I consider Myopia the best job in the country," concludes the four-time winner of the PGA of America's Horton Smith Award, given to those who make outstanding and continuing contributions to PGA education.

"Our infrastructure is so unique, with these old New England farmhouse outbuildings, which remain fully functional. The course is just as unique, and one of the most fun and memorable courses you can play. There's no micromanaging, and I have the latitude to run my part of the operation as I see fit, hire and train who I like, and be invigorated by their successes when they go onto their own jobs.

"I've been well-compensated over the years, despite the lean times when I first began. And finally, it's the quality of the members, the deepness of the friendships we've developed over the years. All of these reasons in combination are why I truly feel this is the premier job, at least for me, anywhere."

The final irony is that even at the beginning of his tenure, when things were far from ideal - with infrastructure problems in the pro shop, too few members and an overall malaise regarding the golf program in general - Safrin could see the job's incredible potential.

What are the odds? A club that takes its name from the self-parody of four nearsighted brothers was lucky enough to hire a golf professional with incredible long-range vision.

Current or Former Head Pros Who Worked for Safrin

Mark Ashton
Mike Bemis
Patrick Berry
Peter Bronson
J.P. Connelly
Mike Corcoran
Jeff Fraim
Greg McFee
Tom O'Brien
Tom Roberts
Erik Sorensen
Tim Talbot
Tom Thornton
Jean Waters
Tom Waters

Bill Safrin's tips for fellow golfers:

"As someone who has suffered missing more than his share of three-foot putts," he says, "I have discovered secrets to solving this problem. They are:

• take the putter slowly away from the ball
• make a short backswing
• follow-through twice as far as you take the club back
• listen for the ball to go in

The tendency is for players to be quick due to anxiety that results in a short follow through and premature movement of the head, thus missing the putt. Do the above and your percentage of made putts will increase substantially."

Bill Safrin's tips for fellow golf professionals:

• The impressions that you make on the people you meet can have far reaching effects on your career and the career of others.

• As golf professionals we are introduced to prominent, successful and powerful individuals that have a passion for golf.

• A good lesson, shared experiences, helpful advice, correcting a problem or even concerned listening can lead to developing relationships that can help you or your assistant professionals land a job.

• Relationship-building and networking are keys towards becoming successful and helping others get ahead.

• Most people genuinely like to help others they know and respect. Once you earn this respect your word can be used to help others.
Joel Zuckerman, called "One of the Southeast's most respected and sought-after golf writers" by Golfer's Guide Magazine, is an award-winning travel writer based in Savannah, Ga. His seventh and latest book, entitled "Pro's Pros - Extraordinary Club Professionals Making Golf Great!" was released in June 2013. This is the first-ever golf book to shine the spotlight on the beating heart of golf - the unsung, yet hard-working club professional. Joel's course reviews, player profiles, essays and features have appeared in 110 publications, including Sports Illustrated, Golf, Continental Magazine and Delta's Sky Magazine. He has played more than 800 courses in 40-plus states and a dozen countries. For more about Joel, or to order this unique new book, visit www.vagabondgolfer.com.