Head Pro Spotlight - Bill Tindall
By: Joel Zuckerman
Editor's Note: This is the second installment in a series by our author, who now puts the spotlight on Bill Tindall, a storied pro in the Pacific Northwest whose life has revolved around golf as a player, club pro and instructor.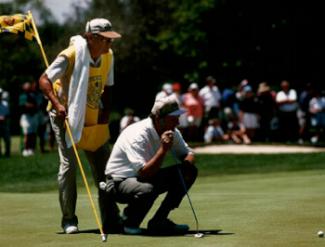 Bill Tindall Lining Up a Putt at the U.S. Senior Open
A man in demand. How better to describe Bill Tindall, who several times in his stellar career decided to leave plum positions at some of the finest clubs in the Northwest. It makes sense in a way, this native of the "Emerald City" occasionally urged by others towards what they considered greener pastures.

"I never thought I would leave Broadmoor Golf Club," begins the soft-spoken pro, now just past 70. "Many of my friends and my peers thought I was crazy to do so, and I questioned myself, because it's one of the greatest jobs on the West Coast. But everything has worked out in retrospect."

As the son of a long-time Seattle area pro, Bob Tindall, things have been working out golf-wise for Bill Tindall since his youth. He was just 14 when he captured the Seattle Men's Amateur Championship, a precursor to winning the USGA Boys Junior Championship three years later in 1960.
That was the first of his 10 USGA championship appearances. One of his fondest mementos came from the famed "Massacre at Winged Foot," the 1974 U.S. Open, which marked his only appearance in our national championship. "I have a photo of the scoreboard after Round 1," recalls Tindall with a chuckle. "It shows me at 75, with Jack Nicklaus and Johnny Miller a shot behind at 76. Too bad the next day when I needed three pars coming home to make the cut I made three triple-bogeys instead! After the first triple, I lost my enthusiasm."

He's never lost his enthusiasm for competitive golf, first as a scholarship player at the University of Washington, and throughout a long career that featured a trio of successful appearances in the U.S. Senior Open, the cut made every time.

But Tindall's true legacy is as a first-rate club professional at first-class clubs, and though he had early dalliances after his 1965 college graduation as a schoolteacher, a management trainee for a grocery chain and an ill-fated, one-year PGA Tour career (26 times a Monday qualifier, 13 times in the field, one made-cut) it is his service to the prestigious Broadmoor Golf Club near downtown Seattle when his star truly began to rise.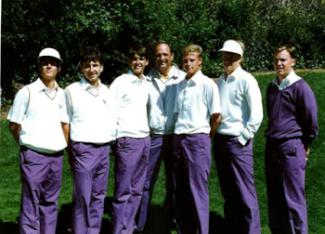 Bill Tindall (center) & His University of Washington Golf Team
Years before returning to the city of his birth, his career as a club pro began at Longview Country Club in southwest Washington, just north of Portland. The owners managed to forgive the fact that Tindall had yet to obtain his Class A PGA card because, according to Tindall, "they loved my wife, Linda." After eight years at that initial post, he was tapped to take over at Broadmoor, where he was happily ensconced for the succeeding 22 years.

"Broadmoor is one of the true classic clubs in the Northwest," explains Tindall, who also moonlighted for nearly a decade as the golf coach at his alma mater, located just a short distance from his fulltime job. "It's a beautiful old Vernon Macan design from the 1920s, and the membership is made up primarily of the city's business elite, mostly professional and entrepreneurial types, and they couldn't have been nicer.

"It was and remains a delightful place to work and will always be very special to me. Practically the whole time I was there I never gave a thought to leaving. It's the type of job you keep for a lifetime, the type of job you retire from."
However, when one of his members recruited him to come aboard at a brand-new club under construction, the pro began to ponder. "Aldarra was being built east of the city, on land that was originally part of the Boeing family farm," explains the pro, referencing the famed aerospace company whose roots run deep in Seattle.

"This was a totally different club, only individual memberships allowed, not family memberships. It was an extremely high-end Tom Fazio design, well out in the woods, meant to have a Pine Valley-like feel because one of the founders was a member of Pine Valley himself. More importantly, it allowed me to get involved with a start-up operation from Day 1, which was a new experience for me. I was 56 at the time, and thought if I was ever going to take on something so ambitious, I better get to it!"

Aldarra succeeded in spectacular fashion, and would have been a great capper and "curtain call" to a successful career. It didn't quite work out that way. After six nonstop years building and establishing the club, now past his 60th birthday, Tindall decided to retire to his Puget Sound vacation home on Camano Island, about 90 minutes north of Seattle, do a bit of teaching on the side, and spend more time with his wife and family. "I was tending my chickens, enjoying our three acres, but the phone rang again a year and a half later."

This time it was the Tumble Creek Golf Club, an attention-getting Tom Doak design. This new private club is part of Suncadia Resort near the small town of Roslyn, some 90 minutes east of Seattle and on the other side of the Cascade Mountains.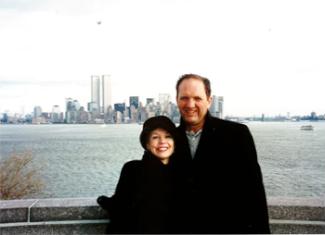 Linda & Bill Tindall
Much of the appeal stemmed from the fact it was just a seven-month season on the "snowy side" of the Cascades, unlike the year-round play that is standard around Seattle. "I guess I missed the action," admits the former Oregon Open champion. "I also thought it would be a nice change of pace for us to live in a sunny climate, have a season that began in spring and ended in early autumn." He spent a fruitful three and a half years there, and loved his duties, but eventually had enough.

"Our grandchildren were getting a bit older, and we decided we wanted be back closer to the city." Life was good back in Seattle, the kids and grandkids close at hand, a bit of teaching on the side, with playing privileges from the honorary memberships bestowed by both of his former clubs in town. Then the phone rang. After their director of golf left suddenly, Aldarra wanted him back. "I said, 'are you crazy?' I'm almost 70 years old!"

They assuaged his reluctance by turning a 12-month job into a seven-month commitment, the better for Bill and Linda to spend time at their winter hideaway in Palm Desert, Calif. So he took back the reins in 2011. "This is definitely my last job," he exclaims, only semi-convincingly, doing a spot-on impersonation of the Pro who cried Wolf.

"It's not surprising that Bill has been so heavily recruited," offers his great friend and University of Washington golf teammate Bruce Richards, a fine amateur and former Chair of the USGA Executive Committee. "We have been friends for nearly 60 years, and he is an absolutely great guy, and consummate club pro."
"Bill has been the preeminent club professional in the Northwest over the 40-year duration of his career," continues the two-time Washington Senior Amateur champion and insurance executive who also is a part-owner of three public-access golf courses around Seattle. "He's got incredible people skills, and you'd be hard-pressed to find someone with a bad word to say about him, which stems in large part because he loves what he does so much. Even to this day, despite his stature, he'll be out to the car to help a member or their guest with their golf bag as quick as anybody else on his staff."

The service element comes naturally to the pro. "I love to help people, whether it's working with them and improving their game, making a call and gaining them access to a private club, whatever I can do. Helping my assistants move up in their careers has also been a source of great satisfaction."

Richards, who has competed in almost as many USGA Championships as Tindall, picks up the same thread. "Bill has enjoyed success in part because he has always attracted great assistants. Everyone wants to work for him and learn from him, because they know it will lead to greater advancements in their own careers. It's a self-perpetuating scenario: Bill gets good young assistants, makes them better, they go on to upper-echelon jobs, and the next wave of bright kids is dying to come work for him."
Despite his many successes, Tindall's major regret is the toll his profession took on family life. "It's practically a schizophrenic profession, non-stop from the beginning of April through October. All the years I was immersed it didn't faze me much, it was my job. I worked like my dad did before me. But looking back I wish I had managed my time better, and given more of myself to my wife, son and daughter, and not been so focused at the club, but those are lessons that come late. Thankfully, my wife did a wonderful job with our children when I was spending all those hours, year after year, on the job."

Looking back at a love of golf spanning 60-plus years gives the pro a unique perspective on what the game was, how it has evolved, and where it's going. "Golf needs to be simplified, in my opinion. The rules need to be simpler, the courses need to be shorter, it would be nice to rein in equipment, belly putters, 'Space Age' equipment and the like, but that train has left the station.

"I think the 'Tee it Forward' initiative is a great step, encouraging players to move up a tee box or even two. Putting tees in the fairway, 150 yards from the greens is a fine idea, because it encourages families to play together, kids are playing the 'big course' with their parents, and in this way you can groom the next generation, which is the future of the game."

Looking back at his own legacy, Tindall sums things up thusly: "Making these career decisions over the last 15 years has had tremendous benefits, despite the fact that, on the surface, leaving Broadmoor Golf Club when I did seemed like such an unorthodox move. At Aldarra and at Suncadia I have met and befriended hundreds of wonderful people from all walks of life that I would have never been exposed to otherwise. It was an uncommon path that I chose to follow, but I feel fortunate to have chosen it."
Joel Zuckerman, called "One of the Southeast's most respected and sought-after golf writers" by Golfer's Guide Magazine, is an award-winning travel writer based in Savannah, Georgia. His six books to date include "Pete Dye - Golf Courses," which was honored as "Book of the Year" by the International Network of Golf. His latest is titled, "KIAWAH GOLF - The Game's Elegant Island," released in July 2012. Joel's course reviews, player profiles, essays and features have appeared in 110 publications, including Sports Illustrated, Golf, Continental Magazine and Delta's Sky Magazine. He has played nearly 800 courses in 40-plus states and a dozen countries. For more about Joel, visit visit www.vagabondgolfer.com.